Filtered By: News
News
After $15-M bill for Miss Universe: Inside the wealth of Chavit Singson
In post-pageant photos, Luis "Chavit" Singson is standing happily beside the new Ms Universe Iris Mittenaere from France, crown, sash and all.
Singson is wearing a sash himself, as "Mr. Universe"—a token of appreciation from the Miss Universe Organization for the successful staging of the pageant, of which he was the primary investor.
The success, Singson now reveals, came at a very queenly price.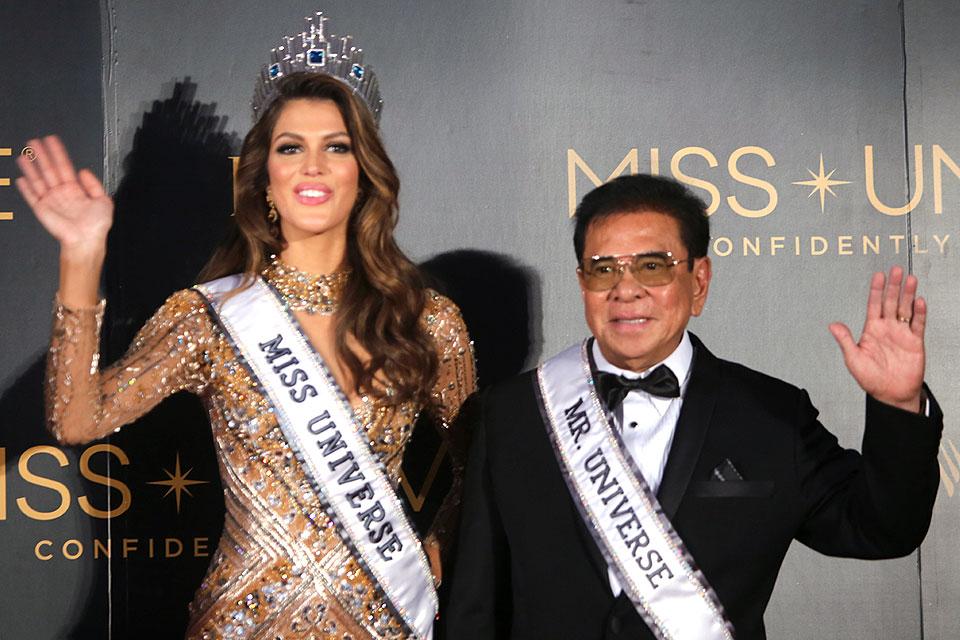 Newly crownd Miss Universe Iris Mittenaere of France waves with former Ilocos Sur Governor Luis "Chavit" Singson, who received a "Mr. Universe" sash from the pageant foundation for his sponsorship of the event in the Philippines on Monday, January 30, 2017. Danny Pata
The former Ilocos Sur governor disclosed in an interview with News To Go on Wednesday that he in fact spent at least $15 million on the competition.
LCS Holdings Inc., Singson's company, had paid $12.9 million to the Miss Universe Organization to be the official host of the 65th Miss Universe pageant.
The Department of Tourism, although an essential government body to the event, had repeatedly stated that the government would not spend "a single centavo" on the beauty tilt.
The DOT had served as coordinator between the government and the private sponsors.
"Pero I consider it na hindi talo eh. Parang investment lang," Singson said. "Madali namang mabawi 'yun basta dumami ang turista. Talo lang kami kung walang turista."
In the same interview, Singson said that the event was briefly canceled, which would have result in a breach of contract.
"From the very beginning, hindi namin iniisip na kumita. Mas kikita sana kami kung na-cancel dahil it's a breach of contract. Actually, na-cancel na officially, at tuwang-tuwa na ang lawyers namin in the US... dahil magbabayad sila ng malaki. We paid $12 million from the beginning, and we signed a contract," he said.
However, Singson added, "Nakiusap ako. Pinakita ko na hindi tayo magka-kaso sa pera. Cancel nila, hindi ako magfa-file ng damages, but please reconsider. Alam kong maganda sa ating bansa. Ito ang pagkakataon natin to promote the country. This is the best promotion na makukuha natin, wala nang iba. Nakatutok diyan almost 200 na bansa."
Best show
Miss Universe Organization (MUO) president Paula Shugart declared the Philippines' hosting the pageant a success.
"This is the best show I've ever done," Shugart said in the press conference immediately after the coronation as she thanked the Filipino people for their support.
She also thanked Singson for helping put together the event.
If the ticket sales for the coronation event were to be any indication of success, the singing cash registers would be the answer. Ticket prices for the coronation event at the Mall of Asia Arena—with a seating capacity of 15,000 and a full-house capacity of 20,000—went as high as P50,000.
Last Wednesday, the DOT said that the event was sold out.
The next day, Tourism Secretary Wanda Teo announced the release of 500 additional lower box tickets, priced at P8,000 each: standing room only.
LCS Holdings
Singson's wealth was on full display during the pageant, notably when he used his luxury yacht—the three-level, $12-million M/Y Happy Life, which can carry 200 passengers—to ferry some of the Miss Universe candidates to Pico de Loro in Batangas.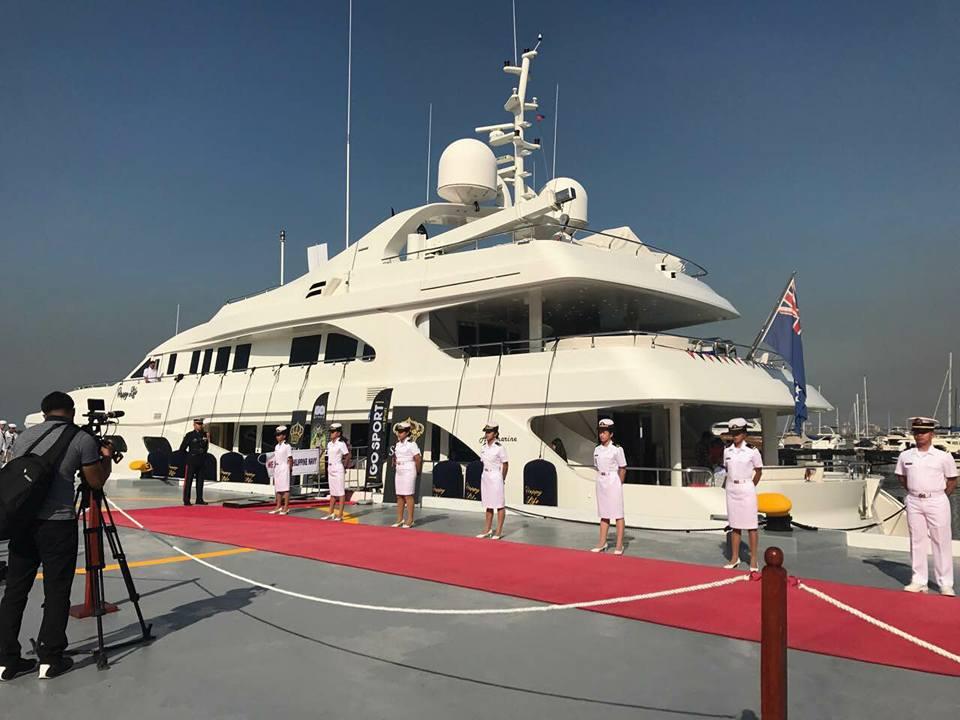 Chavit's yacht the M/Y Happy Life, brought the MIss Universe 2016 candidates to Pico de Loro in Batangas. Photo: Chavit Singson's Facebook page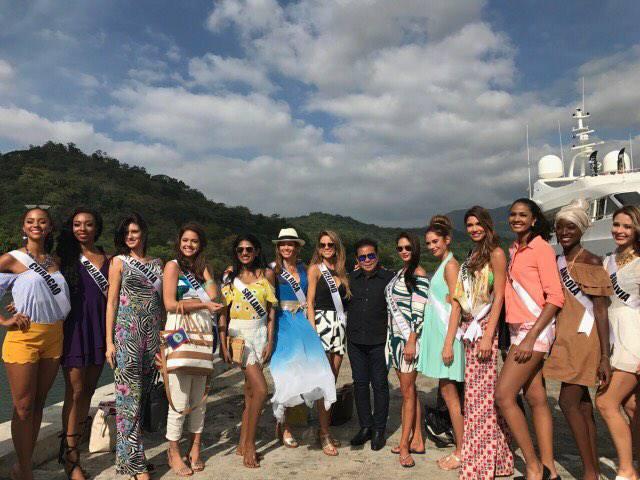 The former governor poses with the Miss Universe candidates on his yacht. Photo: Chavit Singson's Facebook account
The five-term former governor of Ilocos Sur laughed off speculations about how he amassed the money to acquire the rights to host the international beauty tilt.
In the same interview with News to Go, he said, "We are very transparent…Alam niyo bata pa ako, on my own—my parents, may pera sila—nakabili na 'ko ng electric plant nung bata pa ako. So magaling ako sa negosyo eh."
Singson said his business conglomerate consists of more than 100 companies here and abroad.
Based on records with the Securities and Exchange Commission (SEC), LCS Holdings Inc. is not even a year old, and was incorporated only in July 2016.
According to its website, the LCS Group of companies includes at least seven companies involved in aviation, retail, power, mining and media production, among others.
Platinum Skies Aviation Inc., which was incorporated in July 2013, is engaged in general business of air transport according to its articles of incorporation.
As of December 2014, the company has a total asset of P42.94 million, based on their financial statement. The same document claimed that the company has "no sales for the year 2014."
Singson is also chairman and president of Satrap Mining Corporation and Satrap Power Corporation.
Satrap Power, incorporated in September 2014, was awarded various projects, according to Department of Energy (DOE) documents. Its articles of incorporation state that the company focuses on renewable energy resources.
As of June 30, 2016, Satrap Power has a newly awarded biomass renewable energy operating contract (BREOC) for a Biomass Power Plant Project in Santa, Ilocos Sur. The powerplant has a potential capacity of 10 megawatts. Satrap Power also has a Solar Power Project located in the same municipality.
Satrap declared total assets of P3.37 million in their 2015 financial statement.
Satrap Mining was incorporated in September 2014. Its 2015 financial statements said that the corporation had "no income since it was registered because of no operation in mines sites."
The mining company recorded total assets of P2.27 million.
Singson is also among the incorporators of The Chavit Tree Project Corp. in January 2016. According to its website, the company produces "sustainable source of lumber, while promoting reforestation."
LCS also has a loan company. Casha, according to its website, is an initiative of HalloHallo Skylark Lending, Corp.
Also listed in LCS' website as an entity under the group of companies is an international sporting goods chain, Go Sport.
LCS Holdings' incorporators include Singson and his daughter Richelle Louise Singson-Michael, Rico Abarentos, Benjamin Palma Gil, and Dennis Manalo.
Singson-Michael is an incorporator of LCS Holdings and all the above-mentioned subsidiaries. She is the president and chairman of Platinum Skies, as well as the chief finance officer of Satrap Mining and Satrap Power. She was also the chairman of the 2016 Miss Universe host committee.
Costly venture
Singson said that the payments received from partners helped defray the cost of hosting the Miss Universe pageant.
"Like for example, Solar [Entertainment], nagbayad na siya, siya na magbe-benta sa mga ibang channels, lahat ng channels. Saka mga ibang advertisement," Singson said in an earlier interview with GMA News.
"Doon kami makakabawi," he added.
Solar Entertainment Corporation, the official broadcast partner of the pageant, teamed up with various television networks, including GMA Network, to air the event.
Okada Manila, SM Lifestyle Entertainment, Inc. and Solar Entertainment Corporation are the official partners of the event.
Based on their respective 2015 financial statements, the three companies have collective assets worth more than P56.5 billion.
Okada Manila, a casino-resort located at Paranaque City, is registered in the SEC under Tiger Resort, Leisure and Entertainment Inc. (TRLEI)
Okada Manila was a venue of some of the Miss Universe events, including the pageant's official after-party.
According to its 2015 financial statement, TRLEI is 100-percent owned by Hong-Kong-based Tiger Resort Asia Limited. Its parent company is Universal Entertainment Corporation of Japan.
Based on its 2016 general information sheet, TRLEI's board of directors is comprised of six foreigners and five Filipinos. The board is led by its chairman Kazuko Okada, a Japanese national.
Also on the board of directors is business tycoon Antonio "Tony Boy" Cojuangco.
Tiger's 2015 financial statement shows that the company has P51.8 billion in assets.
SM Lifestyle Entertainment Inc. (SMLEI) manages various SM ventures like the cinema snackbar operations of SM malls. SMLEI manages the SM Mall of Asia Arena, the venue of this year's coronation night.
SMLEI declared assets of P591.85 million as of December 31, 2015.
SM Lifestyle is an affiliate of SM Prime Holdings, Inc., a public company listed in the Philippine Stock Exchange (PSE).
According to the 2015 information sheet submitted by SM Prime Holdings to the PSE, "affiliate refers to an entity that is neither a parent, subsidiary, nor an associate, with stockholders common to the SM Group or under common control."
Several Miss Universe activities were held in SM Prime Holdings properties, including wholly owned subsidiary SM Hotels and Conventions Corp, which owns Hotel Specialist (Pico De Loro), Inc.
Hotel Specialist (Pico De Loro) operates the beach resort Pico Sands Hotel in Nasugbu, Batangas. The resort was one of the places visited by the candidates.
Solar Entertainment is engaged in film production and television and cable entertainment services. Solar network consists of at least eight channels, including various lifestyle channels and sports channels.
In its financial statement, Solar declared a total asset of P 4.15 billion as of December 31, 2016.
The country's national flag carrier Philippine Airlines Inc. (PAI) is the official airline partner of the pageant. PAI is sa subsidiary of another PSE-listed company, PAL Holdings, Inc. — with reports from Aubrey Carampel, Marisol Abdurahman and Bianca Rose Dabu/BM, GMA News