Filtered By: Newstv
NewsTV
'Biyahe ni Drew:' How to spend a weekend in Biliran for under P2500
When we think of beaches, we tend to think of famous and expensive destinations like Boracay and Palawan. But if you think about it, we've got over 7,000 islands in the Philippines—chances are, you can find a great beach for a fraction of the cost.

In Biliran, Drew found just that: a weekend getaway for under P2,500!
Quick facts

Biliran is surrounded by water and fishing is a main source of livelihood there. During the Spanish era, Biliran was known as Isla de Panamao—the world 'panamao' meaning 'fishing net.' Later, it took its name from the word 'bilir,' meaning 'the side of a bangka.' (Source: National Statistical Coordination Board)


Biliran has two main islands: Biliran Island and Maripipi Island.


A word of warning: There's no WiFi or mobile signal in many parts of Biliran. If you're the type that needs to be plugged in 24/7, this is not for you.

How to get there
Tacloban, Leyte is the gateway to Biliran. A one-hour flight from Manila to Tacloban costs around P700 if you're flying with a budget airline—add taxes, and your bill goes up to P2000 for a round trip. If you're trying to save, take a Manila-Tacloban RORO for P900-1200.


From Tacloban, it's a two-hour land trip to Biliran. Van service costs P140 per head. Traveling in a group? They have a discounted rate of P1,500 for 12 people.

How to get around
It's simple in Biliran. You've got the sikad (what locals call a pedicab), jeepney, multicab and tricycle. Expect to spend no more than P50, depending on where you're going.

Where to stay
You know what's great about hotels in Biliran? They aren't prices at expensive "tourist" rates—one local called the prices in Biliran, which range from P300 to 1200 per night, "the friendly rate."

Agta Beach Resort | Talahid, Almeria
Rates start at P800/night, good for two and inclusive of breakfast.
Each room has its own A/C, refrigerator, private bathroom and TV—not to mention easy access to a beach. While you're there, try the restaurant's lechon manok. Unlike the usual open-air, rotisserie-style preparation, theirs is baked inside a pugon (traditional wood-fired oven).

Biliran Garden Resort | Villa Cecilia Sitio, Brgy. Calumpang, Naval
Rates start at P1200/night, good for four people. Each room has its own A/C, refrigerator, private bathroom and TV.

Marvin's Seaside Inn | Brgy. Atipolo, Naval
Rates start at P1200/night, good for four people. Each room has its own A/C refrigerator, private bathroom and TV. The inn has a restaurant; meals range from P80 to P200.
What to do
Scuba diving
A twenty-minute, P500 boat ride from the Agta Beach Resort (see 'Where to stay' section below) is Dalutan Island and its white sand beach. Dive gear rental costs P600.

"Kitang-kita mo na punong-puno ng corals dito, at siyempre, punong-puno rin ng mga iba't ibang klaseng isda," said Drew.

Drew's reminder for travelers: you can't dive if you have a flight on the same day, as this might lead to decompression sickness—a very serious illness that may lead to death. There's an exception to this rule: dive for no more than one hour, and don't go deeper than 40 feet. Let your dive master know in advance so he or she can guide you.

Island hopping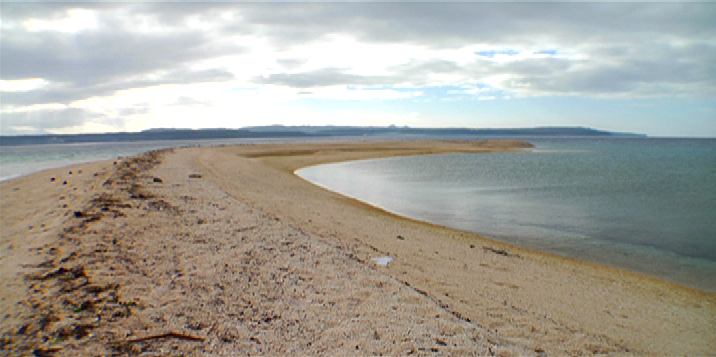 For local dive master Melo Sabitsana, Biliran's main attraction is the opportunity to visit the many small islands that surround the main islands. The more beaches, the merrier!

Higatangan Island is known for its shifting sandbar and rock formations. It's 45 minutes away from Biliran Island—just take a bangka from Naval Port for P50. Students and senior citizens get a P5 discount. "Sa ganda ng lugar," Drew said upon arriving at Higatangan's beach, "mapapalusong ka agad!"

Tingkasan Island is just off Higatangan. Your boat can pass through a tunnel of beautiful rock formations.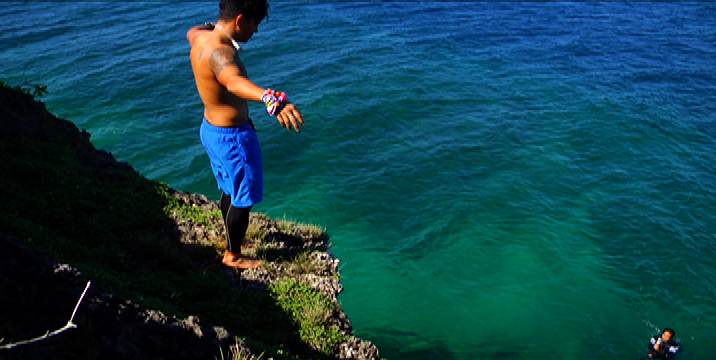 If you're afraid of heights, skip this next one. From Tingkasan, it's a 30-minute ride to the 40-foot high Hinagdanan rock formations. If you're looking for an adventure, add it to your itinerary, make like Drew and jump in!
Visit Sambawan Island
But the best choice for island hopping in Biliran is none other than Sambawan Island! It's a one-hour bangka ride from Dalutan Island. It's out of the way from the other islands, so plan your trip here on a separate day. And trust us, you'll want a separate day for Sambawan!
All the locals, dive masters, and travelers Drew met in Biliran recommended Sambawan Island: "Narito na ang pinakamalinaw na tubig na makikita mo," a local told us.
"Ito na talaga ang pambato namin," Melo told us. "Sa isang side, buhay na buhay ang area for marine life. Mga reef sharks, nurse sharks, at ang unang bull shark sighting in the Philippines was found here."
Boat rental from Biliran Island is P3000, but if you're coming from Maripipi Island, local boats make regular trips for just P110 per person.
Mainit Hot Springs | Cabibihan, Caibiran
If boat rides aren't your thing, the sulfuric hot springs of Caibiran municipality are located on the Biliran mainland. Entrance fee is just P20.
What to see

Waterfalls-hopping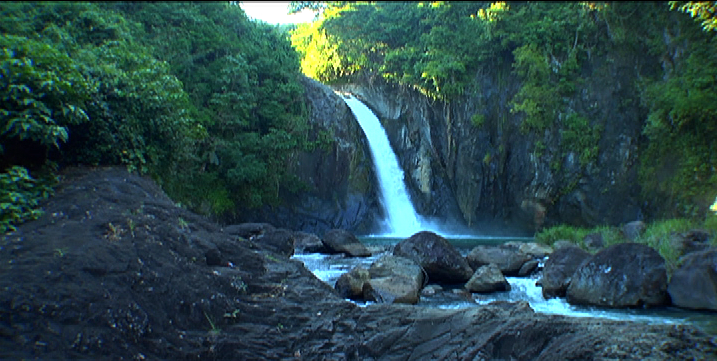 There are a total of 30 waterfalls in Biliran! One of these is Ulan-Ulan Falls in Brgy. Sampao, Almeria. It's a 30-minute hike from the town center, but it's well worth the trip. The entrance fee is just P10 for adults and P5 for kids.

Ten minutes from Ulan-Ulan Falls is the Recoletos Falls, which takes its name from the priests who discovered the area. The water here is calmer, which makes it a good choice if you're traveling with lots of kids.

Lastly, there's the 50-foot high Tinago Falls in Cabibihan, Caibiran. The pool of water beneath it is wide enough for the whole barkada to swim. The entrance fee is just P20 for adults and P10 for kids.

Almeria Church | Almeria
Take a 25-minute jeepney ride from Naval Port to a church built using money pitched in by townspeople. Though small, Almeria Church has got a great story. If you're going during Holy Week, make this a part of your trip.

Nasunugan Watchtower | Brgy. San Roque, Biliran
For a dose of history, hit up this watchtower that was built way back in 1765. When its parish priest, Padre Gaspar Ignacio de Guevarra, revolted from the Catholic Church, he holed up in the town's watchtower and created his own sect. Muslim raiders burned the tower (and the Padre) in 1774.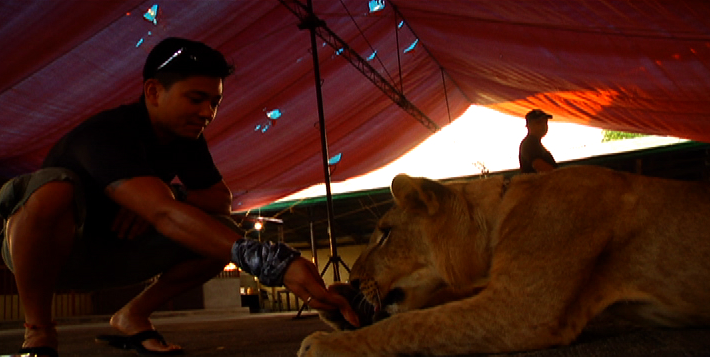 Biliran Mini-Zoo | Naval
This privately owned collection of animals is open to the public and free of charge—just inform the local tourism office in advance. Among the mini-zoo's residents: a juvenile lion, different kinds of birds, a 50-year-old snapping turtle, and a 'liger,' or the hybrid offspring of a male lion and a tigress. There are only 80 ligers in the world!

What to buy for pasalubong
Suman Balintawak | Naval Market, Naval
This isn't your regular suman! Suman Balintawak has your choice of chocolate or mangoes cooked in the center of the sticky rice. No need to dip these in sugar!

The suman runs out in the morning, though. If you want fresh suman to take home on the day of your flight, visit the market a day in advance and make a reservation. You can then pick up your suman on the following day, worry-free.

Drew's Budget:
Transportation: P690, excluding fare from Manila to Tacloban
Accomodations: P800
Activities: P600
Food: P250
Pasalubong: P150
Total: P2490