Filtered By: Pinoyabroad
Pinoy Abroad
Rodell Aure Rosel: American Idol's loss, opera's gain
LOS ANGELES – Grammy-nominated tenor Rodell Aure Rosel played the handsome prince Tamino for the final day of Center Stage Opera's run of Mozart's "The Magic Flute" and starting in November, he'll play quite the opposite – the evil servant Monostatos in the same show for L.A. Opera.
Stumbling into "The Magic Flute's" magical world, Rosel, wandering the woods wearing a Cincinnati Reds baseball cap transforms into a semi-Egyptian prince with hair the color of a red velvet cupcake during the September 15 Center Stage Opera production at the Madrid Theatre in Canoga Park, San Fernando Valley. I say semi-Egyptian because he's still wearing the blue jeans he was wearing when he was in the real world looking for a baseball, but in the make-believe kingdom he's wearing a glittery-gold collar and what looks like gladiator sandals.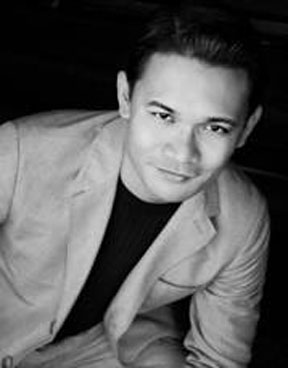 Rodell Aure Rosel. Photo from Facebook
"For me, Center Stage Opera was clearly a company worth getting involved in," said the nationally renowned performer, who has sung in cities including Houston, Pittsburgh, Tulsa, Milwaukee and Santa Fe.
The Manila native, who was nominated for a Grammy in 2010 for Best Opera Recording for "Volpone," (big fox in Italian) has known Shira Renee Thomas, the Center Stage soprano singing the role of Princess Pamina, since their pre-professional singing days, even though he now calls Chicago his home and is a regular on stage with the Lyric Opera of Chicago.
He was described by the Chicago Sun-Times as the "Filipino American tenor… who possesses the magnetism of a high-voltage Broadway star."
"I've known Shira Renee since we both won our vocal competitions in 2002 and we've stayed in touch ever since," Rosel says. "I knew about Center Stage Opera in the San Fernando Valley even before I knew Shira was involved with the company. Many of my friends performed with Center Stage and had great experiences."
Rosel, born in Makati, Metro Manila, in November, 1975, grew up in Las Piñas, and was raised in a predominantly musically-inclined family. He sang pop music in the Philippines as a boy and emigrated from Manila to Los Angeles in 1992, after finishing high school at St. Andrew's School.
He studied accounting at Santa Monica College but trying a vocal technique class there took him down another road.
"I was exposed to opera," Rosel says, adding that he transferred to UCLA to further his voice instruction, majoring in Vocal Performance. He was a resident tenor of Opera UCLA. That led to his Grand Prize win in New York Metropolitan Opera National Council auditions. He debuted at the Met earlier this year in Strauss' "Der Rosenkavalier" (The Knight of the Rose). Last year, he debuted in LA Opera's productions of Puccini's "Madama Butterfly" and "Tosca."
"American Idol" almost got Rosel as a contestant in 2004, when the show extended the age limit to 29 and Rosel was 29 at the time. He promised himself that if he didn't get into the Lyric Opera of Chicago final auditions, he would've gone to Vegas to audition for the television show. "Fortunately enough, I got in and kept my promise to myself and didn't audition for 'Idol,'" he said.
Rosel also said that he knew his passion was opera when he first performed in one and was able to grab the audience's attention. "Not just with my singing, but also with my physical, dramatic interpretation. It was a perfect consummation of music and theater," he added.
It's not the first time Rosel will be playing Monostatos. In 2009, he blogged on the Florentine Opera Milwaukee company's site that the best thing about "The Magic Flute" was that "it is a fairy tale opera for both adults and children, filled with very memorable and catchy music."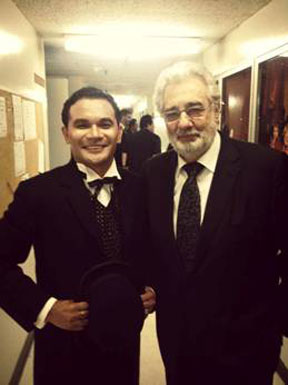 Backstage as Spoletta with Maestro Placido Domingo at LA Opera. Photo from Facebook
He'll be singing for Los Angeles Opera beginning in "Falstaff" in early November, then "The Magic Flute."
Since my daughter, Louinn Lota's the expert on opera – her first was a front row seat at the New York Metropolitan Opera to see "Madama Butterfly," I asked her what she thought of the performance, since I enjoyed Rosel because he looks like both my son and my nephew. Louinn said, "his terminating consonants were melodiously crisp and strong, and his volume production was energetic." I think she means he sang beautifully in German and was able to belt out the music without being miked.
I liked Rosel's comic interpretations and exchanges with Papageno, played by Venezuelan baritone Bernardo Bermudez. I thought I recognized the mellifluous low voice of King Sarastro, played by Perry L. Brown. I checked the program afterwards and saw that Brown is the voice of the California Super Lotto commercials.
I dug into my files for a comment former Consul Gen. Edwin Bael made about Rosel: "Through the exquisite performance of his craft, Tenor Rodell Aure Rosel gives one more solid reason for the Philippines and Filipinos to be proud. As representatives of the country in this part of the world, it has been our privilege to give recognition and wider acclaim to this wonderful artist by showcasing him before audiences who know how to appreciate talents like him."
Betty Bael added: "Rodell epitomizes and manifests the quintessential spirit of our people described by our national hero Dr. Jose P. Rizal: When a Filipino wills, he can."
— Philippine News