Filtered By: Pinoyabroad
Pinoy Abroad
PHL choir, Singapore orchestra wow audience in joint performance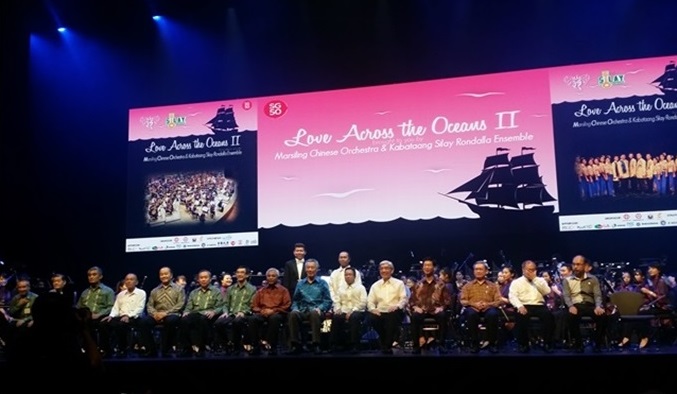 Photo from the Philippine Embassy in Singapore
A Philippine choir and a Singapore orchestra made beautiful music together as they shared the stage in Singapore last weekend, the Philippine embassy there said Wednesday.
The embassy said the Kabataang Silay Rondalla Ensemble (KSE) and Marsiling Chinese Orchestra wowed a big audience at the "Love Across the Ocean II" at the Star Theatre in Singapore last May 22.
The Philippine embassy said the performance was "well received" by an audience of more than 4,000 people including Prime Minister Lee Hsien Loong, the guest of honor.
It added the joint performance "is very significant as it coincided with Singapore's celebration of its golden anniversary this year."
The embassy said the joint performance is the brainchild of Singapore Member of Parliament (MP) Hawazi Daipi, Senior Parliamentary Secretary, Ministry of Education and Ministry of Manpower, and MCO founder.
Daipi proposed the idea to then Philippine Ambassador to Singapore Minda Cruz during the turnover of relief goods for victims of super Typhoon Yolanda (Haiyan) in November 2013.
Cruz's successor and incumbent Philippine Ambassador to Singapore Antonio Morales then made efforts to realize the project.
Repertoire
KSE performed Bahay Kubo; The Flight of the Bumblebee; Cuerdas II Visayan Medley – with dance interpretation by Kultura Performance Pte. Ltd. dancers led by Celia Defato; Let It Go (theme from Frozen); Pirates of the Caribbean (sound track); and the theme of NDP 1998, "Home" with vocals by Philippine soprano Stefanie Quintin.
MCO's repertoire included Singapore's National Day Parade (NDP) Medley, a compilation of NDP songs from 1984 to 2014; La Reine de Saba (Orchestra); Liang Wen Fu Medley; and the popular Filipino song, "Dahil Sa Yo", with vocal rendition by Nur Fateha Binte Muhamad.
Both groups then rendered a joint rendition of the Spanish Medley (La Bamba, Sway and Quizas) and Mother's Love Medley (Anak, Ibu and Mama Hao) and encore pieces including "Mambo No. 5."
Before the concert, a pre-concert was held by Kultura Performance Arts Pte. Ltd. dances and Stefanie Quintin.
A reception was also held for officials and representatives of the People's Association, Marsiling Citizens Consultative Committee, the Philippine Embassy in Singapore, sponsors and the Prime Minister.
Exhibit
Meanwhile, the embassy said an exhibit of instruments of KSE and the Philippine rondalla in general was displayed at the main entrance of the Star Performance Arts Centre.
Also last May 20, KSE held an initial pre-concert performance in front of teachers and students of the Woodlands Secondary School to introduce rondalla music to locals in Singapore.
KSE left Singapore on May 23.
Meanwhile, MCO will travel to the Philippines for a joint performance with the Philippine rondalla group possibly in March 2016.
KSE and MCO
KSE was founded in 1993 with 36 primary school students. It has expanded repertoire from folk and traditional music to classical, contemporary, pop and modern under conductor Jegger Anjao.
It won regional and national musical competitions and has represented the Philippines in several international music festivals.
MCO, initiated by MP Daipi, was inaugurated in 2004. It had 209 musicians under conductor Low Cher Yong.
The MCO has delivered seven well-received concerts including the "Love Across the Ocean" series.
— Joel Locsin/BM, GMA News