Filtered By: Pinoyabroad
Pinoy Abroad
OWWA clarifies rule on free swab test, quarantine for returning OFWs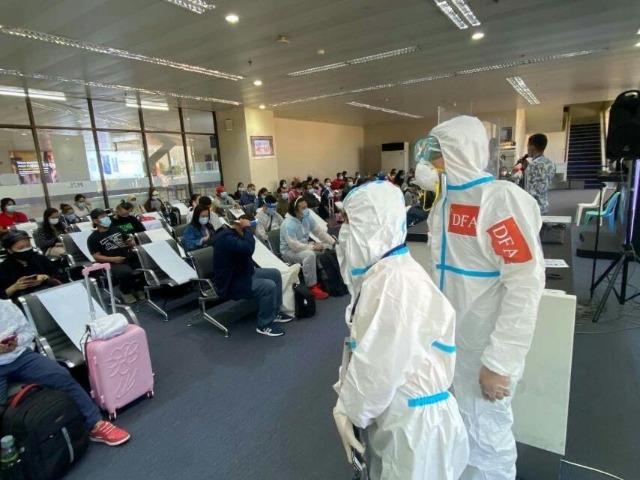 DUBAI, United Arab Emirates – All returning overseas Filipino workers, documented or not, may avail of free COVID-19 swab test, hotel quarantine and transportation for home.
This, according to Overseas Workers Welfare Administration (OWWA) head Hans Leo J. Cacdac, who made the clarification in light of apparent confusion among stranded OFWs in the United Arab Emirates (UAE) about whether they qualify for the COVID protocol when they get back on their own or through the government's repatriation efforts.
"Returning OFWs po are free sa swab testing po upon arrival sa airports," Cacdac told GMA News Online in a Viber Messenger interview from Dubai.
Pressed for more clarifications, the OWWA head said: "(A)ng tanong po ba ay kung libre ang swab testing, hotel quarantine at transportation to home regions ng mga umuuwing OFWs, whether documented or undocumented? Yes po."
The question has often been raised in OFW Facebook discussion groups in the UAE, among them the "Stranded OFWs in Dubai with Ticket in Philippine Airlines," which was formed around June this year and has, as of last count, some 1,300 members; and the "UAE Stranded OFWs via Emirates Airlines," formed at around the same time and which has close to 1,000 members.
The Facebook accounts were opened by concerned OFWs to serve as a clearing house for fellow OFWs having issues with their plans to return home, like canceled flights and as well the swab tests, hotel quarantine and ride home.
Some had to rely on word from those who have made it home or through the Philippine embassy and consulate in the UAE. Despite this, however, the question keeps popping up.
Among such inquiries, for instance, involved a former documented OFW who is now on "Husband Visa," meaning her stay is sponsored by her husband, and is now going home to the Philippines for good.
Another is from an OFW who said she "never had a chance to be a member of OWWA but has a (UAE) residence visa," which means she was employed.
"Will quarantine and test still be provided for by OWWA?" the OFW asked, to which she got vague replies.
Not covered by the free COVID-19 protocol, meantime, are those who arrived in the UAE on a visit visa and have not been able to secure employment, officials said.
Repatriation
Meantime, as the Philippine government's repatriation continues, some 221 Filipinos, including children and at least two infants, have been the latest batch to be flown home to Manila from Dubai, according to Consul General Paul Raymund Cortes, who said they were repatriated on Sept. 24 aboard a Philippine Airlines flight PR 0659 and arrived at the Ninoy Aquino International Airport at around 8:25 a.m. the following day.
Cortes said that with the latest batch of OFs flown home, the Philippine Consulate General in Dubai has so far facilitated the repatriation of 2,233 Filipinos in Dubai and the Northern Emirates affected by the pandemic.
The Philippine Consulate General repatriated the first batch of distressed OFWs, numbering 370, in mid-June on board a Cebu Pacific flight 5J 19.
The most recent repatriation involved a batch of 354 OFWs who left Dubai International Airport in the evening of Aug. 5 on board Philippine Airlines flight PR 659. Another batch of over 300 left on July 30 and still another on July 24 with 351 OFWs, according to Cortes.
There were approximately 750,000 documented OFWs in the UAE prior to the Covid-19 pandemic. Over 15,000 have been repatriated, according to the Department of Foreign Affairs (DFA). —KBK, GMA News