Filtered By: Pinoyabroad
Pinoy Abroad
Pinoys in US hold rally at Times Square vs. Marcos admin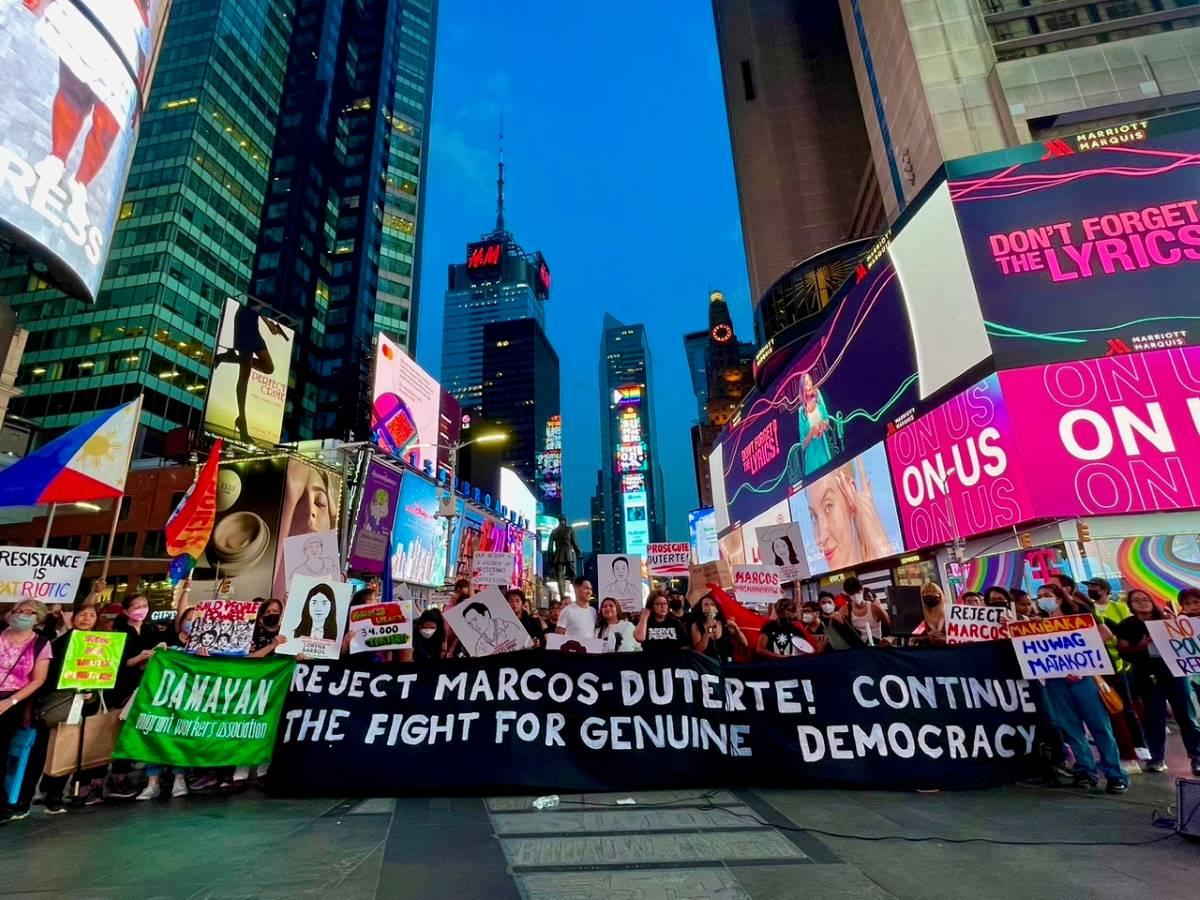 NEW YORK - Some Filipinos held a protest rally at Times Square in New York City on Thursday (Philippine time) to express their opposition to the Marcos administration, just before Ferdinand "Bongbong" Marcos Jr. was to take his oath of office as chief executive.
Holding signs and placards, the protesters called for justice and accountability.
The protesters said the promise of having a "Bagong Pilipinas" (new Philippines) would be impossible since martial law victims who suffered during the term of former President Ferdinand Marcos, Bongbong's father, and victims of extrajudicial killings during the term of President Rodrigo Duterte, have not been given justice.
The Northeast Coalition to Advance Genuine Democracy in the Philippines led the protest action.
Other organizations such as Gabriela New York, Bayan USA, Damayan Migrant workers Association, and Malaya Movement as well as some martial law victims joined the rally.
The protesters said this is just the start of their broader opposition to reject the Marcos-Duterte government. Sara Duterte, daughter of former President Rodrigo Duterte, is the vice president under the Marcos administration.
Meanwhile, Atty. Arnedo Valera, pro bono council member of Uniteam Eastcoast, told GMA News the minority should respect the decision of the majority to put Marcos in power.
"While I respect their freedom of speech and assembly, this group is on the wrong side of history. We call upon all Filipino Americans to embrace the new leadership and give them a chance to provide political leadership to our nation for the next six years. Let us all pray for a more united and forward looking Filipino nation," Valera said.
Marcos was sworn into office by Supreme Court Chief Justice Alexander Gesmundo at noon on June 30 at the National Museum of Fine Arts in Manila. —KG, GMA News