Filtered By: Pinoyabroad
Pinoy Abroad
Fil-Am victims join Asians in rally in New York vs. hate crimes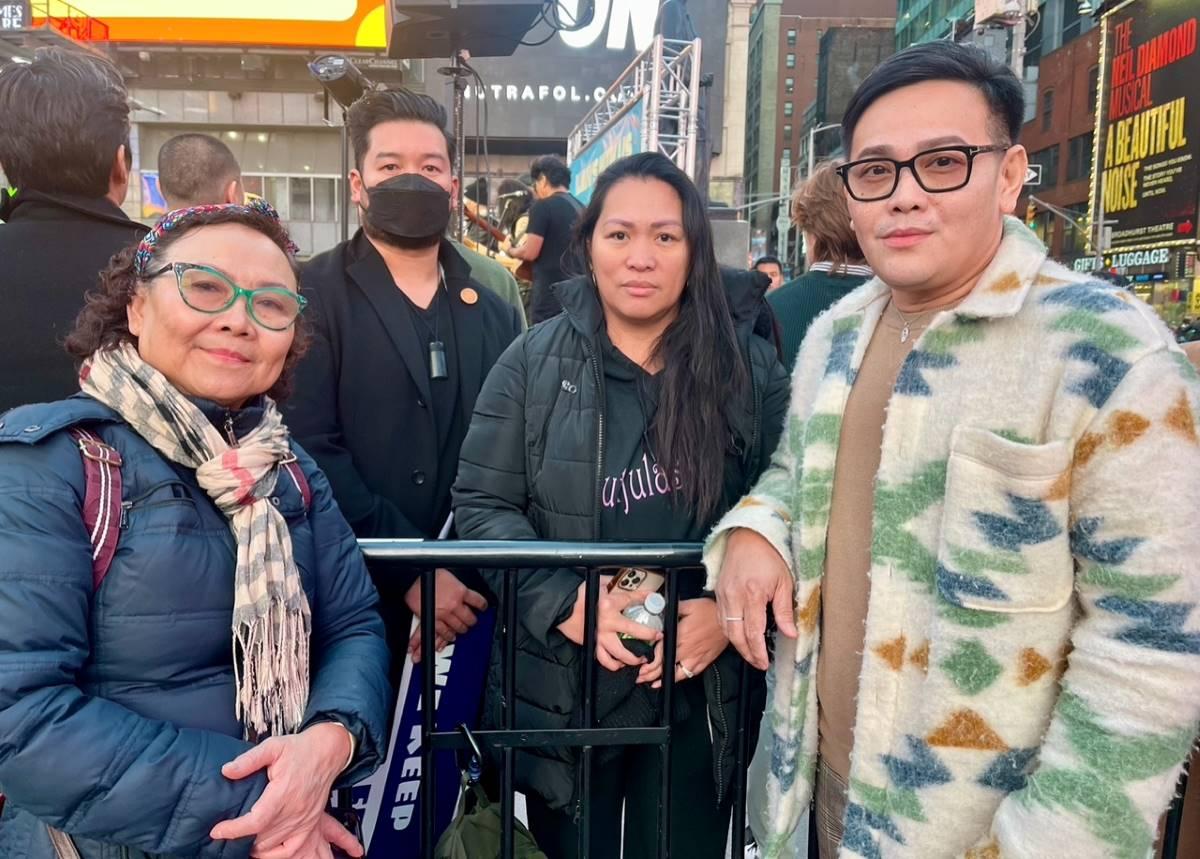 Filipino-American victims joined the Asian community at a protest action at Times Square in New York City on Friday to condemn the rising number of hate crimes against them.
Among those at the rally was Cecille Lai, who was assaulted with her son Kyle in Queens, New York City two weeks ago.
Lai was emotional when she addressed the rallyists.
She said that up to now she still remembers the taunts and physical blows she and her son suffered at the hands of three suspects — one female and two males.
"We Asians and all Americans should speak out strongly against anti-Asian hate. We should always report injustices inflicted upon our community. We are a vital part of American society. This is our home. We belong here. My son belongs here. My kids belong here. I belong here. We all belong here. We are Americans. We deserve to feel safe and protected just like everyone else. We all have solidarity to fight the hate and we will do it together," Lai said.
Lai urged hate crime victims to immediately report incidents of assault.
Early this month, Lai and her son had just alighted from a vehicle when the suspects, who were onboard a white SUV, started taunting them by calling them "ugly Asians."
Lai said they ignored the taunts, but one of the suspects threw water at them, prompting her to throw the food she was holding to the suspects' vehicle. The suspects then got out of their vehicle and they punched Lai and her son. CCTV video also showed the suspects seemingly trying to run over the victims with their vehicle.
Two out of the three suspects were arrested and are facing charges while the New York Police Department Hate Crimes Task Force is still hunting for the third one.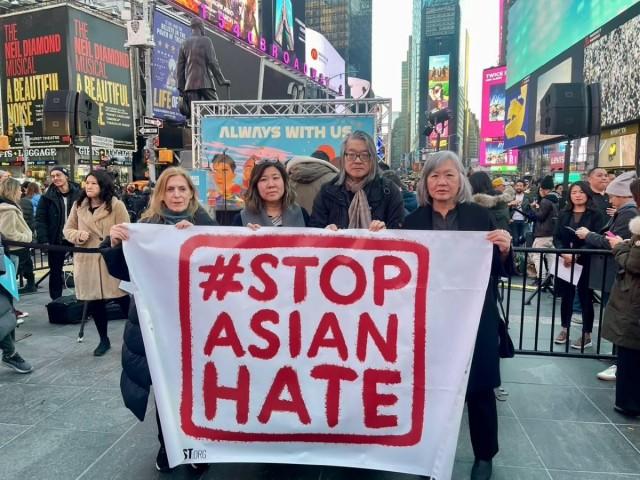 Members of the Asian community including Filipino-Americans hold a rally on Friday, March 17, 2023, at Times Square in New York City to denounce the rising number of incidents of hate crimes against them. Dave Llavanes Jr.
Also at the rally was Milagros Llama who was the victim of an unprovoked attack in Brooklyn before Christmas.
She said she is still feeling the pain from a fractured sacrum after the suspect pushed her. The suspect has not yet been arrested.
Health worker Cris Labaco, meanwhile, said he was a victim of verbal assault during the pandemic.
A suspect shouted Asian slurs at him while he was buying disinfectant at a mall.
"I felt I was this small. The insult really got to me and it made me really feel uncomfortable. So I felt I was not safe... To have this kind of experience is something traumatic you know for everybody. That's why I'm here also to support our Asian community," he said.
According to the annual hate crimes report of the Federal Bureau of Investigation, the number of incidents of hate crimes has increased this year compared to that of the same period last year.
Still there are some incidents that were not reported to authorities.
Consul General in New York Senen Mangalile said it is important for victims — even if they are undocumented — to report such incidents immediately to authorities.
"We are of course encouraging our kababayans na naapektuhan na they have to go out and report to the police para lumitaw sa visibility ng police and ng city authorities na meron pang mga ganyan. Kasi if they will be quiet, then they will just you know titiisin na lang nila. Hindi po maaaksyonan ng local law enforcement authority," Mangalile said.
(We are of course encouraging our countrymen who have been affected that they have to go out and report to the police. This is to let police and city authorities know that there are such incidents still happening. If the victims will be quiet, the local law enforcement authority will not be able to act on such incidents.)
US Representative Grace Meng who was also at the rally vowed to file a proposed bill that will address hate crimes. —Dave Llavanes Jr./KG, GMA Integrated News