Filtered By: Pinoyabroad
Pinoy Abroad
DFA signs deal with firm to have passport renewal center in Dubai mall
The Department of Foreign Affairs on Thursday signed a memorandum of understanding (MOU) with a private company to establish a passport renewal center at Wafi Mall in Dubai, United Arab Emirates.
This will allow Filipinos in UAE and Saudi Arabia to have an alternative venue where they can renew their passports aside from the Philippine Consulate General in Dubai.
The DFA signed the MOU with VFS Global at the same time the first passport renewal center was inaugurated in Dubai Health Care City.
Foreign Affairs Secretary Teodoro Locsin Jr. and VFS Global head of business development Chris Dix witnessed the MOU signing.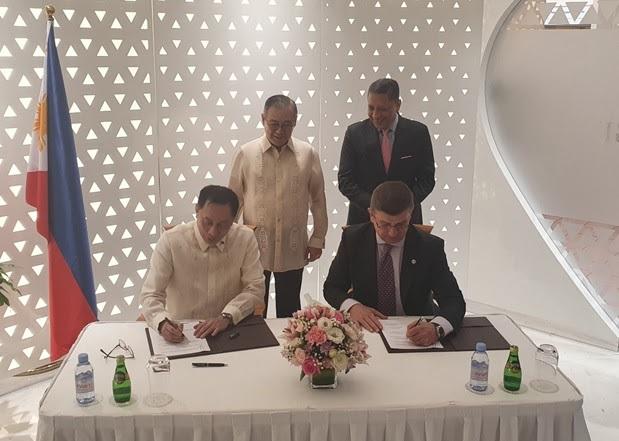 Foreign Secretary Teodoro Locsin, Jr. (standing, left) and VFS Global Regional Group COO Vinay Malhotra (standing, right) look on as Undersecretary for Civilian Security and Consular Concerns Brigido J. Dulay (seated, left) and Head of Business Development for VFS Global Chris Dix, sign the Memorandum of Understanding on the establishment of Passport Renewal Center on November 21, 2019 at Wafi Mall in Dubai. Photo courtesy: Dubai PCG
According to the DFA, this is the first time the Philippines outsourced part of its renewal of passport application service to a private company.
About 600,000 Filipinos live in UAE, the second-largest concentration of Pinoy workers in the Middle East, the DFA said.
Renewing passports at the center in Dubai though will necessitate paying an additional convenience fee on top of the cost of passport renewal.
The passport renewal center can process simple passport renewals that do not need any changes in the biographic details of the passport holder, the DFA said.
VFS Global will handle only the frontline operation of the passport renewal application such as acceptance of application, capturing of biometrics and biographical details, payment of fees and release of passport.
The DFA stressed it is still the one handling the actual production of the passport.
Locsin said the new passport renewal center is a response to the call of President Rodrigo Duterte to all government agencies to improve their services to Filipinos, especially those overseas who have contributed to the country's development for decades.
The DFA said similar passport renewal centers will be opened in Abu Dhabi in UAE as well as in Riyadh and Jeddah in Saudi Arabia in 2020.
VFS Global operates 87 such centers providing passport and consular services to five governments in 27 countries, the DFA added. —KG, GMA News