Filtered By: Pinoyabroad
Pinoy Abroad
14 Pinoy visual artists captivate Singapore
SINGAPORE - Fourteen award-winning Filipino visual artists showcased their works representing Filipino realism at an exhibit held over the weekend in Singapore.
The artists mounted the exhibit entitled "New Dawn of Filipino Realism" on October 19 to 20 at the One East Asia Gallery.
The exhibit was commissioned by One East Asia Gallery and co-organized by the Philippine Embassy in Singapore as part of the 50th anniversary of Singapore-Philippine relations.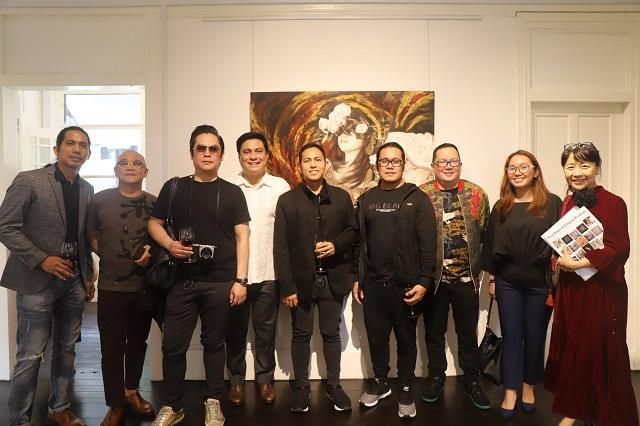 Some of the artists pose with Senator Juan Miguel Zubiri, GMA 7 director Mark Reyes and Veronica of One East Asia Gallery: L-R: Joel Rodriguez Bartolome Welbart, Butch Payawal, Andres Barrioquinto, Zubiri, Jayson Cortez, Demi Padua, Reyes, Abi Dionisio, and Veronica of One East Asia Gallery. Dazzelyn Baltazar Zapata
Participating artists included:
Alarcon brothers: Ejem Alarcon (draws from a visual repertoire rooted in pop culture, comics and reimagined versions of historic scenes);
Aldrine Alarcon (3rd Prize in the University of Santo Tomas Annual Painting Competition 2014, grand prize winner of the National Shell Art Competition, calendar category in both 2011 and 2012);
Didier Alarcon (imbues a sense of romance and abandoned spaces evoking a sense of somber contemplation), and Luke Alarcon (critques the European Old Masters, adopting brush work techniques and imagery to comment on contemporary society)
Andres Barrioquinto (Metrobank Foundation's 15th Young Painter's Annual National Painting Competition 1998, Cultural Center of the Philippines Thirteen Artists Award 2003);
Abi Dionisio (grand prize winner in the painting category of the Annual Art Competition at the Art Association of the Philippines);
Butch Payawal (dubbed master of reinvention with a drive to constantly push the limits of his definition of art driven by a childlike sense of wonder);
Demi Padua (notable Artist in Manilart 2017, Grand Prize, Bangko Sentral ng Pilipinas Tanaw Art 2013. He explores trompe l'oeil techniques to present varying visages of his subjects);
Iya Consorio (seven solo exhibitions and nine group exhibitions across the Philippines);
Jotyl Jan B. Bermudez (12 group shows held in Indonesia, Japan, and Philippines, Singapore and Vietnam and three solo exhibitions across the Philippines);
Jayson Cortez (Gintong Kabataan Award in 2015 Arts and Culture, Jurors choice Luzon Art Award [Philip Morris Philippine Art Award] in 2014);
Joel Rodriguez Bartolome Welbart (grand prize in the 57th AAP Annual Art Competition in 2004, grand winner of the 1st Figurative Painting Contest by the Philippine Drawing Society in 2008);
Orley Ypon (grand prize in the Amorsolo National Painting Competition, Ani Ng Dangal award in 2011);
Reynard M. Borillo (recipient of 'Philippine Art Award' in 2014 and semi-finalist for the Metrobank Art and Design Excellence Competition).
"The New Dawn of Filipino Realism" featured works measuring 50X50 as an allusion to the golden anniversary of the two countries.
According to Philippine Ambassador to Singapore Joseph Del Mar Yap, "Art is just one of the many areas of the Philippines and Singapore share and enrich each other. We look forward to further enhancing our cultural relations and exchanges in the next 50 years and beyond."
Kennie Ting, the Singaporean director of Asian Civilization Museum and Peranakan Museum, had good praises about Filipino art while also advocating for Southeast Asian culture and heritage through art.
Ting emphasized the importance of the event in his address: "2019 marks the 50th anniversary of bilateral relations between Singapore and Philippines. Cultural ties between our two nations have been made very strong with exchanges on multiple fronts, including at the Asian Civilization Museum (ACM). In the last decade, ACM has had the honor of collaborating with institutions and private collectors in the Philippines to showcase Philippine art and heritage, as well as southeast Asian Art and Heritage."
In a separate interview, Ting spoke about the pieces in the exhibit.
"This is an exhibition of young Filipino artists and its titled 'A New Dawn of Filipino Realism'. The works here are beautiful and compelling and because these are young artists. I think the works really speak of the title 'a new dawn,'" he said.
Even seasoned GMA 7 director Mark Reyes carved out time from his busy taping days for a quick visit to the Lion City to be part of the event and nurture one of his passions. A striving collector and art patron, Reyes had good things to say about the budding art scene in the Philippines.
"'Yung level natin has already reached that point…. Like I don't have to go too far… That's why I think you know a country like Singapore supported us because they know there is a boom right now in Philippine art scene. Not only as a collector but also for the artist, we're getting known worldwide. That's why we have such invites like this, stand-alone exhibitions na puro Pilipino artist in a foreign land. It's really something to be proud of," Reyes said.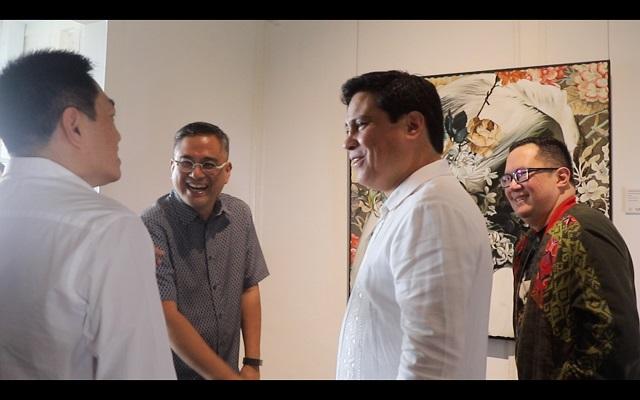 Daniel Komala, chairman of One East Asia, BBC anchor Rico Hizon, Senator Juan Miguel Zubiri and GMA7 director Mark Reyes enjoying a good discussion about the art pieces. Dazzelyn Baltazar Zapata
Senator Juan Miguel Zubiri also flew in to support the visual artists. He talked about the important role artists play in cultural diplomacy.
"What's important is we continue to support the industry. We continue to provide avenues for them and their art. And imagine, they are here [in Singapore]. That means they are already accomplished. They're very good artists. People acknowledge their work of art as topnotch in the collector's world… I hope that our artists will flourish, that the art market in the Philippines will continue to flourish for a very very long time because art and culture is the soul of a nation. Without art, without culture, the nation is dead," he said.
Almost all of the paintings were pre-sold even before the exhibition. —KG, GMA News