Filtered By: Publicaffairs
Public Affairs
PUBLIC AFFAIRS WEBEXCLUSIVE
FIRST PERSON: When I tried biking around Quezon City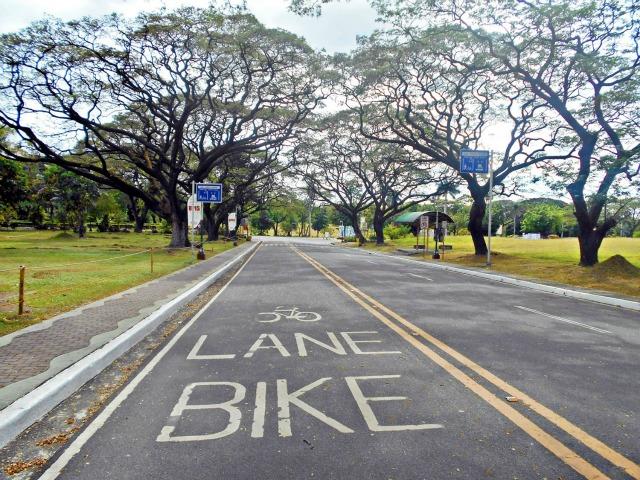 The UP campus in Diliman is just one of the few biker-friendly places that I discovered during a bike trip.
I can still remember the first time that I learned how to pedal a bike. My father and I were in a now-closed government-owned park in Pasay City; he would support my seven-year-old body and my bike while he was running and carefully pushing me, and then I would crash somewhere, and then repeat. Until one moment, he no longer had to support me because--finally!--I could already pedal my bike on my own.
It was amazing. Since then, I have always loved biking. So now, every time I go home in our house in Laguna on weekends, cycling would always be among the first things that I would do. I can only bike in Laguna because I simply just don't bike here in Manila.
But hey, I have my reasons.
On January 6, 2016, for instance, 31-year-old single mother Lorelie Melevo was killed while she was biking after a government dump truck hit her in Marikina City. According to the truck driver, he did not notice Melevo even when the cyclist was on the bike lane.
A few weeks later, on January 19, biker Bienvenido Brabante was also killed on the spot after being hit by a passenger bus along Ortigas Avenue in Pasig City. And then on January 25, GMA News anchor Howie Severino was hit by a public utility jeep along Aurora Boulevard in Quezon City while biking on his way to work. Thankfully, he was only bruised.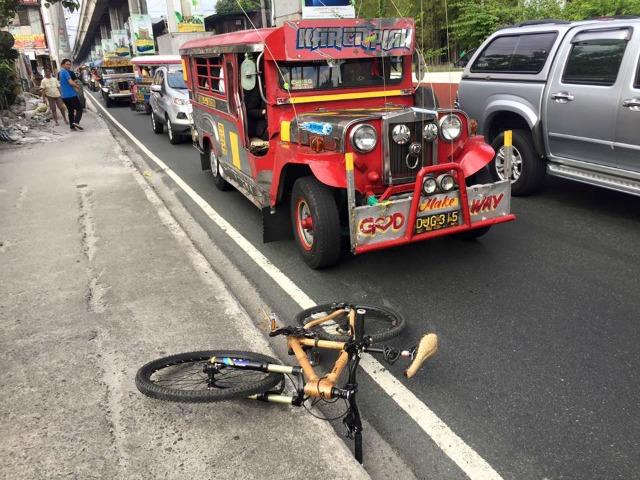 GMA News anchor Howie Severino anchor had recently obtained a minor injury after being hit by a public utility jeep while he was biking to work. (Photo courtesy of Howie Severino)
Melevo, Brabante, and Severino are not exactly the first cyclists to have met biking accidents. Data from Metro Manila Development Authority (MMDA) show that there had been 1,413 biking-related accidents in 2014; 17 bikers from this number were killed, 939 were injured, and 457 had some items broken from the mishap.
These and previous cycling-related accidents led me and fellow bikers to the question: where can we bike safely in Metro Manila?
Quezon City Memorial Circle
Although I am working and taking up my master's in Quezon City right now, and even though I love strolling and biking in parks, I haven't been to the QC Memorial Circle just yet. Maybe because the road outside is scary, with all those whooshing vehicles along the rotunda.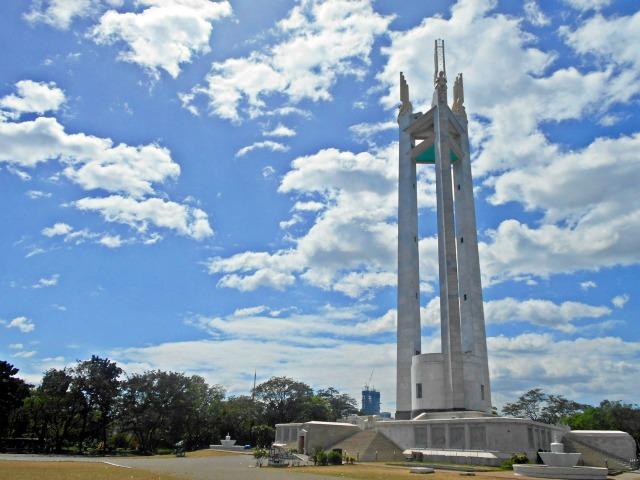 The Quezon City government continues to improve the QC Memorial Circle as a people's park, making it among the bike-friendly places in the city.
But one fine day, I decided to finally go here already and discover what's inside it that makes it a top-of-the-mind go-to place for families, friends, and even groups of cyclists.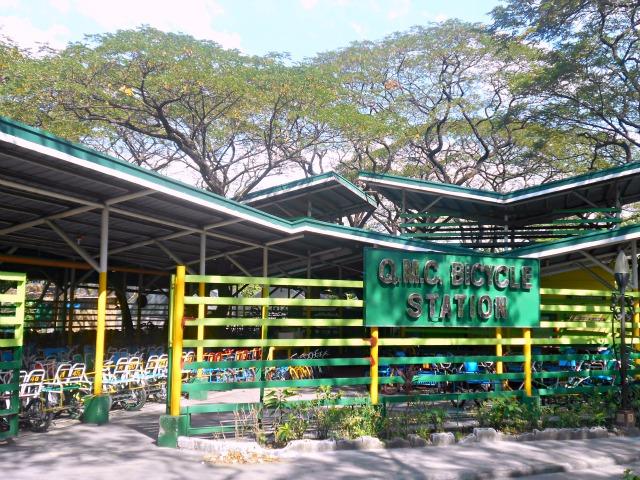 The QMC Bicycle Station lends bikes of all shapes and sizes, for a fee. If you borrow a mountain bike, for instance, that would cost you P100.00 per hour, but smaller bikes can be borrowed for just P50.00
During my first visit here a few days ago, I was greeted mostly by young kids who were biking around. I asked them where they got the bikes and they said that there's apparently a bike-rental station nearby. This alone gives me the idea that QC Memorial Circle is one of the havens for young bikers. They're safe to bike around here because there's a fenced area--away from the possible danger outside the Circle--where they're limited to enjoy cycling.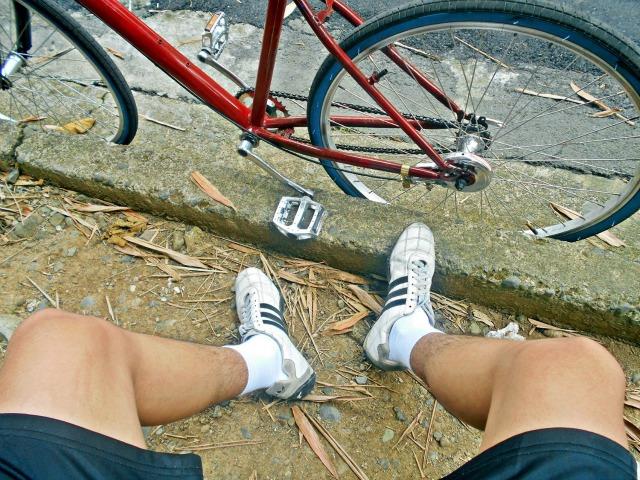 My legs may be skinny, but they don't just surrender from the challenges of bikers in the city. Biking in QC for about four hours was tiring--but hey, it was fun, too!
During my preliminary research for this article, I learned that there's not a lot of bike-rental shops in Quezon City, specifically near the QC Memorial Circle and the UP Diliman campus--two of the bike-friendly places that I discovered in the city. Pretty ironic, right? So I asked "Darang Tess" of the bike-rental station inside QC Memorial Circle if people could borrow their bikes and bring outside the Circle.
"As much as possible, hindi talaga kasi risky ang mag-bike sa highway eh," she said. "Unless you show me that you have complete gears, lalo na 'yung helmet, then maybe I'll allow."
But what if I don't have the gears but really want to rent a bike for use outside the Circle? "Puwede kita payagan na ilabas sa Circle, pero ita-taxi mo papunta sa kung saan mo man gagamitin. Hindi ka rin talaga papayagan [ng traffic enforcers] na mag-bike [sa highway] kapag wala kang gears. Huhulihin ka." Fair enough.
Commonwealth Avenue
From the QC Memorial Circle, I walked through the underpass with my bike to cross to the other side, near the National Housing Authority. Then from there, I biked ahead then turned right to Philcoa along Commonwealth Avenue.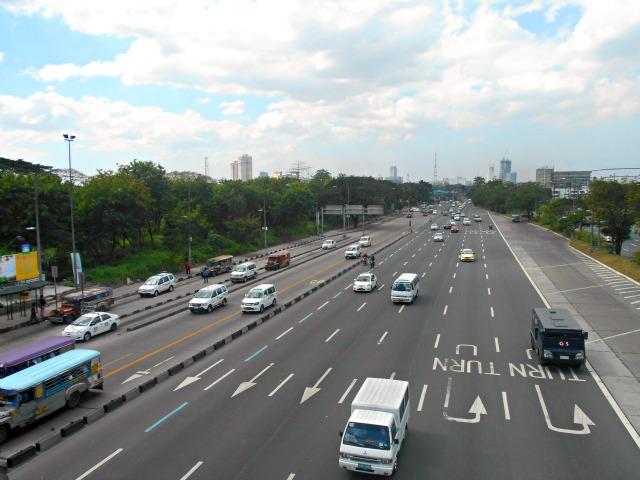 Commonwealth Avenue, also oftentimes referred to as the "killer highway."
So, Commonwealth Avenue. I know, I know. It's a very dangerous highway, having been called as a "killer highway" by several motorists because of the frequency of accidents here. But actually, I would still like like to consider this highway as a candidate for being a biker-friendly road because of the presence of a bike lane!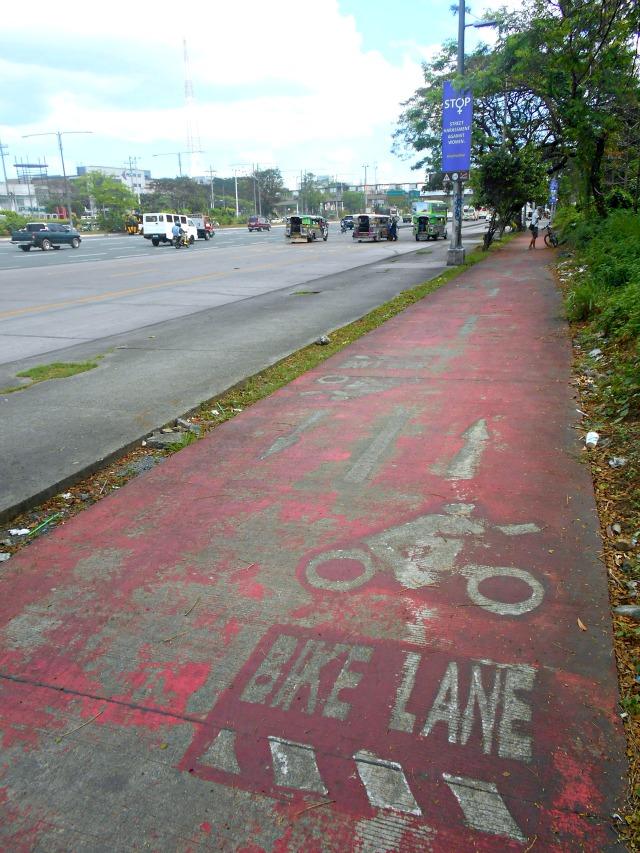 The bike lane along Commonwealth Avenue obviously needs a paint job.
Although the efforts of MMDA to put up a bike lane here is already commendable, I still call for their attention that they make it wider to entice more bikers to use it. I also hope that they find easier ways for bikers to cross from one lane to another.
From what I observed, a cyclist only has two choices when he wants to get to the other side of the highway: either he hand-carries his bike to the footbridge (yes, the elevators aren't working), or he braves the bigger vehicles as he attempts to carefully waltz his way to the U-Turn slot--which I did when I had to go back to the QC Memorial Circle from the UP campus later on (counterflowing to Philcoa then back to the underpass to the Circle wasn't an option for me).
University of the Philippines Diliman
From Commonwealth Avenue, I then turned right to the Commission on Human Rights, where there's a road heading to my college's building, Plaridel Hall.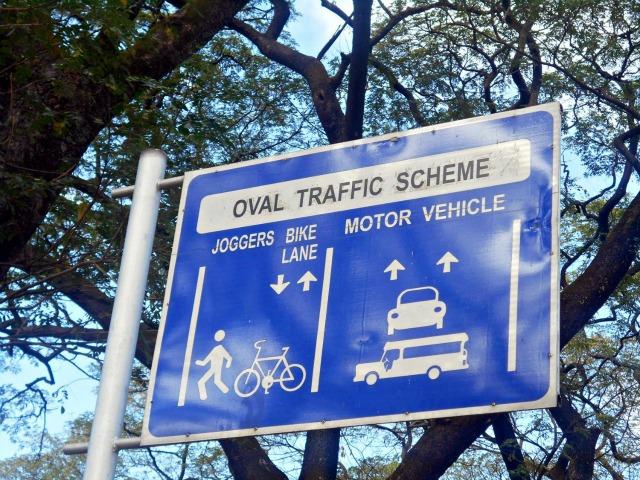 Other campuses, parks, and even cities have a lot to learn from UP's strong implementation of the traffic scheme at the Academic Oval.
It's a good thing though that the bike lane at the UP campus is wider. Although it was my first time to bike inside my school, I have always known that bikers are safe at UP because of the strong implementation of the traffic scheme here, especially at the Academic Oval; bikers and joggers should always be occupying the left side, while private and public vehicles are on the right side. As easy as that.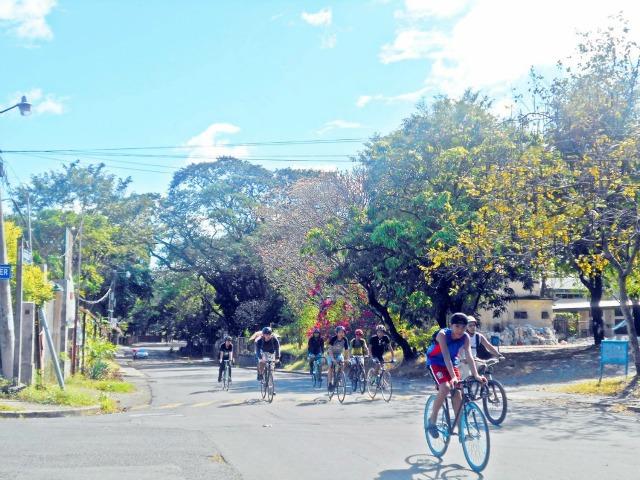 A group of friends all decided to spend their Sunday biking around the campus.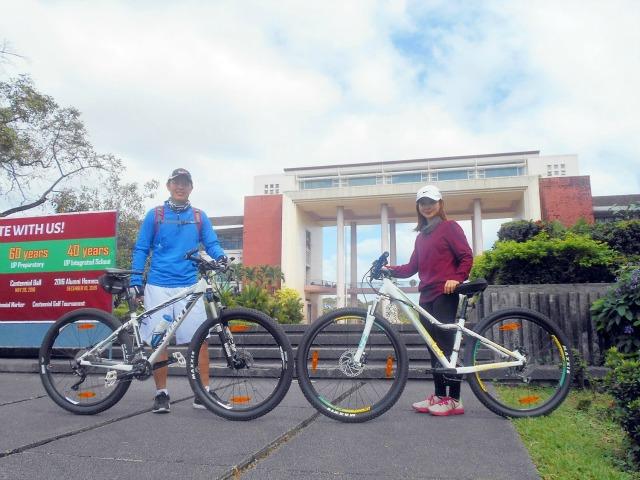 I met bikers Robin and Dolly at UP, both of whom admitted to being neophytes in the UP biking experience. But look at them--it seems like they're gonna come back soon for some more cycling!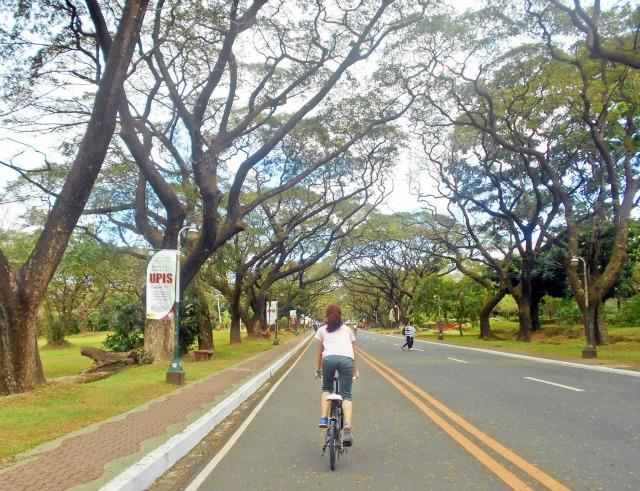 UP closes down the Academic Oval to traffic on Sundays, making it a huge playground for bikers and joggers alike.
That's why it's no longer a surprise for me that the UP campus becomes a favorite hangout place of bikers and joggers especially on Sundays, when the Academic Oval is closed for public and private vehicles. Yup, only cyclists and joggers can occupy this part of the campus on Sundays! Add to that the fact that UP is one of the few campuses that are open to the public, there's no way that bikers won't want to pedal their bikes here.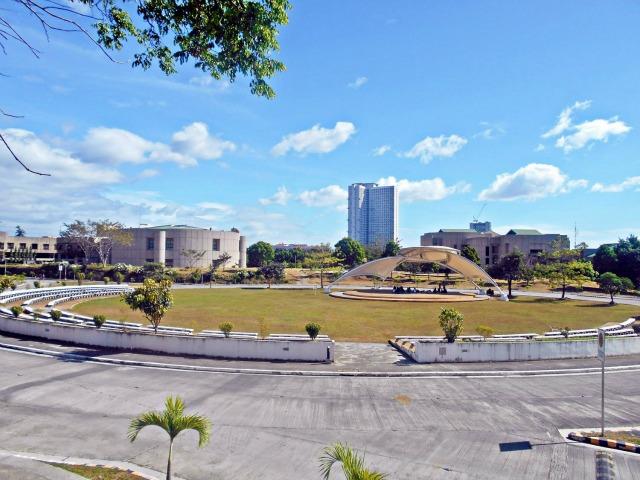 On the southwest side of the campus lies another complex perfect for some cycling. UP just doesn't run out of biker-friendly roads!
Biking at UP isn't limited to the Academic Oval. A few blocks from here is the National Science Complex of the university's College of Science where, as I noticed, the pavement is also smooth and good enough for some pedaling. There are also some slopes here and there--perfect for those who want to bike while feeling the wind in their face.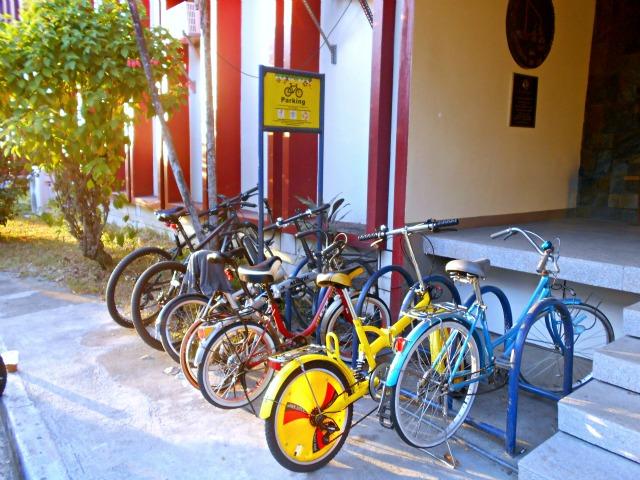 On the southwest side of the campus lies another complex perfect for some cycling. UP just doesn't run out of biker-friendly roads!
Another thing that impressed me are the bike stands in some buildings. In front of Plaridel Hall, for instance, there's a bike stand that can accommodate at least five bikes, as though giving the professors and the students the message that everybody is encouraged to bike. Just make sure that you have a lock with you so you can safely leave your bike here as you go to class or wherever.
Appealing for a more bike-friendly country
Various online petitions have been going around now that appeals for more bike lanes in cities. One of these is the We Want Bike Lanes in RP Movement whose online petition has already garnered more than 10,500 signatories as of January 8 this year.
According to their page on www.change.org, 196 cyclists had been killed in 2005 to 2013. "With the severe lack of road user segregation, we face the horror of [having] two cyclist deaths per week in the menacing streets of the behemoth Metro Manila."
Also just recently, Lakbay2Love, an independent film about bikers, held its premiere night in the lawns of the UP campus (yes, the movie comes on a perfect timing), which was attended by none other than professional and amateur bikers and enthusiasts themselves.
Kapuso actors Dennis Trillo and Solenn Heussaff, the film's main stars, both admitted to being supporters of the city bikers. "Kailangan lang siguro na maging maingat dahil 'yung ibang mga motorista, hindi nirerespeto lalo na 'pag nakabisikleta lang," Trillo said in an interview with GMA News. "Para din sa mga nagbibisikleta, dapat din mag-extra ingat sila kasi wala talagang pinipili ang aksidente."
Heussaff, meanwhile, said that she used to be annoyed at bikers who were occupying even just a little space in the country's highways. But doing the film made her realize how much attention these bikers need from the government. She suggests, "Mas safe para sa kanila sa gitna ng kalye kasi at least aware 'yung mga bus drivers or jeepney drivers. Kasi kapag nasa gilid [ang bikers], parang [the PUV drivers] won't really pay attention kaya [dapat] nandyan sila sa gitna ng road."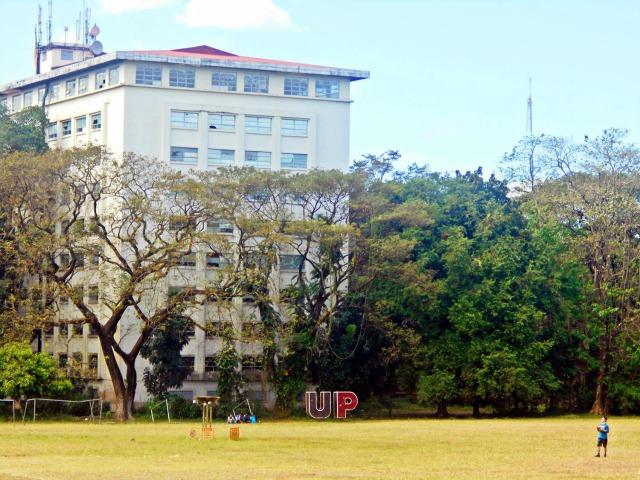 Cycling is not the only outdoor activity that you can do at UP. In the photo, a young boy is seen playing Frisbee.
In terms of efforts made by the government to uphold bikers' rights on the road, MMDA's Bike-Lane Sharing Program OIC Jojo Cruz said in an interview with Unang Hirit on February 02, 2016 that their agency is already conducting studies on having a solid bike lane in the entire stretch of EDSA.
But Cruz is quick to add that strengthening cyclists' rights should be an effort of both the government and the biking community. "Siguro po kailangan lang talaga na itong mga organisasyon ng siklista [at] LGUs ay dapat po mag-usap-usap para ma-consolidate 'yung efforts para magkaroon po ng connectivity [ang isang bike lane to another]."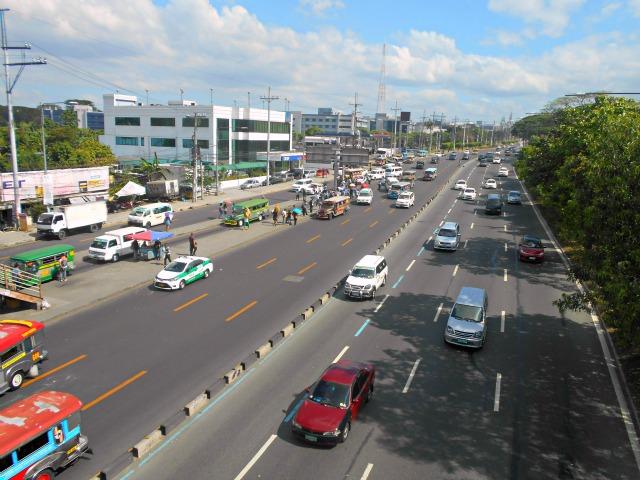 I'm waiting for the day that Commonwealth Avenue will no longer be known as the "killer highway" but rather as the highway that's become biker-friendly after consistent efforts of private and public interests.
Although I have discovered some biker-friendly park, highway, and school here, I believe that there's still a lot to be done; widening of bike lanes, providing a safer way for bikers to cross from one lane to the opposite, relocation of some electric posts and trees that block some parts of bike lanes, improvement of the condition of sidewalks and roads (rocky pavements or even just a little hump can already cause harm for a biker because a bike's wheels are simply not like that of a car or a truck), and perhaps establishment of more government-owned bike-rental shops in more parts of the city are just among the ideas that I got during my bike trip here. Surely, the more professional cyclists, biking organizations, and even those in the private and public transportation units have more ideas that are just waiting to be executed.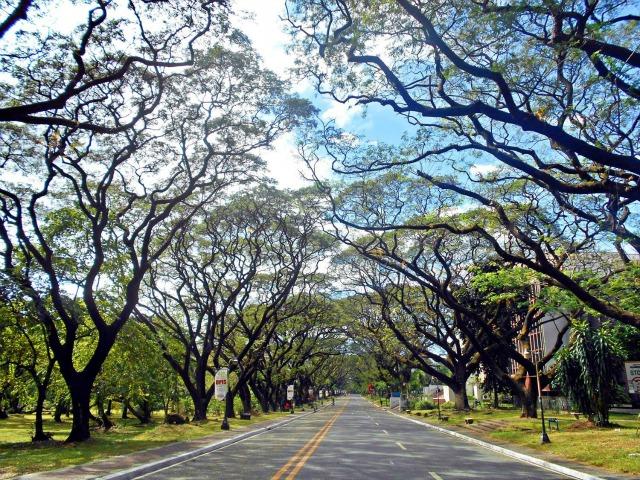 Academic Oval at UP becomes more beautiful because of its being a biker-friendly road not just for UP professors and students but also for the public.
Biking around Quezon City had been thrilling and scary at the same time. It was scary because of the recent news about deaths or injuries of cyclists as well as the constant warnings that I got from concerned traffic constables ("Sir, ingat po sa pagba-bike diyan! May nabundol na po diyan kakailan lang!"). It was thrilling because, actually, I found enough reasons why bikers should continue hoping that the Philippines will soon be a biker-friendly country, where we'll all be thrilled and no longer scared to bike around.
I'm not asking for a superb quality of roads that are like those in biker-friendly countries like Denmark, Netherlands, or Spain, where cycling is the most common transport. In my years of being a city boy, I know that physical progress in Metro Manila doesn't happen just like that.
I'm just hoping for a better attention to the safety of cyclists in the city. And then from there, we can already take it two wheels at a time.---BMS/GMA Public Affairs