Filtered By: Publicaffairs
Public Affairs
MV Dona Paz survivor reunites with family after 25 years on 'Wish Ko Lang'
Most survivors of traumatic experiences turn to their families for support and comfort. But in 1987, a teenage girl who survived one of the deadliest peacetime ferry tragedies in history instead decided to hide from her relatives after surviving. It wasn't until two decades later that Valeriana Duma was reunited with her family in Samar through the help of the GMA Network program "Wish Ko Lang." In 1987, Valeriana, then only 14 years old, left home against her father's wishes to serve as a housemaid for a family in Tacloban. She wanted to help augment the family's meager income. Valeriana's employers would take her with them on their travels to Manila. During one trip, Valeriana found herself aboard the MV Doña Paz, which on December 20, 1987, collided with the MT Vector, leaving more than 4,000 dead. Valeriana survived using a life jacket given by her employer, but her survival was never recorded by the authorities. If it had been, she would have been the youngest of the few survivors. "
Kalahating araw akong palutang-lutang sa dagat. Iniisip ko saan na kaya ako makakapunta nito?
" recalls Valeriana. So traumatized by the accident, Valeriana delayed returning to her family in Samar until she could muster the courage to face them again. "
Dinadala ko pa rin ang takot ko sa dagat, kaya hindi na ako makauwi.
" She eventually married and settled in Pampanga where she continues to work as a domestic helper. Earning just enough to get by, Valeriana cannot afford to travel to Samar with her husband.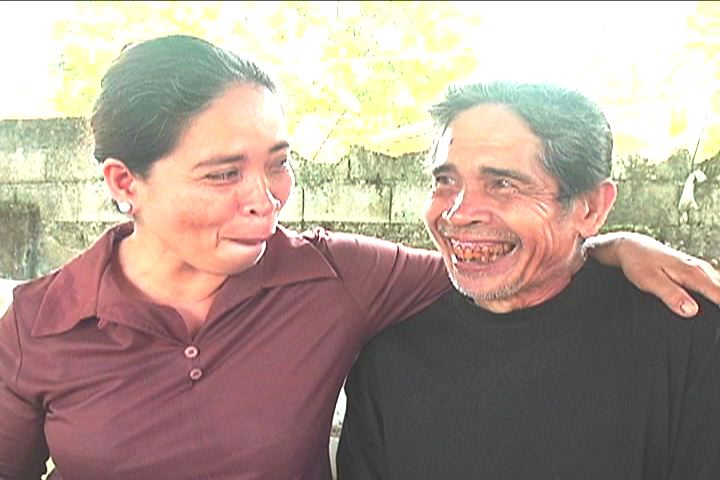 Valeriana with father Hesus, together after 25 years
Reunion
The GMA program "Wish Ko Lang" learned about Valeriana's story through a letter from Valeriana's current employers, the Capati family. The program arranged for Valeriana to fly back to her hometown in Catubig, Northern Samar. After 25 years apart, Valeriana and her father Hesus Duma were finally reunited in a tearful embrace. Though Valeriana's father, now 67, still lives in the same house, their family has grown. Valeriana met her half-siblings, nephews and nieces for the first time. The program treated the family to a simple family luncheon to give them a chance to bond and make up for lost time. The program also gave both Valeriana and her father mobile phones to ensure they can keep touch after decades of being apart.
"Wish Ko Lang" airs Saturdays at 4:30 PM on GMA Network. Follow "Wish Ko Lang" on Facebook and Twitter!