Filtered By: Scitech
SciTech
Groups to NTC: curb 'telco abuses' on broadband internet
The consumer group TXTPower on Tuesday asked the National Telecommunications Commission (NTC) to curb "abuses" of telecommunications firms offering broadband Internet by setting definitions and standards for such services. At a public hearing, TXTPower president and CEO Tonyo Cruz delivered a
position paper
concerning the NTC's draft memorandum order (MO) entitled "Minimum Speed of Broadband Connections". The draft of the MO that came out in December caused
a public uproar
because it contained a clause that, if approved, would allow telcos to place restrictions on how much information can be accessed by individual users on any given day. NTC Commissioner Gamaliel Cordoba said that the clause was suggested by telcos themselves in response to the agency's call for reliable Internet access.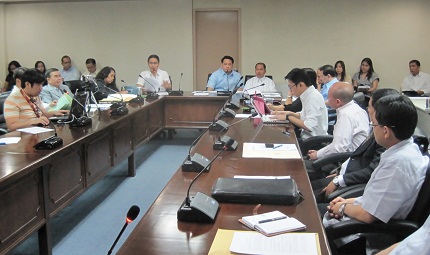 Commissioners of the National Telecommunications Commission (NTC), led by its chair Gamaliel Cordoba (middle, in blue shirt) preside in a public hearing Tuesday on the proposed circular requiring broadband data limit for consumers and minimum broadband speed for service providers. The event, which was held at the NTC main office in Quezon City, was attended by various industry stakeholders, including telcos, bloggers, and consumer advocacy groups. Photo by Melvin Calimag
NTC: a communications agency with no social media
However, Cruz chided the NTC for failing to seize the opportunities to latch onto social media and use its tools to interact, consult, and hear from the public. Despite being the the government's main policy-making body on communications, the NTC has yet to embrace social media, unlike other government agencies such as
PAGASA
and even
President Noynoy Aquino himself
. "We hope to see you soon on Twitter and Facebook, and that future public hearings be streamed live on the internet," Cruz said.
'A race among turtles'
Cruz likened the local broadband Internet industry to a race, but one among turtles. "Imposing caps would be like putting speed limits on slow-moving turtles," he said. Cruz also called for an NTC audit of the telcos' Internet-provisioning infrastructure. "It is one thing for telcos to say that a small percentage of consumers abuse their networks, but is another and more important thing to know whether they actually deliver the promised services and whether they have at the moment or in the future the capacity to deliver them," he explained. He also criticized the lack of industry-wide standards regarding rebates and refunds, which leaves consumer concerns to the arbitrary discretion of telco supervisors. "Yes, honorable Commissioner and Deputy Commissioners, cheating and abuse exists in the industry that delivers so-called broadband internet connections. They take many forms like false advertising, non-delivery of promised services, woefully inadequate contact points for consumer feedback and complaints, inaction on such complaints, among others," he said.
Fair use policies: not an excuse
At the hearing, Philippine Chamber of Telecommunications Operators (PCTO) president Atty. Rodolfo A. Salalima reiterated his group's support for broadband caps in the interest of "fair use". "Fair Use Policies are the bastion of consumer rights. I'm sure no one will argue that everyone should have equal opportunity to use a service," Salalima said. However, Cruz said that, while TXTPower favors Fair Use Policies, these should not be used as an excuse to deny the Philippines of adequate broadband definitions and standards. "It takes two to tango: Truly workable, practical Fair Use Policies could succeed if networks deliver," he said. He also said that the issue of consumer abuse is "weird" because telcos actually encourage consumers to use the Internet and become avid internet users, to watch and upload videos and photos. Because of such encouragements, it said the Philippines has become a social media capital. However, Cruz expressed shock that "(telcos) are taking it against us that we are allegedly abusing their services and infrastructure." "The adoption of this (MO) will destroy social media in the Philippines and affect businesses," he stressed before the commissioners.
Clear definitions needed
"Up to now, the NTC has failed to follow the lead of telecom regulators worldwide in defining what broadband internet is, whether delivered via dial-up, wired or wireless connections," Cruz averred. He cited the example of the United States, which defines "basic broadband" as internet services with a download rate of at least 4 Mbps and an upload rate of 1 Mbps. Worldwide, the trend is to consistently raise the basic minimum and to lower the rates. "Without such definitions, the Commission, the Republic, the consumers and end-users and the telecommunications supposedly offering broadband services are at a loss. Without such definitions, it would be foolish to ask telcos to arbitrarily and baselessly prescribe minimum speeds and impose so-called data caps," he said. Cruz also called for further hearings not just in Metro Manila but also in the provinces, where there are as many as diverse problems with broadband internet connections.
Kabataan Partylist joins public clamor
Meanwhile, although he was not in attendance, Kabataan Partylist representative
Mong Palatino
also scored the NTC for its proposal to allow data caps. ""NTC's draft memo is clearly anti-consumer and regressive. It tramples on the rights of the consumers to get what they pay for in terms of a reliable internet service. Also, by allowing telecommunication companies (telcos) and internet service providers (ISPs) to limit internet speed and connection, NTC seemingly wants the whole nation to regress to an internet era that is much slower and highly unstable," he said in
a statement
. "Consumers are definitely on the losing end should NTC pursue the memo which, it is important to note, is strongly supported by telcos and ISPs. It is clearly not the interest of the consumers that the NTC wants to protect," he added. Palatino said that Kabataan party-list has gathered numerous consumer complaints on substandard internet services, which will be forwarded to the NTC. Among the complaints are slow, unreliable and below-par broadband internet connections, limited network coverage, and questionable practices such as data-capping, so-called "burstible speeds", long contract periods, and pre-termination fees.
Philippines lags behind two-thirds of the world
Comprehensive research
has shown that, in terms of average Internet broadband download speed alone, the Philippines lags behind roughly two-thirds of the world. The country is bested not just by world superpowers such as China and the US, it is also surpassed by small countries such as Lithuania and Kenya. Even the small African nation of Rwanda, with a population of just 9 million, a per-capita gross domestic product (GDP) of just US$506, and still recovering from a recent history of genocide, has an average broadband speed of 10.1Mbps —more than six times that of the Philippines' paltry 1.5Mbps.
— With a report from TJ Dimacali, GMANews.TV