Filtered By: Scitech
SciTech
PHL joins int'l scientific community in saving Asia Pacific coral reefs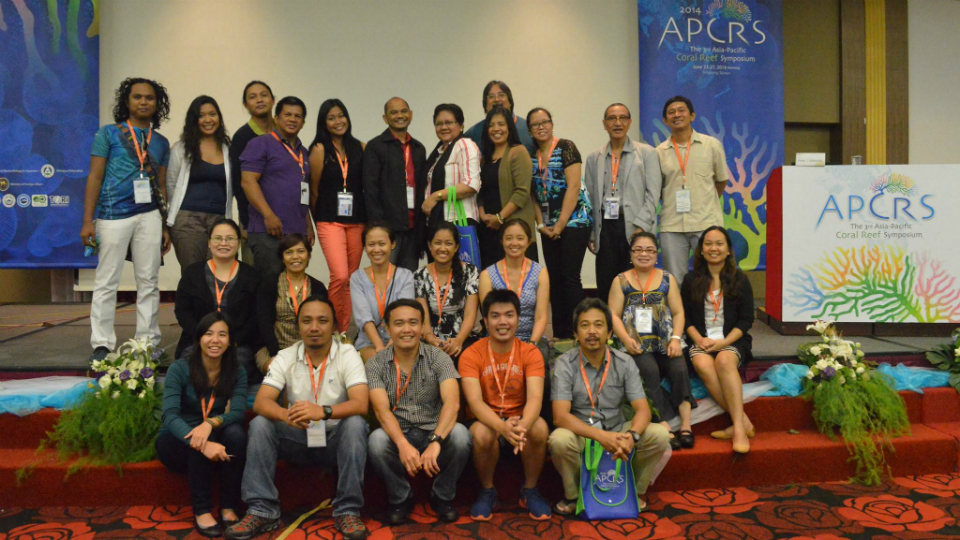 The author (middle row, 3rd from right) with other Philippine delegates to the 2014 APCRS.





In the Philippines alone, just 5% of all coral reefs are in excellent condition, notwithstanding the fact that these resources provide trillions of pesos worth of goods and ecosystem services. This is just one of numerous points of concern that were touched on at the 3rd Asia-Pacific Coral Reef Symposium (APCRS) held in Pingtung, Taiwan, from June 23 to 27.



Filipino scientists joined over 500 other researchers, natural resource managers, policy makers, representatives of non-government organizations, and stakeholders from 39 other counties at the event in order to find answers to the coral reef crisis in the Asia Pacific region.



Danger from climate change



Research presented at the conference revealed new insights into how humans and human-driven climate change are affecting coral reefs, such as the shift of corals to more northern latitudes due to ocean warming, how nutrient pollution may cause a decrease in coral fertilization, and how the stronger typhoons caused by climate change may reduce Philippine reefs to rubble.



But all is not lost, as some reefs have also shown acclimation to stressors such as increased temperature and ocean acidification and these reefs may serve as refuges in the future.



Participating universities and NGOs included the University of the Philippines (Diliman, Visayas, and Mindanao), De La Salle University-Manila, Mindanao State University-Naawan, Siliman University, and Haribon Foundation. Filipino researchers also represented foreign universities such as the National University of Singapore. Dr. Porfirio Alino (UP Diliman) and Dr. Maria Carmen Ablan-Lagman (DLSU) were keynote speakers at the conference.



Unfolding imperatives



Said Dr. Alino in his speech on the interrelatedness of natural and societal systems:



The urgency of the concerns to act now is not only a construct of our imaginative minds, but these imperatives that are unfolding are seen in real world politics, especially in the reefs of the disputed areas of the West Philippine Sea. Hopefully our gathering [APCRS] should let us find hope and seize great opportunities to seek ways where our understanding of reefs may lead to the better understanding among our peoples. Perhaps in these ways it may lead to a better world and a brighter future for our children.



The APCRS serves as a forum for sharing knowledge and experience on coral reef biology, ecology, management, and conservation. APCRS was first held in Hong Kong in 2006 with the theme "Coral Reefs: Cooperation and Collaboration for Better Conservation". The 2nd APCRS, held in Phuket, Thailand in 2010, had the theme "Collaboration for Coral Reef Conservation in a Changing Climate". Organized by the National Museum of Marine Biology and Aquarium, the 3rd APCRS carried the theme "Challenges of Asia Pacific Coral Reefs Under the Changing Ocean".



The fourth APCRS will be held in Cebu, Philippines in 2018. Said Dr. Cleto Nañola Jr. (UP Mindanao), current president of the Philippine Association of Marien Science, "The Philippines hosting the 4th APCRS is historical because the 4th International Coral Reef Symposium (ICRS) was also held in the Philippines way back in 1981". The Philippines won the hosting bid over one other country.



Philippine coral reefs cover more than 2.5 million hectares and provide valuable ecosystem services such as food (by serving as a habitat for commercially important species), protection from storm surges, natural products, and jobs through recreation and tourism. However, these reefs are threatened by global climate change and human impacts such as sedimentation, pollution, coastal development, and destructive fishing practices. — TJD, GMA News



---
Macy Añonuevo earned her MS Marine Science degree from the University of the Philippines. She is a published science and travel writer and was a finalist in the 2013 World Responsible Tourism Awards under the Best Photography for Responsible Tourism category. Her writings and photographs may be found at www.theislandergirl.com.