Filtered By: Scitech
SciTech
Scientists discover 3 extinct giant rodents in PHL, say human activities may have led to disappearance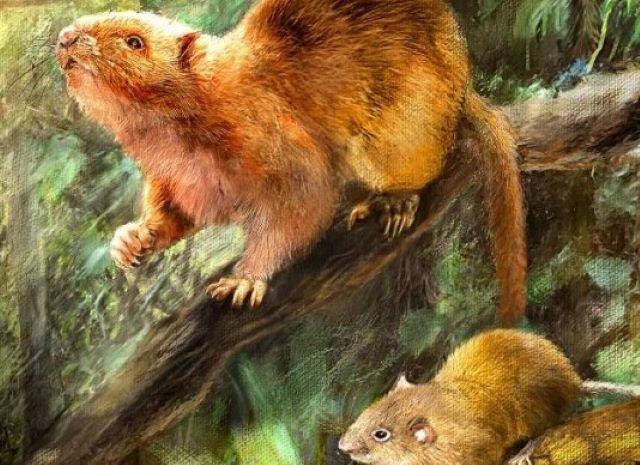 Scientists have discovered three extinct species of giant cloud rats, locally known as buot, in the Philippines.
After a four-year study, scientists from University of the Philippines, National Museum of the Philippines, and Field of Museum of Natural History in the US discovered Carpomys dakal, the largest of the fossil cloud rat named so because it was "much larger compared to the known living species in the same genus"; Crateromys ballik, which was "slightly smaller than the living Crateromys species in Luzon"; and Batomys cagayanensis, named after the place where the archeological sites were located.
The study, led by Dr. Janine Ochoa, Armand Salvador Mijares, Philip Piper, Marian Reyes, and Lawrence Heaney, confirmed that the newly recorded species lived only in the Philippines.
Published on Oxford Academic's Journal of Mammalogy on Friday, the study analyzed fossils that came from Callao Cave in Cagayan, the same place where Homo luzonensis, a previously unknown species of man, was discovered in 2019.
In an exclusive interview with GMA News Online, Ochoa, lead author and assistant professor of anthropology at UP Diliman, said they weren't expecting to discover the three species when they started their analysis in 2017.
This was because there were living cloud rats in the area and they expected to find their remains there, not those of extinct ones.
"It's quite fantastic actually," said Ochoa, adding that apart from those excavated in 2007, some of the specimens were those found at the National Museum, which were retrieved in the 1970s and '80s.
"They've been there for a while," she said. When they started doing the analysis in 2017, that was only when they found out that these were different giant cloud rats, she added.
Ochoa said they were surprised that these were totally different species and did not expect to find them in the lowlands, particularly the three species in those genera.
She also noted that the scientific names of the three new species of fossil cloud rats were chosen from Philippine languages found in Luzon.
As of today, there are 18 living species of cloud rats or buot, which are herbivore mammals that live in trees, have furry tails and striking fur color, and can only be found in the Philippines.
The three newly discovered species were distinguished by their distinctive dental morphology, their body size, and their habitat.
The extinct species lived in lowlands or forests over limestones, in contrast with existing ones that dwelled in mossy forests up the mountains with an elevation of at least 1,200 meters.
"These differences in elevation and habitat type reinforce our morphological evidence that they represent distinct species. These observations also lead us to conclude that all three species are probably extinct," an excerpt from the study read.
Two of these extinct specimens were recorded 2,000 years ago, which meant these were resilient and persistent for tens of thousands of years.
The study also showed that these giant cloud rats survived alongside Homo luzonensis.
Ochoa said the cause of extinction needed further studies, but there was a possibility that it was caused by human or anthropogenic activities because the last recorded occurrence of the two species was also after the arrival of agricultural societies.
"The last record that we have for the two of them is roughly 2,000 years ago or slightly later," she said, adding this was after Homo sapiens, modern humans with domesticated animals, and invasive species such as monkeys were known.
The professor said it was possible that the "confluence" of human or anthropogenic activities, on top of hunting, led to their extinction.
These extinct giant cloud runts might have also been hunted down for food by humans.
Ochoa said the fossil assemblage included remains of species hunted down by humans, such as wild pigs.
"[I]yon iyong association nila pero (that's their association but) we need to do further studies," she said.
In an NMP press release, Heaney said such studies could help the public in understanding the impact of over-hunting.
"This is something we need to understand if we are going to be effective in preventing extinction in the future," said Heaney, Negaunee curator of mammals at Field of Museum of Natural History.
Ochoa, meanwhile, said the discovery of these extinct species further proved how "tremendous the biodiversity is" in the Philippines.
The study also said that the discovery of the three recently extinct species showed that the diversity of this distinctive endemic Philippine radiation was at least 17% higher in the recent past.
Ochoa said she did not learn at school that the Philippines had such a high level of biodiversity and endemism, which she defined as the state of a species being found only in the country.
"That just means marami pa ang dapat aralin at marami pa pwede pa ma-diskubre. Importante maintindihan natin 'yung biodiversity ng past para maintindihan natin ang biodiversity in the present, and that helps us in our conservation efforts para mapahalagahan remaining biodiversity," said the professor.
[That just means there are more things to study about and more things to discover. It's important for us to understand the biodiversity in the past so we can understand the biodiversity in the present, and that helps us in our conservation efforts to protect the remaining biodiversity.] – RC, GMA News