Filtered By: Scitech
SciTech
Marvel releases new theatrical posters, trailers for 'Captain America: The Winter Soldier'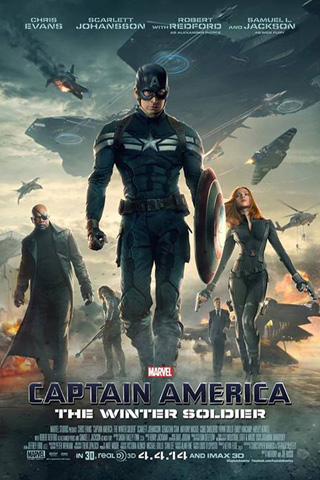 Marvel Studios and Disney have certainly caught the attention of the entire world when they released a couple of teasers building up to the unveiling of their newest theatrical trailer for "Captain America: The Winter Soldier" at this year's Super Bowl.
The people behind the film have released not only a collection of new footage to drool over, but a nice new collection of posters hinting that this may be the biggest Marvel action movie to date—and it takes itself very seriously.
As an adaptation of the storyline of the same name written by Ed Brubaker and illustrated by Steve Epting, "Captain America: The Winter Soldier" takes place two years after the events of Marvel's "The Avengers" and sees Steve Rogers adjusting to modern life and working for S.H.I.E.L.D. However, after one of his allies in the peacekeeping organization is attacked, Cap must work together with the Black Widow and new recruit The Falcon to stop a conspiracy that may endanger the world. Yet, their mission is impeded by the appearance of a mysterious assassin, known only by his alias, "The Winter Soldier."
Leading up to the Big Game day on February 2, Marvel Studios
released a couple of character posters for the movie,
which feature Chris Evans, Scarlett Johansson, and Samuel L. Jackson all reprising their roles as Steve Rogers/Captain America, the Natasha Romanoff/Black Widow, and Nick Fury, director of S.H.I.E.L.D.
Cap sports his new costume while looking somewhat disappointed with Washington D.C in the background in his poster, while Black Widow prepares for action, and Nick Fury prepares to lead in his ready room in their own respective one sheets.
Additionally, there was also a brand new theatrical poster featuring all three main characters. Thrown into the mix was Sebastian Stan as The Winter Soldier and Hollywood veteran actor Robert Redford as Alexander Pierce, a high ranking official in S.H.I.E.L.D. and a comrade of Nick Fury's. The background of the poster also illustrates that a grand battle may take place at the heart of Washinton D.C—airships flying and the S.H.I.E.L.D. Helicarrier getting caught in the middle of the crossfire.
On Super Bowl day itself, Marvel released the second official trailer for the movie, which spotlights the mystery behind The Winter Soldier, and the stakes Cap and his allies have to face in the coming battle. An international trailer was also released, adding the first trailer's footage of Cap jumping out of the S.H.I.E.L.D. jet without a parachute, and a scene of Emily VanCamp appearing as Agent 13, a.k.a Sharon Carter.
The official international version of the second trailer.The official second trailer.
Captain America: The Winter Soldier, directed by Anthony Russo and Joe Russo, sees release on March 26 internationally, and April 4 in the US. —
VC, GMA News