Filtered By: Scitech
SciTech
Samurai-themed 'A Single Moment' is one Pinoy's gift to tabletop RPGs
In the '70s, "Dungeons & Dragons" introduced us to the thrills of slaying monsters and saving fantasy kingdoms in the comfort of our homes.
The tabletop role-playing game (RPG) has evolved since then, tackling diverse themes and experimenting with a variety of new mechanics.
Take, for example, Filipino game designer Tobie Abad's "A Single Moment," which was runner-up for Best Rules at the 2017 Indie Groundbreaker Awards. The RPG revolves around two samurai—once dear friends, now bitter enemies—whose paths have led them to a single, defining clash that will decide who lives and who dies.
The sword fight, however, is but one aspect of the game. "A Single Moment" explores each character's motivations and the events in their past that contributed to their enmity. It's a game as much about emotions and personal philosophy as it is about blood-drenched katana.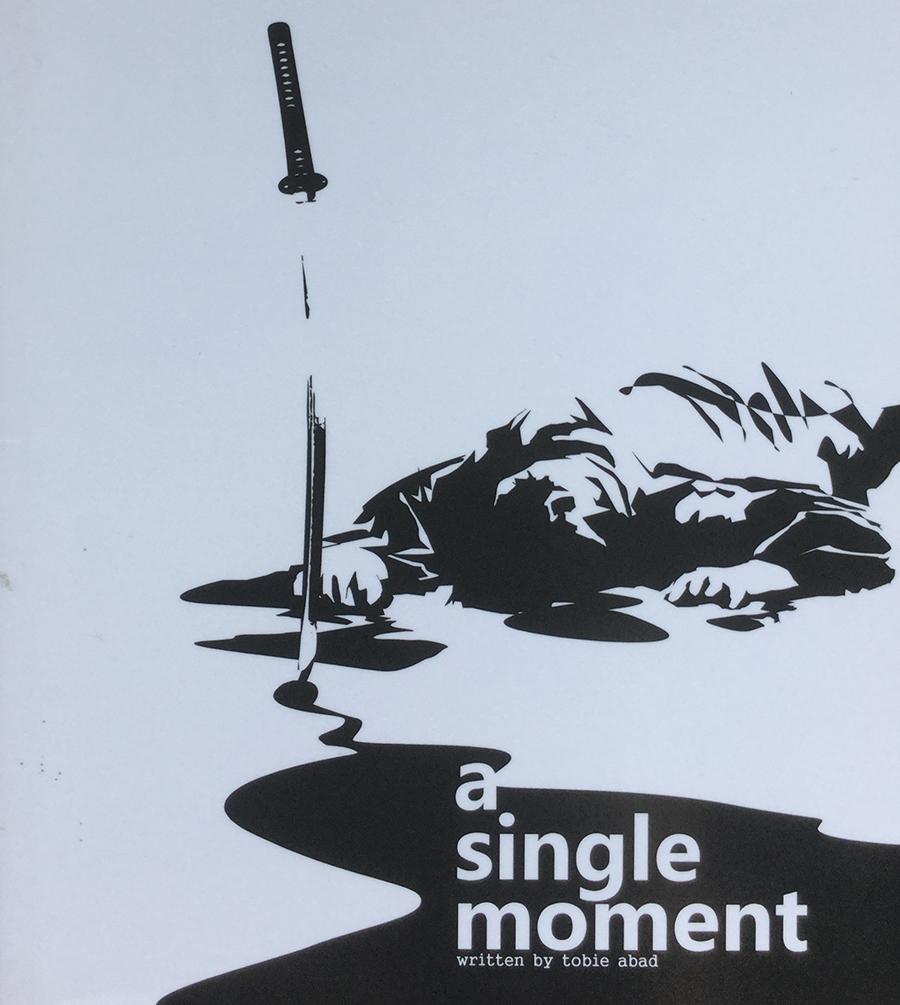 One of a kind
From the beginning, Abad wanted "A Single Moment" to be different, as well as to serve as a solution to a problem commonly experienced by RPG enthusiasts.
"Most RPGs have always been played with a group of friends," said Abad. "After way too many game nights being disrupted by the sudden onset of other plans, a friend of mine named Urim asked me if there were two-player RPGs that we could play instead. At the time, I thought there weren't any so I decided to try writing one myself."
Two-player RPGs are a rarity. But "A Single Moment" is also special in that it has strong emotional elements and even boasts cinematic flair.
"Having studied both film, television and theater production and theory during my younger years, I always felt the RPG was a budget-free medium of potential ideas for those three," explained Abad. "When I was working on 'A Single Moment,' I wanted to find a way to distill the key emotional points into something that the players were aware of as something they should hit."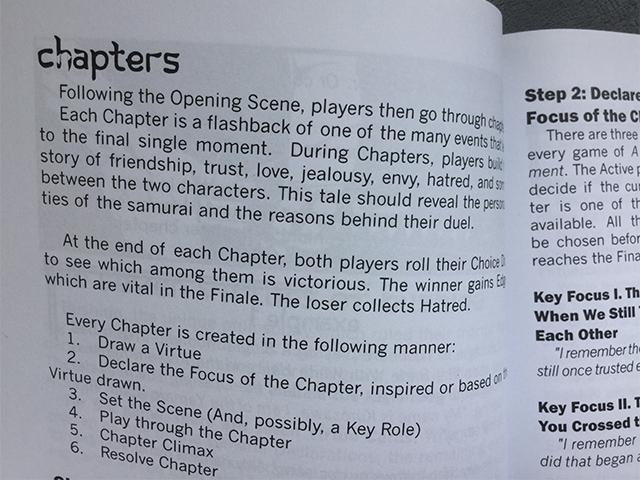 How to incorporate impactful storytelling into the gameplay was another crucial consideration for Abad.
"Many RPGs try to simply be simulational—with all these rules upon rules to try to cover every single possible event in the game," he said. "I intentionally approached 'A Single Moment's' design with the mindset that people might want to tell a samurai-inspired story despite not really knowing anything about samurai or historical Japan. Rules in an RPG are there to facilitate fun. And so I thought of finding ways to help represent the growing animosity and rivalry between two people, and simplified the system to be something even first-time players can easily get into."
Triumphs and opportunities
Abad believes "A Single Moment" became Indie Groundbreaker Awards' Best Rules runner-up because of the new experience it offers to the gaming table. And though it didn't claim first place, he feels honored that it was recognized for its merits:
"The game it lost to, 'Masks: A New Generation,' is an amazing game… But knowing that hundreds of games were submitted for consideration, and 'A Single Moment' was noticed and recognized enough in that way was already a win as far as I'm concerned," he said. "And I'm happy to have been able to create something that has contributed to the gamut of experiences gamers can enjoy in the hobby."
Abad has plans to expand on the world he created.
"In the works are a number of expansions to the game, including 'A Second Moment'—alternate rules, rules for more than two players, rules for longer campaigns, as well as rules for using different dice, using no dice, and even using only playing cards to play the game; and 'The Moment'—rules for playing 'A Single Moment' alone, or as a writing exercise."
Abad is also eager to work with fellow game developers on future projects revolving around "A Single Moment":
"I've also invited a few local creators and international creators to come up with their own playsets for the game. I've seen some notes for a 'Star Trek'-inspired playset, another for warring robots sort of like those from 'Pacific Rim,' and more. Who knows, maybe a completely new edition might even be in the works!" he said.
A game developer's life
Abad has been playing and developing RPGs since the late '90s, when home-brewed games were all the rage. Today, he is the senior game designer for Indigo Entertainment, where he designs mobile and online games for various audiences.
Last February, Abad launched TAG Sessions, which serves as both his gaming blog and the brand through which he produces his own games. Thanks to his Patreon supporters, TAG Sessions was able to have its first release: "Bad Timing."
Abad's endeavors have garnered the attention of the international gaming community, which he has described as "tremendously welcoming and supportive." The recognition he's earned has opened the doors to plenty of opportunities for him.
"I've been a guest in a number of podcasts and some of my games have been played in some webshows," he said.
"A recent highlight was being invited to be a guest at the Strategicon Gamex 2017 convention at Los Angeles." At this event, Abad met fellow game designers Dan Waszkiewicz, Jim Pinto, and Ben Woerner, whom he'd previously only known online. "They all took the effort to hang with me at the convention and helped me feel at home."
While another new friend, Tomer, was showing him around Los Angeles' gaming shops, Abad also met a gamer who was a huge fan of "A Single Moment."
"It was pretty cool seeing someone appreciate my work so much, and in return it was cool for him to get to game with the creator," he said.
The Philippine RPG community
Abad is happy with the current state of the Philippine tabletop RPG community.
"It is nice to see it growing once more, remembering how active and alive the tabletop gaming community was back in the late '90s," he stated. "It is also very uplifting to see that more and more gamers are being open to the idea of expanding beyond the usual games and groups they've grown accustomed to."
Twice a month, Abad and partner Rocky Sunico host free open-table one-shot sessions they call TAG Bites.
"There are other groups that host gaming events, with many of them being located near universities," he said. "And there are a lot of local creators who are hoping to release more work too!"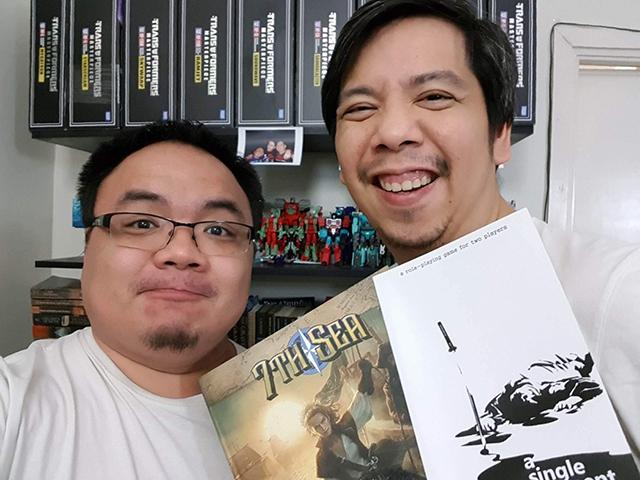 Tobie Abad (right) with partner Rocky Sunico, who was instrumental in helping Abad embrace the TAG Sessions brand. Photo: Tobie Abad
Abad offers the following advice to those aspiring to become tabletop RPG designers:
"Just do it. Write it and get people to playtest it. Revise it and repeat until you have what you feel is something you're ready to share. But don't waste time trying to make it so perfect that years pass before you even share it with the world. With the literal thousands of people creating games, it is very unlikely that something you'll do has never been done before, so just get it out. Share your voice. Find your audience. And have fun."
For more information about "A Single Moment," visit its DriveThruRPG page and Abad's TAG Sessions blog. — BM, GMA News