Filtered By: Scitech
SciTech
Can't find parking in busy Metro Manila? Dibz helps you find one, Airbnb style
Are you one of those drivers who lose time and patience roaming around the metro just to find a parking space?
There is this mobile application which may ease car owners' parking woes. Launched in April 2017, Dibz, a mobile parking and valet application, allows drivers and parking space owners to share and reserve parking spaces.
Leeroy Livias Shoko, one of those who conceptualized the application, explained to GMA News Online how the application works for drivers.
"Drivers search for parking spaces on the Dibz app and reserve the space. Dibz will secure a space and allow the customer to park either self park or through valet parking with our valet drivers across Metro Manila," Shoko said.
Shoko added their company collaborated with parking operators and the management of offices and residential buildings or condominiums so that their parking spaces may be used by drivers.
"We sign up with parking spaces owners and we make use of their parking spaces during the time it's free allowing other drivers to park, Airbnb style. Our valet-drivers park the vehicles inside private buildings and residential buildings as well," Shoko said.
"Our goal is to build the inventory of parking so we can make it available to other drivers. Commercial buildings are empty at night and we make use of those spaces," Shoko added.
Their company has the goal of expanding and working with government buildings as their parking spaces are usually "empty" during nighttime. Shoko said this could also generate money for government projects.
Safety, pricing
Shoko assured the public that their application is safe to use. Shoko mentioned that their valet drivers are trustworthy and accredited by the Land Transportation Office (LTO).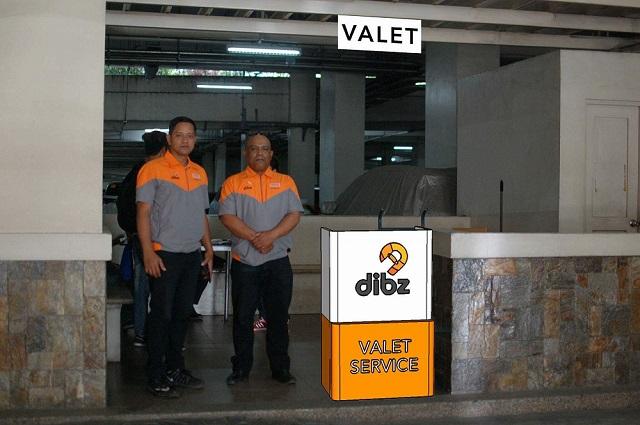 Dibz valet drivers can park your car for you. Dibz
"We allow our drivers to valet the vehicles into the private buildings for safety of the other residents and to make sure that no unaccounted people will be entering the buildings. Our drivers are well trained and have experience in the industry," he said.
When asked about the price range of this service, Shoko said it depends on the locations and the facilities found at the parking locations.
Shoko said prices can be as low as P10 per hour during wee hours while it can go as high as P50 per hour during peak hours.
"Overnight rates range from P200 to P400, depending on the location as well," he added.
"Indoor spaces are more pricey that outdoor spaces," he said.
Those who will use the Dibz platform may pay through debit or credit card payments. PayPal is also an option for the motorists.
"We also partnered with 7-Eleven via the Cliqq machines inside the stores. We soon plan to add Bayad Centers and SM department stores as another option for payments," he said.
"For the parking space owners they get to recover some of their spendings and earn from their underutilized spaces through the Dibz platform," he added.
Heavy traffic
Shoko acknowledged that heavy traffic can really be felt around the city due to the huge volume of public and private vehicles. He said 30 percent of traffic in Metro Manila can be attributed to drivers who search for parking spaces.
"We are different from Waze and Google Maps that will navigate you to a parking space only to realize it's having a huge sign [saying,] 'Parking Full,'" Shoko said.
"We are able to give drivers real time availability of parking spaces and also we are able to guarantee the parking space. If parking is not available we valet the vehicle at a fraction cost of the normal valet fees you would expect when you use valet at hotels or at events," he explained.
Shoko said through the help of Dibz, there would be no more circling the block in order to find a parking location, no more waiting for other vehicles to vacate a spot, and no more scrambling for loose change and lost parking tickets.
Dibz is available for both Android and Apple users. The service is presently available in Makati City, Bonifacio Global City (BGC), Ortigas business center, Century City Mall in Makati, Megamall, and Podium.
They are considering expanding the service in Quezon City. —KG, GMA News