Filtered By: Scitech
SciTech
Philippines No. 1 in percentage of internet users who follow social media influencers —global report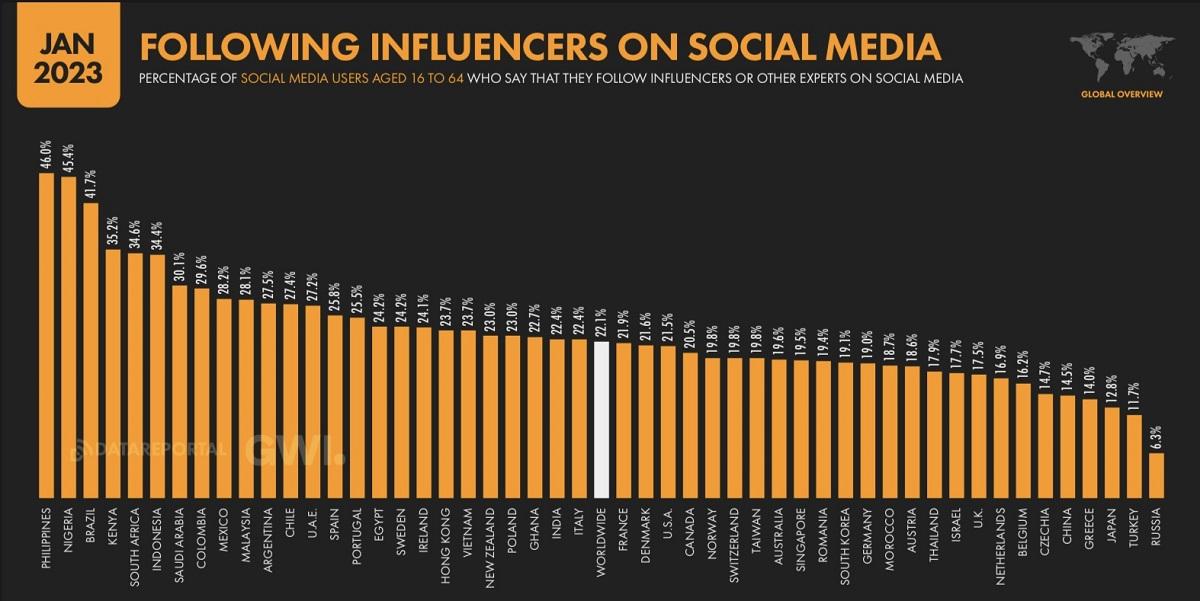 The Philippines ranks number 1 in the percentage of social media users aged 16 to 64 years old that follows influencers, a global result said.
According to the 2023 Global Digital Report by Meltwater and We Are Social, 46% of Filipino social media users aged 16 to 64 said they follow influencers and other social media experts.
The Philippines is followed by Nigeria (45.4%), Brazil (41.7%), Kenya (35.2%), South Africa (34.6%), Indonesia (34.4%), Saudi Arabia (30.1%), Colombia (29.6%), Mexico (28.2%) and Malaysia (28.1%).
At the bottom of this list are Russia (6.3%), Turkey (11.7%), Japan (12.8%), Greece (14.0%) and China (14.5%).
Globally, the report said that of the social media users from ages 16 to 24 years old, 30.6% are female and 24.3 are male. For ages 25-34, 27.3% are female and 22.8% are male. For ages 35-44, 22.9% are female and 20.4% are male. For ages a45-54, 17.9% are female and 16.3% are males. Lastly, for ages 55-64, 11.4% are female and 11.6% are male.
The country has also topped the percentage of internet users who watch vlogs each week, as well as the ratio of internet users who play video games, based on the same report.

The 2023 Global Digital Report showed various data from market research agencies, internet and social media companies, governments, public bodies, news media, and private individuals, as well as extrapolations and analysis of that data.
Meltwater is a software and online media monitoring company, while We Are Social is a creative agency actively involved in social media. —Sherylin Untalan/KBK, GMA Integrated News