Filtered By: Scitech
SciTech
Domeng to enhance Habagat, will spur monsoon rains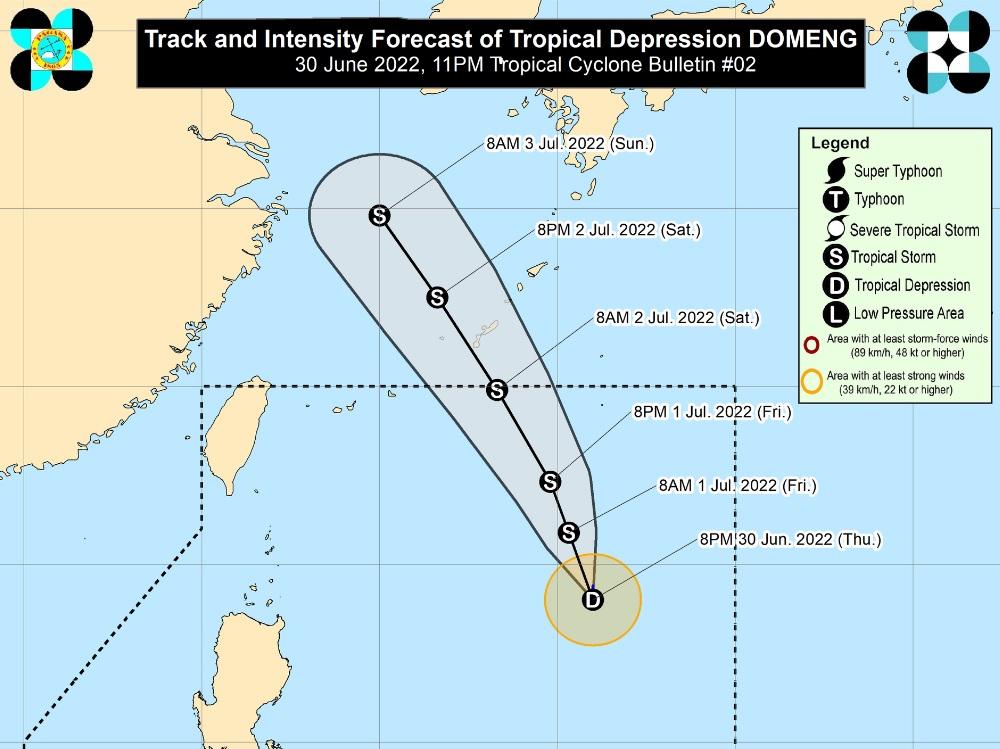 Tropical Depression Domeng slightly intensified while moving slowly over the Philippine Sea, PAGASA reported late Thursday evening.
In its 11 PM bulletin, PAGASA said Domeng may develop into a tropical storm in the next 12 hours and may reach a peak intensity of around 85 kilometers per hour by Saturday, July 2.
The center of Domeng was last seen 1,000 kilometers east of extreme northern Luzon and slowly heading southward while packing maximum sustained winds of 55 kilometers per hour near the center and gustiness of up to 70 km/h.
No tropical cyclone wind signal is currently hoisted over the archipelago for the tropical depression.
Further, PAGASA said Domeng and Tropical Storm Chaba, which is currently outside the Philippine Area of Responsibility (PAR), will enhance the trough of the monsoon and the prevailing southwest monsoon.
This will spur monsoon rains over the western sections of central and southern Luzon and occasionally gusty conditions reaching a strong breeze to near gale in strength over extreme northern Luzon, the northern and western portions of Luzon, and the western portion of Visayas.
The state weather bureau also raised Gale Warning Number 1 over the western seaboards of Luzon due to the prevailing southwest monsoon and the influence of the tropical cyclones.
Under the alert warning, fishing boats and other small seacrafts are advised not to venture out into the sea while large sea vessels are alerted against big waves.
"Mariners are advised to take precautionary measures when venturing out to sea and, if possible, avoid navigating in these conditions," the agency said.
According to PAGASA, Tropical Depression Domeng is forecasted to gradually accelerate north-northwestward over the next three days and remain far from the Philippine landmass.
It may exit PAR by Saturday (2 July) morning or afternoon. Outside the region, the tropical cyclone is expected to pass very close or make landfall in the vicinity of the Ryukyu Islands in Japan on Saturday evening or Sunday, July 3. -- BAP, GMA News