Filtered By: Scitech
SciTech
Maymay downgraded to LPA; threat of heavy rainfall remains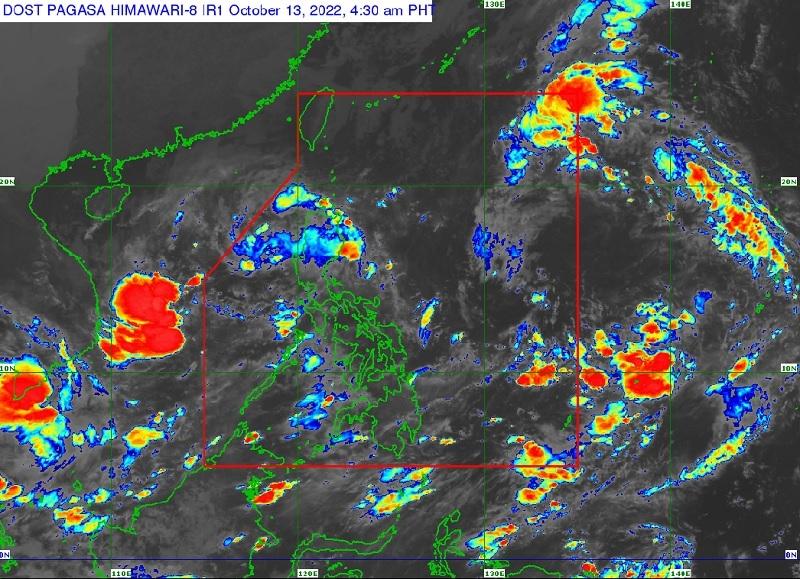 Tropical Depression Maymay has weakened into a low pressure area (LPA) although the threat of heavy rains remains, according to the Tropical Cyclone update posted by PAGASA early Thursday morning.
Monitoring activities, meanwhile, continue for another LPA and two active tropical cyclones outside the Philippine Area of Responsibility (PAR).
The LPA that was formerly Maymay was estimated to be over the coastal waters of Casiguran, Aurora with central pressure of 1006 hPa, and moving west southwestward at the speed of 15 kilometers per hour.
The weather bureau announced that all hoisted Tropical Cyclone Wind Signals have been lifted.
Meanwhile, another LPA was estimated based on all available data at 535 kilometers west of Coron, Palawan.
PAGASA is also monitoring two active tropical cyclones located outside PAR.
One tropical depression is located 1,765 kilometers east of northern Luzon packing maximum sustained winds of 45 kilometers per hour near the center, gustiness of up to 55 km/h, and moving west northwestward at the speed of 15 km/h.
The second tropical cyclone is located 3,060 kilometers east of southern Luzon packing maximum sustained winds of 45 km/h near the center, gustiness of up to 55 km/h, and slowly moving in the east northeast direction.
Heavy rains
"Today through tomorrow early morning, moderate to heavy with at times intense rains over Cagayan, Isabela, and Apayao. Light to moderate with at times heavy rains over the rest of Cagayan Valley and Cordillera Administrative Region," said PAGASA.
The weather bureau warned that affected residents can expect scattered to widespread flooding, including flash floods, and rain-induced landslides especially in areas that are highly susceptible to these hazards.
Cagayan Valley, Cordillera Administrative Region, Ilocos Norte, Ilocos Sur, La Union, and Aurora will have cloudy skies with scattered rain showers and thunderstorms brought about by the LPA and shearline with possible flash floods or landslides due to moderate to heavy rains.
Metro Manila and the rest of the country will have partly cloudy to cloudy skies with isolated rain showers or thunderstorms due to localized thunderstorms with possible flash floods or landslides during severe thunderstorms.
Severe Winds
"Despite the lifting of wind signals, occasional gusts reaching strong to gale-force strength associated with the enhanced northeasterly surface windflow may still be experienced (especially in the coastal and mountainous areas) over Batanes, Cagayan, Cordillera Administrative Region, and Ilocos Region," PAGASA reported.
"Due to the surge of northeasterly surface windflow, rough to very rough seas (2.8 to 5.5 m) will prevail over the seaboards of Northern and Central Luzon and the eastern seaboard of Southern Luzon," PAGASA added.
Mariners are advised to take precautionary measures with the forecast of moderate to rough seas over the western seaboards of Central and Southern Luzon.
The agency said that the remnant circulation of Maymay is forecast to track westward towards Aurora and due to the frictional effects, this may dissipate within 12 hours.
The wind speed forecast for northern Luzon is strong moving in the northeast to northwest direction with rough coastal waters.
The rest of Luzon will experience moderate to strong wind speed moving in the southwest to southeast direction while coastal waters will be moderate to rough.
The rest of the country will experience light to moderate moving in the southwest to west direction with slight to moderate coastal waters.
Sunrise will be at 5:47 a.m., sunset at 5:38 p.m. -- BAP, GMA News