Filtered By: Scitech
SciTech
LPA east of Southern Luzon now TD Egay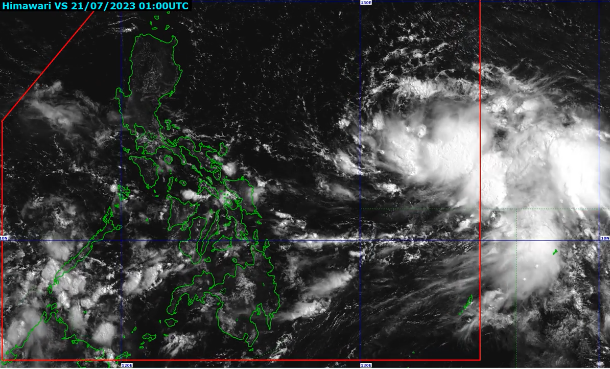 The low pressure area east of Southern Luzon is now a tropical depression, state weather bureau PAGASA said on Friday.
"At 8:00 AM today, the low pressure area east of Southern Luzon developed into Tropical Depression Egay," PAGASA said in a Facebook post.
Earlier, PAGASA said areas that will be nearest to the weather disturbance are Samar and Bicol areas.
In its 11 am advisory, PAGASA said Tropical Depression Egay may reach super typhoon category in the coming days.
"Throughout its duration in the PAR (Philippine Areas of Responsibility) region, it may continue to steadily intensify and reach the Super Typhoon category by late Monday or early Tuesday as it moves over the Philippine Sea east of Luzon," said PAGASA.
From Sunday morning to Monday, an accumulated rainfall of 50-100 mm are expected over Catanduanes and Northern Samar.
In areas that will not be directly affected by Egay, PAGASA said monsoon rains from the enhanced Southwest Monsoon are possible over the western sections of MIMAROPA and Visayas on Sunday.
On Monday and Tuesday, monsoon rains are likely over the western sections of Southern Luzon and Western Visayas, it added.
Tropical Cyclone Wind Signals may be raised in some areas of Bicol Region and Eastern Visayas (especially in the eastern portion) Saturday evening or early Sunday.
Lahar advisory
The Philippine Institute of Volcanology and Seismology (PHIVOLCS) on Friday also warned of possible lahar from Mayon Volcano in Albay amid the rains expected from Tropical Depression Egay.
"The incoming tropical depression is expected to bring about prolonged and heavy rainfall which may generate syn-eruption lahars along major channels draining the Mayon Volcano edifice by incorporating loose material from thick pyroclastic density current (PDC) deposits and ashfall from the ongoing 2023 eruption," PHIVOLCS said.
PHIVOLCS said lahars and sediment-laden streamflows are possible on all river channels draining the slopes of Mayon Volcano, particularly the following:
Mi-isi
Binaan
Anoling
Quirangay
Maninila
Masarawag
Muladbucad
Nasisi
Mabinit
Matan-ag
Basud
PHIVOLCS advised communities and local government units beside these drainages to be "additionally vigilant" and to move residents to high ground in case of heavy rains.
—Joviland Rita/ VAL, GMA Integrated News