Filtered By: Showbiz
Showbiz
Miss PHL Janine Mari Tugonon is first runner-up in Miss Universe tilt
(UPDATED 11:00 a.m.)
- Miss Philippines Janine Mari Tugonon has placed second in the Miss Universe pageant held Wednesday (Thursday, PHL time) in Las Vegas. This is the closest the country has come to winning the crown since Miriam Quiambao in 1999. Miss USA Olivia Culpo is this year's Miss Universe. The other top winners are:
Irene Sofiá Esser Quintero, Venezuela (2nd runner up)
Renae Ayris, Australia (3rd runner up)
Gabriela Markus, Brazil (4th runner up)
During the Question and Answer portion, renowned photographer Nigel Barker asked Tugonon, 23, a question from Twitter: "As a global ambassador, do you think speaking English should be a prerequisite to being Miss Universe?"
Tugonon answered, "For me, being Ms. Universe is not just about knowing how to speak a specific language. It's being able to influence and inspire other people. So whatever language you have, as long as your heart is to serve and you have a strong mind to show to people, then you can be Ms. Universe."
In the pre-pageant interview videos shown after the announcement, Tugonon called Miss Universe "a battle of a lifetime," noting that Filipinos are inherently fond of beauty pageants. "If I make it here, I feel that I can give them hope, and it's an early Christmas gift to them," she said.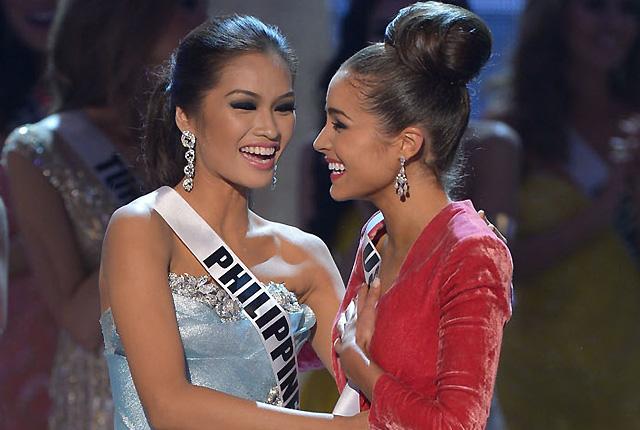 Miss Philippines Janine Mari Tugonon congratulates Miss USA Olivia Culpo (right) after Culpo was named Miss Universe 2012 during the Miss Universe Pageant at Planet Hollywood in Las Vegas, Nevada on Wednesday (Thursday, PHL time). Tugonon is 1st runner-up. AFP/Joe Klamar
Third year in a row
This is the third year in a row that a Filipina has been in the Top Five of the Miss Universe pageant. In 2011, Miss Philippines candidate Shamcey Supsup was the third runner-up in the Miss Universe competition held in São Paulo, Brazil. The crown was brought home by 26-year-old Angola stunner Leila Lopes. The previous year, Bicol beauty Maria Venus Raj, who was 25 years old during the competition, ended up in fourth place. The crown was bagged by Mexican Ximena Navarrete in Las Vegas, Nevada. So far, only two Filipinas have brought home the prestigious title. The first Filipina to win the crown was Gloria Diaz, who was 18 when she bagged the prestigious title in 1969 in Miami Beach, Florida. She later became a well-known actress and starred in the hit movie "Ang Pinakamagandang Hayop sa Balat ng Lupa." The next Filipina to bring home the crown was Margarita "Margie" Moran, who was crowned in 1973.
Who is Janine Tugonon?
Tugonon, who towers at 5 feet and nine inches, was born in Balanga, Bataan. She graduated cum laude with a Bachelors Degree in Pharmacy from the University of Santo Tomas (UST). According to school organ The Varsitarian, even before she tried her luck in the Binibining Pilipinas pageant, she had won in The Search for the Ideal Thomasian Personality. She's the quintessential combination of beauty and brains. Before joining the Binibining Pilipinas contest, she took her Pharmacy board exams and received her license in June 2010. She first joined the competition in 2011, and placed 1st runner-up. The crown went to Shamcey Supsup. After her defeat, she tried again and finally got the title of 2012 Binibining Pilipinas–Miss Universe. After training for almost seven months for this year's Miss Universe competition, Tugonon made a signature walk for herself called the "
Cobra walk
." "Kasi may power. 'Yon 'yong palaging sinasabi sa akin ng trainer ko, eh. Kailangan pag lumakad ka kailangan may power, 'yong aura mo lalabas so ayun, kaya siya distinct," she said.
'Lord, thank You'
In an interview with GMA News TV's "Balitanghali," Tugonon said she became more "confident" by the time she made it to the Top 16, adding that she was okay by the time they reached the question-and-answer portion. "Hindi na ako kinakabahan," she shared, remembering the moment. "Ganu'n kasi ako --- nag-iisip na lang ako ng sasabihin ko." During the question-and-answer portion, the response of Tugonon was interrupted by cheers and applause after she said holding the title "is not just about knowing how to speak a specific language."
Breast cancer advocate
Meanwhile, the newly crowned Miss Universe from the US is a 20-year-old who plays the cello and is a breast cancer advocate, the eighth time an American has won the pageant where the world's most beautiful women parade in bikinis and ball gowns. Olivia Culpo, 20, a brunette from Rhode Island, was chosen by a 10-judge panel from 89 contestants representing countries ranging from India to Kosovo and Britain. Culpo, wearing a red, long-sleeved dress for her final look, was the eighth winner from the United States in the contest's 60-year history, and the first Miss USA to take the title since 1997. Miss Venezuela, Irene Sofia Esser Quintero, came third after the top five answered brief questions posed by the judges. Culpo takes the place of last year's winner Leila Lopes, who was the first ever Miss Universe from Angola. Miss Guatemala, Laura Godoy, was chosen Miss Congeniality after the two-hour pageant that featured live performances by U.S. pop group Train and Nigerian-born Australian singer and dancer Timomatic. Contestants must be aged between 18 and 27, unmarried and with no children. The contest was broadcast live on U.S. television from the Planet Hollywood hotel and casino in Las Vegas and seen by an estimated 1 billion viewers on TV and online in 190 countries, organizers said. Culpo will travel the world for the next year representing the Miss Universe Organization and a charity of her choice. After reaching the top five, Culpo was asked to name one thing she would never do again. "Picking on my siblings growing up," she replied. The contest, owned jointly by businessman Donald Trump and the NBC network, held a moment of silence for the 20 children and six staff gunned down at an elementary school in Newtown, Connecticut on Dec. 14.
- with reports from Reuters, VVP/KBK/HS, GMA News