Filtered By: Showbiz
Showbiz
Fall in love with Miguel Tanfelix and Bianca Umali in 'Once Upon A Kiss'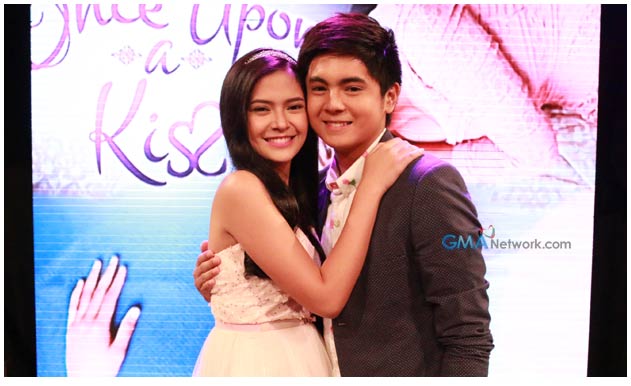 GMA Network rings in the New Year with the launch of its newest primetime series that will captivate the hearts of Filipinos via Once Upon A Kiss. It is a fresh retelling of a classic fairytale with a modern twist. The program premieres on January 5 after
24 Oras
on GMA Telebabad.
Once Upon A Kiss revolves around the story of a boy in coma who is awakened after being kissed by his childhood friend and how they fought for their love amidst the squabble between their families. Watching the program also awakens the dreamer in every viewer from their heart's deep slumber, making them believe that real life can also be beautiful like a fairytale.
Set to portray the lead roles in the romantic drama series is the youngest loveteam of the Kapuso network: Miguel Tanfelix as
Prince Pelaez
and Bianca Umali as
Ella Rodrigo
. Armed with their excellent onscreen chemistry and natural acting skills, Miguel and Bianca will make us believe once more how love can bridge gap between people, rich and poor, the powerful and the needy.
GMA Network is proud to present a stellar cast of the country's most respected artists in film and television who are part of the Pelaez Family (Miguel's family): Michael de Mesa as
Enrique "King" Pelaez
, Giselle's father; Cris Villanueva as
Eric Almario
, Aurora's boyfriend and Prince's father; Mariel Pamintuan as
Athena Pelaez
, stepsister of Prince; and Tessie Tomas as
Merida Almario
, Eric's ambitious mom who will encourage Eric to court Giselle.
This series also marks the comeback to the Kapuso network of Mylene Dizon who will portray the character of
Giselle Pelaez-Almario
, Prince's mother who is the main antagonist in the series.
Playing equally vital roles are the members of the Rodrigo Family (Bianca's family): Manilyn Reynes as
Aurora Rodrigo
, Ella's kind-hearted mother; Keempee de Leon as
Jimmy Rodrigo,
Eric's friend who will become Aurora's husband; and Miss Nova Villa as
Adela Rodrigo
, Ella's compassionate grandmother.
Adding star power to the program are Al Tantay as
Pedring Servando
, Ella's grandfather; Maricar de Mesa as
Ursula Salazar
, Wendy's mother; Frank Magalona as
Hans Peligro
, Eric's assistant; Betong Sumaya as
Sebastian Poblador
, Ella's uncle; Sabrina Mann as
Wendy Salazar
, Prince's childhood friend; Eunice Lagusad as
Melody
, Ella's best friend; Miggy Jimenez as
Mickey Abueva
, Prince's friend; Cai Cortez as
Fiona Alegre
, and Gabby Eigenmann as
Father Philip Madasalin
, the guidance counselor in Prince's school who will teach and impart good values to Prince.
Both coming from poor families, Aurora (Manilyn) and Eric (Cris) used to dream of having a better life together. However, for material gain, Eric gave up his love for Aurora and pursued Giselle (Mylene), the daughter of the family who owns the rest house Aurora's parents work for.
Later on, Aurora got married to Jimmy (Keempee), Eric's best friend. Eric, on the other hand, regretted marrying Giselle because her family just treated him like a puppet in their company.
Prince (Miguel) is the son of Eric with Giselle, while Ella (Bianca) is the daughter of Aurora with Jimmy. Although their families are mortal enemies, they become childhood friends. But they become separated when Prince leaves for the city.
They cross paths once again when Prince comes back to their town as a teenager. However, the once kind and humble Prince now becomes an arrogant and egotistical kid. Will Prince and Ella be able to rekindle their friendship and relationship? Will their love story have a happy ending despite the complications and interventions of their respective parents?
Under the helm of acclaimed TV director Bb. Joyce Bernal, the same director who megged the hit primetime series
My Destiny
, Once Upon A Kiss will encourage the viewers to proactively take part in the pursuit of their aspirations, and cap each day with a happy ending.
The program is another original creation of the GMA Drama group under the supervision of Senior Vice President for Entertainment TV Lilybeth G. Rasonable; Vice President for Drama Redgie A. Magno; Assistant Vice President for Drama Cheryl Ching-Sy; Program Manager Helen Rose Sese; and Executive Producer Rebya Upalda.
The creative team is composed of Creative Director, Roy Iglesias; Creative Head for Primetime, RJ Nuevas; Creative Unit Head, Kit Villanueva-Langit; Concept Creator, RJ Nuevas; Headwriters, Kit Villanueva-Langit and RJ Nuevas.
Once Upon A Kiss
premieres January 5 right after 24 Oras on GMA Telebabad.
Get the latest updates about
Once Upon A Kiss
from its official Facebook page www.facebook.com/7OnceUponAKiss, Twitter account @7OnceUponAKiss, and the GMA Network website www.GMANetwork.com. --
Elisa Aquino, GMANetwork.com