Filtered By: Showbiz
Showbiz
HOLLYWOOD INSIDER
Fil-Am singer H.E.R. talks of her Pinoy roots and writing the song featured in movie 'Judas and the Black Messiah'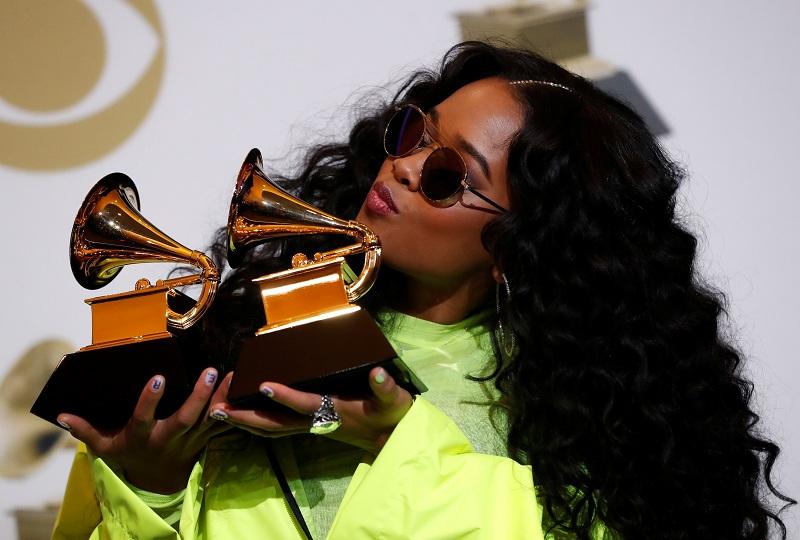 Los Angeles — Gabriella Sarmiento Wilson, more popularly known as H.E.R., grew up in a typical home in Vallejo, California to a Filipina mother and a Black American father.
But what's different in her upbringing was her home was always filled with music — from karaoke singing typical among Filipino families to music from the band of her musician father.
Now 23 years old, the charming and down-to-earth singer-songwriter made waves when she was nominated five awards at the 62nd Annual Grammy Awards including Album of the Year for "I Used to Know Her" and Song of the Year for "Hard Place."
In the upcoming American biographical drama, "Judas and the Black Messiah," which details the life of Fred Hampton (Daniel Kaluuya), chairman of the Black Panther Party in the late 1960s Illinois, and his betrayal at the hands of William O'Neal (Lakeith Stanfield), H.E.R. aka Having Everything Revealed performs the original song "Fight for You" which she also co-wrote with D'Mile and Tiara Thomas.
Below are excerpts of our conversation with her as she talks more of her Filipino roots and influences and doing the song for the film.
Talk about how your Filipino mom has influenced you and the challenges of starting as a Filipino-American in the industry.
I will say my mom, she's always believed in me. She's always given me that support system, except for some of the times she said hey maybe you should be a nurse. Those are the only times (Laughs).
But no, my mom has always loved what I do and encouraged me. And we would have family parties and do karaoke and she always encouraged me to sing and step out of my comfort zone and just embrace my gifts. So I've always had that foundation and that community of my Filipino heritage.
But yeah, being a Black and Filipino woman, I've never really fit in anywhere. It's not something you see all the time, especially in music, not really knowing where to fit in and trying to find my identity. But I found my voice as a blend of two. I take a lot from my father's culture and I take a lot from my mother's. Both have embraced me so much so I'm really thankful for that.
I know growing up in a Filipino family also means there is a lot of karaoke going on. So talk about your karaoke experience with the family. I also saw you in a cooking show or something so what are your favorite Filipino dishes and all that?
Oh, man. I recently learned how to make kare-kare so that's my favorite. And hopia, of course. My mom makes really good sinigang and adobo, sitaw. I make it all. Now I make it all. Yeah, I'm so thankful for those moments.
There was a lot of eating and music. I feel like that's what brings us together, especially in Filipino culture. But I was singing a lot of Whitney Houston songs — "Greatest Love of All" — and Mariah Carey songs in the house. That's what they wanted to hear so it kind of got my chops up. It got me ready for the stages that I'm on now.
Your real name is Gabriella. Did you know that one of the Philippine heroines is Gabriela Silang?
I did not know that. Wow.
Talk about the relevance of your name to your song, "Fight for You." It's also like fighting for women, fighting for rights, fighting for your voice to be heard.
Absolutely. I chose to release my music under the name H.E.R. because I wanted to separate my — not so much my identity, but more so things that represent me in my music than what I look like, or how old I am, or where I come from. And fight for the message of my music and fight for what we all go through and what makes us kind of all the same in some of the things that we go through.
Women relate to my music from ages, you know, middle school, high-school, then to women who've been married for 20, 30 years. You know women who are 70 who take their daughters to my shows and listen to my music. So, I try to bring everybody together in a way and create a universal message so that anybody can relate to it.
Everybody is fighting for something. And if you aren't, then what is the purpose? But I think the message is really to bring people together and find that relation.
Tell us more about your musical upbringing: What's the first instrument you picked up to play? Did it come just naturally? Was that just like your second language?
I guess it was. Growing up in the Bay Area my dad, he was a construction worker but he did music on the weekends. He loved music, and he had a cover band in the Bay Area and all the instruments were in the house because they would rehearse in our living room and I would watch, since I was born.
So I want to say, when I was three years old, I was sitting on his lap and playing — I have pictures of that — but I started learning songs when I was six and I started performing with my dad's band and really getting to know music when I was six.
I picked up the guitar at seven and he taught me how to play the blues pentatonic scale and it was just something that I always gravitated towards. I really love playing instruments and learning songs and learning music.
My dad was playing James Brown and Jimi Hendrix and Prince and Lenny Kravitz and Eric Clapton and AC/DC and everything; everything was playing in the house, Aretha Franklin. And so I had all of these different influences and I carried them with me till now.
Tell us how you constructed the song and how you laid it out.
Music from the 1960's and late '60s, early '70s is my favorite so this was really exciting for me, something I don't really do often. So it was nice to be able to tap into that side of my musicality.
I listened to a lot of stuff like Marvin Gaye and Curtis Mayfield and Sly and the Family Stone, those are some of my favorites. And I really wanted the song…when we talked about the movie, the theme of the song, it was easy for me to take what was sad and disappointing about the story and want to make a song out of that and make a ballad.
But I realized, I need to give people hope and what's happening in that movie is honestly happening now. And music needs to give hope, so I took that approach. And the baseline, you can't help but move and lyrically, I just felt like it needed to be universal because there's so many different stories within Fred Hampton's stories.
There's the story of him and the woman, and her and the child and all of these things I needed to capture in the song. So lyrically, when I say I'll always fight for you, it could be fighting for somebody that you love if they're going through something; fighting for your people, fighting for a generation, fighting for whatever it is that you strongly believe in or that you love — that was the idea of fighting and what freedom is. And that's really what I wanted to capture in the song.
Can you please talk about the value of having a stage name?
The stage name to me wasn't so much of a stage name. It was more so the name that represents this music that I'm putting out and that is who I really am.
Music to me is my diary and it's very personal and it can get very deep and very hard to write these things. So when I decided to put out my project and be heard, be anonymous, it was like, this is easier for me to tell my truth. And it's easier for somebody to relate to the lyrics and really listen to the message because I feel like we focus too much on other things, we focus on the looks and all of these different things and I'm really just about the music. I love the music and the lyrics and I'm really about my art and I just wanted to represent that and that be the forefront.
So how did you get involved with this project and at what point in the filmmaking were you actually asked to do the song?
Yeah, the film was pretty much in its last stages. And that's always easier for me as a creative to know the film as a whole to make the song that represents the movie. So I was able to watch it pretty early on in the last stages. And Archie, he works with RCA and he kind of talked about the movie and the concept and I was just blown away at how powerful this story was about Fred Hampton. And I really wanted to be a part of it. So I told him, my exact words, I was like, I think I can make a masterpiece for this. And he said I think you can too. And I made it happen, it took some time but I definitely was really, really excited to do something like this because I love the late 60's and 70's.
How long did it take you to write the song?
It wasn't very long. Getting into the idea was the hard part. I watched the movie in the studio with some of my collaborators and we sat there. I tried a few different things. I picked up the bass and then it just happened. And then it was organic, it was just a few hours in the studio and I pretty much had the foundation of it and slowly built on it and put the ad-libs and all the different flavors.
When did that little fan girl in you risen up and say, Oh my God, I am playing with…
It happens all the time. I just recently worked with Jimmy Jam and Terry Lewis, I was on stage with Sheila E for the Prince tribute and Morris Day was, 'yo Prince would have loved you.' That means the world to me, kind of my fan girl moment.
But definitely doing a guitar solo on stage with Arrowsmith was like…it was up there for me. But yeah, all of these moments I feel like a kid in a candy store on the stage.
But who are your mentors? Who's helping you navigate the music industry? Helping you stay true to yourself so you won't change down the line when a lot of young girls are very inspired by you?
Oh, thank you. Yeah, it really takes a village. I'm so blessed to have a great management team, MBK Entertainment, who you know, after my parents continued that to teach me things about life and teach me about the music industry, Jeff Robinson who is the head of MBK Entertainment, and Jeanine McLean who works on the team, Misha Hedman, and there's a lot of different people who really keep me going.
Walter Jones who works at Universal Publishing, Swagg R'Celious, is like my big brother who's really mentored me. And a lot of different artists I've been able to watch because they're also managed by MBK Entertainment. People like Alicia Keys, Brandy, SWV, some of my favorite R&B artists. But yeah, it definitely starts within the team.
Do some of these artists tell you, "Ok you cannot change. You have to stay true to yourself." Or maybe you need to adapt a little bit because you need to achieve a little bit more success in the industry?
The conversation is really just, 'Keep doing what you're doing. And don't let anybody tell you what you need to be. And follow your heart. Follow your gut instincts." That's really the conversation on top of me kind of learning from their mistakes, honestly. Because we all make mistakes. But I'm very good at observing life and seeing where maybe some of the people went wrong or they could have done something differently. I look at that and I'm like, "OK. I know what not to do." Which is right.
— LA, GMA News