Filtered By: Showbiz
Showbiz
HOLLYWOOD INSIDER
H.E.R. wins first Oscar, becomes the first Filipina-American to win Best Original Song trophy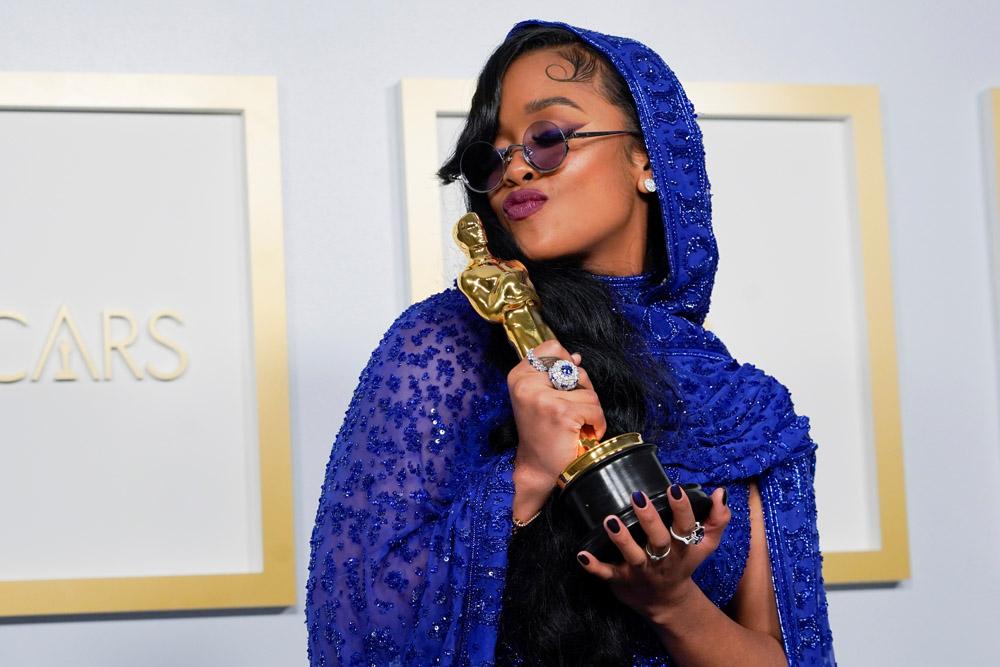 Los Angeles — It was H.E.R. night and rightfully so!
The 23-year-old girl from Vallejo, California is breaking barriers one after another! After her Grammy wins and a Golden Globe nom, H.E.R. has won an Oscar award for her song, "Fight for You" for the film "Judas and the Black Messiah."
And like icing on the cake, she becomes the first Filipina-American to win in this category. What more could you ask for?
The charming and talented girl, who is the daughter of a Filipina mom, Agnes from Cabanatuan, Nueva Ecija, and a musician African-American dad, Kenny Wilson, has the best of both worlds molding her into what she is today: an inspiration to all young aspiring Filipina-American girls.
In her acceptance speech, she thanked her parents among others and mentioned how she really did not expect to win.
"I am so, so, so, so grateful — not only to win, but to be a part of such an important, important story. So thank you so much."
She added, "Thank you to the Academy — I've always wanted to say that. And of course, my collaborators, D'Mile and Tiara Thomas. The song wouldn't be what it was without them. Of course I have to thank God for giving us these gifts and my parents, my beautiful mother who's here with me today and my father at home. All those days of listening to Sly and the Family Stone, and Curtis Mayfield and Marvin Gaye, they really paid off. So thank you, Dad."
After thanking Archie and Shaka King, and "everybody involved in the movie and who gave us the call," H.E.R. emphasized the opportunity and responsibility for every artist.
"You know musicians, filmmakers, I believe we have an opportunity and a responsibility, to me, to tell the truth and to write history the way that it was and how it connects us to today and what we see going on in the world today. I have no words. I'm just so, so, so happy and grateful and yeah, knowledge is power. Music is power. And as long as I'm standing, I'm always going to fight for us. I'm always going to fight for my people and fight for what's right, and I think that's what music does. And that's what storytelling does. So thank you so much."
Dressed in a royal purple custom outfit by fashion designer Peter Dundas that was inspired by one of her favorite musicians, Prince, H.E.R. or Gabriella Sarmiento Wilson, enjoyed her red carpet debut at the socially-distanced Oscars celebration held for the first time at the Union Station in downtown Los Angeles.
Prince, who died five years ago last week, wore a similar sparkling hooded outfit to the Oscars in 1985, the year he won Best Original Score for "Purple Rain."
H.E.R., who recorded her Oscar-winning song in her bedroom at her mom's house, told the press backstage what it meant to be an Oscar winner especially during this difficult time in both her Black and Asian communities: "Just being up there is a message. It's a message to all the young black and Filipino girls, black or Filipino, you know, that you can be up here too, you know? What you say matters, what you play, what you write, it matters. It's a reflection of who we are, and I'm just happy to represent. I can't believe I'm here. So I just hope there is another little girl out there, going I can do that too, I can be up there too one day."
Asked who is she most excited to share her win with, H.E.R. replied, "I couldn't think of better timing to win something like this, and I was just happy to be here at the Oscars. I was happy to be part of an important film. This film is educating people. I feel connected to my roots. I know more about the Black Panthers because of being part of this film. So the education that it gave me and the history that it gave me, it's just — nothing compares to that. And also, I feel like this is for the people.
"We are literally saying, as long as I'm standing, I'm going to fight for you. And I have been given this platform and now an Oscars stage to share a message, and to really speak my own truth and to continue to spread the word of our history, what is happening today. And, pain and what we write is a reflection of what we feel. That is why I love collaborating with Tiara and D'Mile because their art speaks to who they are and what they represent. So this win means so much to me for all of us and for the people."
Finally, we pointed out that she is halfway home to becoming an EGOT (Emmy, Grammy, Oscars, Tony) just like another talented Fil-Am Robert "Bobby" Lopez who is the youngest EGOT at 39 years old and as of 2018, is the only person who have won all four awards more than once.
H.E.R. exclaimed, "Oh, there's absolutely going to be an EGOT in my future hopefully. But I'm also super compassionate about acting as well. So you may see me up here as an actress also. And I love musicals. Me and Brandy have been talking a lot, and she inspired me since she did a musical. But, yeah, honestly, I cannot believe that we are here. I'm so thankful to be standing next to these two (Tiara and D'Mile). I'm still speechless. I feel like the Oscars are happening tomorrow, and I'm dreaming right now. I'm still pinching myself. So I have no words."