Filtered By: Showbiz
Showbiz
HOLLYWOOD INSIDER
Writer Marivi Soliven on her novel-turned-film, 'The Mango Bride,' and its star Sharon Cuneta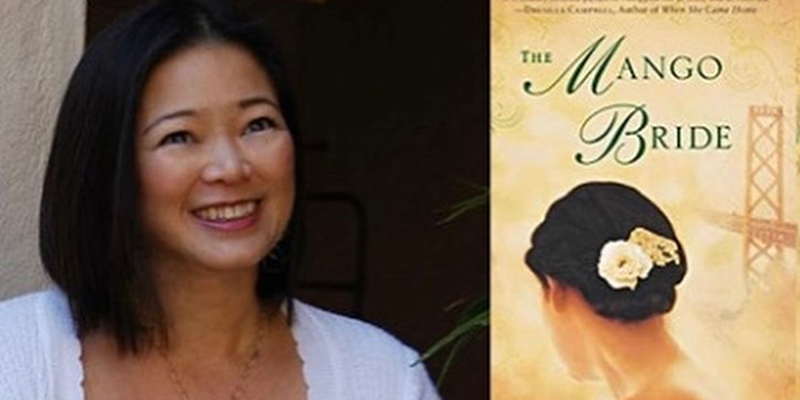 Los Angeles — Marivi Soliven almost took up Psychology in college as a major at the University of the Philippines.
Then she realized how much math there was. "And Journalism only had Math 11, so I was like, 'Duon na lang ako.' You play to your strengths. I like to read, so I figured if I could read and write, what's not to love about that."
Psychology's loss is Journalism's gain. Soliven graduated magna cum laude from UP, and in 2011, became a Carlos Palanca Memorial awardee for Literature for her novel, "The Mango Bride."
Fastfoward to 2022 and "The Mango Bride" is now being adapted into a feature film by global media company 108 Media.
The story, which follows the lives of two Filipinas who migrate to California, deals with immigration issues, mail-order brides, loyalty, family, gender abuse, betrayal among others.
Sharon Cuneta will star in and executive produce the film. Filipino-Canadian filmmaker Martin Edralin ("Islands") will direct, while Rae Red ("Babae at Baril") will adapt the novel.
Soliven, who comes from a family of writers (Uncle Max Soliven and Tita Ethel Soliven Timbol were writers), was contacted by 108 Media's APAC Producer Micah Tadena to make Soliven's dream of turning her novel into a film a reality.
We were able to interview Soliven virtually and below are excerpts of our conversation:
Congratulations on your book being made into a film, with no less than Sharon Cuneta starring and even acting as executive producer. How do you feel about this? What's the significance of this?
Leaving aside Sharon Cuneta, I've been following her daughter. Recently, a friend of mine mentioned that Sharon's daughter had been trolled by certain journalists for speaking out and advocating for women.
I figured anyone who can raise a strong woman like that is really— notwithstanding her own past and her own advocacy, she will be a strong voice for the film adaptation.
I'm really excited about that because I know people look up to Sharon and there are certain topics in the Philippines that women are just less comfortable speaking about, but I think once it's out in the open and there's a film that resonates with their own lived experiences, I think they'll be a little bit more assertive about speaking up for themselves on tough things like abortion and infidelity and divorce. All of those things that have kind of tended to advantage men and disadvantage women in the Philippines.
Your book won the Palanca award. Can you look back at those early years when you were writing it and your journey from that period to present?
It started out in 2008. I was approached by an agent, her name was Taryn Fagerness, because she really wanted to represent me for another collection of short fiction called "Spooky Mo." But her agency said, "No, you really need to start out with a novel." So, I decided to write the novel, which I'd never done before and that was around the time that the subprime mortgage crisis was happening in the United States.
Coincidentally around that time, domestic violence also began to peak. Because my day job is as a phone interpreter, I was getting a lot more calls from the National Domestic Violence Hotline and I guess those things are related. In the same way that the domestic violence has increased exponentially during Covid, it was the same situation back then.
I thought this is something I'd like to write about, and I also wanted to integrate my own experiences as an immigrant and all the other immigrant experiences that I was encountering in my day. I just try to put all those things into one cohesive narrative and insert the concept of class.
The Philippines doesn't really have racism. They have class. I thought that would be a really interesting dynamic to throw into the novel, how different immigrants, depending on where they're coming from in life, experience immigration differently.
Did you have a hand in the choice of Sharon Cuneta and the director Martin Edralin and the screenwriter Rae Red?
My opinion was listened to, but Micah (Tadena) called the shots. She was like, "Well, what do you think of this person?" How can you say no to Sharon? How could you not be happy about that? Although I will claim some kind of credit for Martin because when I saw his film Islands at the San Diego Asian American Film Festival, I was like, "Oh yeah, he totally gets it. He's Filipino-Canadian. He totally gets the immigrant experience."
I wrote to him. I asked for the festival director for his email address, and I just went out there and emailed him out of the blue. Luckily, he didn't think I was crazy and luckily Micah agreed that he was a good pick too. We pulled it together.
Then she asked me to watch Rae Red's film "Babae at Baril" and I was just so blown away because I was like, "Okay, there's poverty here, but it's not poverty porn." There was something driving about it, and again, the idea of a really strong female character instead of someone who's just browbeaten all the time. I thought that was just really exciting.
I thought between Sharon, Martin and Rae, that would be a really strong team to move the project forward.
In the Variety article, Sharon mentioned that she's been a fan of yours ever since, and that you captured the Filipino migrant and Filipino American stories. Can you comment about that?
A friend just told me that when she and Kiko (Pangilinan), who I've known since undergrad days at UP, I guess he went to grad school in Boston, and she experienced some of what I experienced.
My book "Suddenly Stateside" was basically a compilation of all of those experiences and somehow, the publisher managed to get a copy. Tony Hidalgo of Milflores Press managed to get a copy to Sharon, and I guess it resonated with her experience, but I only found that out recently.
I'm just actually really flattered. It was really nice to hear that from her, especially since I've known her husband since we were both kind of kenkoy in UP.
Who is Sharon portraying in the movie?
She's portraying Marcela, who is the heart of the novel. She's a very strong character. She really is the conscience, the soul and the heart of this story, even though the younger major characters go off into the United States.
Like food is a metaphor for love, she is the purveyor and producer of that food. She really is the beating heart of the novel. The one that people hurry to come home to.
One of the ways Filipinos say, how are you is "Kumain ka na ba?" (Have you eaten?), so if only for that, you already know what center holds the book together. I'm really happy that she's playing that part.


Why do you say that your novel is a love letter to UP Diliman as well as to San Francisco?
I went back to teaching at UP after a few years in advertising and I've just never seen a campus just as pretty as UP. It has its faults, but just walking under the acacia trees, the Academic Oval, it really just hits you how pretty the campus is.
Then San Francisco and the Bay Area were my first homes in the United States as a newlywed. And for me, that always was my second home in the United States. That's where I felt I most belonged. That's why the novel is set both in Oakland and Manila. Not a reenactment or reproduction of my life as a young wife in Berkeley and UP as an instructor at UP Diliman. I love both those places.
Production is said to commence in late 2022. What will be your part there?
I don't think I have the money to be an executive producer. My only hope is that they'll fly me home so I can watch some of it. They're going to film a few weeks in the Philippines and then another 10 days or something like that in the United States. Of course, coming up to San Francisco, that's a no brainer. I'm always looking for a reason to go back up there. Hopefully, I'll be in both places. Keeping my fingers crossed.
You published the book in 2013, but with domestic violence and immigration issues talked about in the book, it's still quite relevant. What will audiences take from it?
Like I said domestic violence increases during times of stress and the World Health Organization has already pointed out that with the onset of Covid.
Basically, domestic violence skyrocketed because when you think about it, during the pandemic, women's shelters were closed. You could not run there. Courts were closed — you couldn't ask for restraining orders and if you were in an abusive relationship, you were trapped indoors with your abuser. Naturally, this was a perfect storm of really bad circumstances, which enable a lot more incidents of domestic violence to happen.
In terms of immigration, isn't that always a hot topic for the United States? Especially with the previous administration that was completely xenophobic. The fact of the matter is Filipinos have formed such a large part of this country's history.
I was listening to this podcast, and I learned this not so fun fact: Filipino nurses are only 4% of the entire nursing population in the United States, but they comprise 29% of deaths from Covid. So, our women are out there. Our women and men in the medical field are out there and they're risking their lives for this country. They needed to be acknowledged and recognized.
It's interesting that you mentioned also you get your inspiration from your job as a telephone interpreter. Tell us more about this job. Are you still doing it and what kind of issues did you handle?
Every day I work for several companies, and I talk on the phone. So much like Amparo in the novel, she's usually puttering around the house doing something while she's talking. Some of the calls have been really in fraught since the Covid pandemic began. I've had to, say, interpret on the average one end-of-life call a month.
When you're talking to someone's family, and that person is on the verge of death, it's just really hard to manage, especially if the family is counting on you, the interpreter, to explain to them what exactly is going on because they can't be there in the room with their ailing relative. It's very hard to hear that news in any other language, but your mother tongue.
It's been stressful, but at the same time, I feel like I'm doing the best I can to help people make sense of it by explaining to them the hard news in a language that they're most familiar with. My Tagalog is not perfect, but it's so much better than hearing bad news in English.
Do you feel like you're like a psychiatrist when talking to these people and handling all these problems? How do you relax after a call that's very heavy?
No, we're not supposed to advocate for our clients at all. We're supposed to be completely neutral. We're supposed to be like an AC/DC adapter. It comes in English; it goes out Tagalog. So, we're not supposed to show any kind of emotion, although that's hard, but I do recover from that by baking.
I bake a lot. I cook a lot and that's how I feel like everything that comes in through my ears, I can release through what I make. If I spend a day not writing anything that anyone wants, at least I know I can cook something that my husband will want. So not all is lost.
That inspired your "Pandemic Bread."
Oh, you've read that. Oh, okay. Yeah.
Talk about the things that you bake.
Ay Dios ko ang dami! It's like for a long time during the election, I was baking something called blue wave bread, which was basically a bread that had a role of blue cheese in it. Every time the Democrats had a presidential debate, I would host, and this is before Covid, I would host a debate party and make that bread. So, I made that bread when Biden won office. I made that bread on January 6th, when he almost lost office. I was actually making that bread when I had to take an end-of-life call. It's true. I actually was crying into the bread as I was rolling it up. I made other things, too.
You mentioned baking. Does writing also help you in your mental health?
Yes, definitely. If I'm upset about something, my idea is I'd rather write it out on paper than have it simmer inside and turn into a tumor so better to write than develop cancer is what I always think.
Talk about your advocacy for women of color, for writers of color and why you established this free conference Centering the Margins: Conversations with Writers of Color?
Centering the Margins: Conversations with Writers of Color was something that I thought I needed to put together because I hate to say it, but the writing community is so predominantly white, which does not imply anything about talent, it just implies that there are just more opportunities and it's easier for white folks to get published. They know about all the things that are going on and a year after San Diego had its first book festival and forgot to invite any writers of color to participate, I was so indignant that I was like, "Eh tayo naman!." (It's our turn!)
I put a call out on Facebook, and I said, "Listen, I don't have money to pay you, but like all Filipinos, we will feed you well." So, we got 30 people; writers, poets, agents, publicists, publishers to fly in from all over the country from as far away as like the Midwest. We had a three-day conference and they paid for their own flights and lodging, but they ate like kings. For the first time, we were front and center. It was just all about writers of color, our issues and the spaces that we have to create for each other and the networking. If not for Covid, we would've done it again last year. Hopefully, we'll do it again after all of this blows over.
At what point in your life did you decide you'll become a full-time writer?
I am not a full-time writer. I have a day job as an interpreter to support my writing advocacy or my writing vocation. I don't know too many people who are full-time writers who aren't also New York Times best sellers and even those people have to have a day job sometimes. It's healthier to have some other thing to do besides writing, because writing is such a solitary occupation that you lose sight of the rest of the world. I like to keep engaged and I like that my interpreting job keeps me connected with my immigrant community. I feel like I'm helping them and I'm being among them even as we're all in our own little space bubbles because I get calls from everywhere, including the UK, Canada, sometimes Japan, someone is stranded, Alaska. It's a whole mixed bag.
What would you advise aspiring female writers who want to follow your footsteps?
First, get a good day job so that you can write on the side and second, to just keep at it. If you love doing it, if you enjoy doing it, then you should just keep at it. Find the time. You'll find the time to make it happen. — LA, GMA News