Filtered By: Showbiz
Showbiz
HOLLYWOOD INSIDER
Jon Jon Briones on being the first Pinoy Maurice in 'Beauty and The Beast,' H.E.R. as first Black Pinay Belle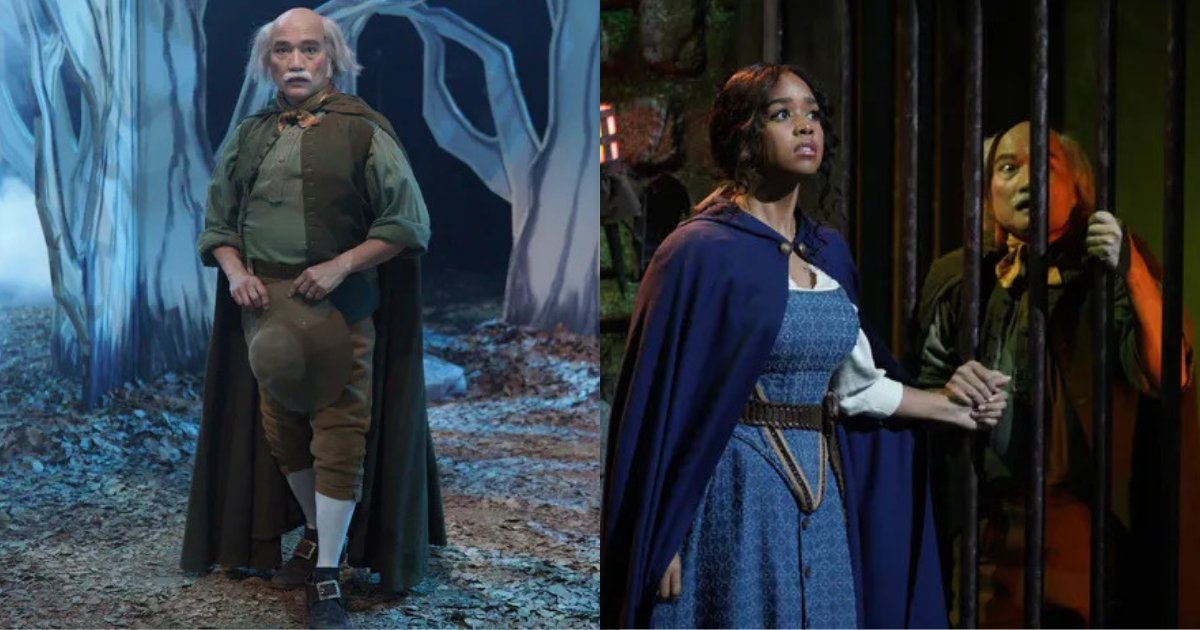 LOS ANGELES – Jon Jon Briones will appear in ABC's TV special presentation of the famous "Beauty and The Beast: A 30th Celebration" as the first Filipino Maurice.
The actor, who previously played iconic roles from The Engineer in "Miss Saigon" to Modesto Cunanan in "The Assassination of Gianni Versace: American Crime Story," will join Filipino-American singer-songwriter H.E.R., who will be the first Black Filipina to play Belle.
"It's always a big deal when I get offered to play a role that's not normally given to Asian actors but to be invited to play a role in a classic Disney movie is very very special," said award-winning actor.
"It's something you don't really dream about as an actor of color. This is even more special having H.E.R. play Belle, Joshua Henry as Gaston, Rizwan Manji as LeFou, David Alan Grier as Cogsworth and Leo Abelo Perry as Chip," he added.
Briones said that this was one role that he did not need to audition—he was offered the role.
"It was straight to offer," he revealed. "My agent phoned me to say that the role has been offered to me but apparently it took some convincing being that the majority of my high profile roles have been leaning towards the serious. But I was told that one particular producer tipped the scale in my favor. I would like to believe that that was Jon M. Chu."
For the 57-year-old actor, who also portrayed Dr. Richard Hanover in "Ratched" and Ariel Augustus in the "American Horror Story: Apocalypse," representation is very important in Hollywood.
"Seeing someone on screen or on stage who looks like you is very important especially for under represented communities. You can feel seen and feel like your stories matter enough to be shown to the world. Hollywood is getting there but it can do more," he said.
In the special, the other members of the cast include Josh Groban as the Beast, Shania Twain as Mrs. Potts, Martin Short as Lumiere, David Alan Grier as Cogsworth and Rita Moreno as the narrator.
Directed by Hamish Hamilton with Chu as executive producer, the two-hour special will feature a blend of animation and live-action. H.E.R. is also a producer.
We were able to do a Zoom interview with Briones.
Congratulations on being cast in ABC's "Beauty And The Beast." You didn't even audition for the part. It was given to you on a silver platter. So how does it feel to be a Disney character now?
I've been thinking about that. Nothing is lost to me of how fortunate I am. It always brings me back to where I came from—from the Philippines from a humble area in Quezon City and where I am right now and what I have done so far. Now I am a Disney character. I am very fortunate.
And you are the first Filipino Maurice and H.E.R. is the first Black Filipina Belle. What is the significance of being cast in this musical show?
I think about this like when you are in school and there is a table full of popular kids. You only look at them and admire them. They're so beautiful and they are so cool. Then one day, one of them asks you to come over and join them and they make room for you at that table. Suddenly, you don't need to put yourself down.
There's something about being accepted and feeling that anything is possible and that you can reach that level. You can do more. It was an amazing thing to be invited to this show. Because when other people of color especially Filipinos see this, they will say, "Oh yeah. That can happen to me too." So, it is really important that they see you onscreen or onstage.
How was it working with H.E.R.?
Gabby (Gabriella Sarmiento Wilson), her real name. Love that name. She is a beautiful human being, a very talented artist and a very good actress. Not really surprising. When she comes into the room, she is well prepared. She is a superstar, but she is open to learning. Basically, she's like saying I don't know a lot, but I am willing to learn to get better every day. She is so much fun. She is proud to be a Filipino. She reminds me of my daughter Isa. Like my daughter, she is proud of her heritage. I love her.
Were you aware that on one of H.E.R.'s costumes as Belle were Baybayin or Philippine ancient scripts on her apron?
Yes, I was aware. So cool. Something small like that she thought of to promote and uplift her heritage. That was so cool. I wish I thought of that.
How did you prepare for the role of Maurice?
I want to be consistent with the Disney Maurice and bring my own. I was hired, an Asian American actor, to bring to play this part, telling a different way that this can happen anywhere whether in the Philippines or Australia that there are different ways to tell that story. As for me playing Maurice, I know the story and what happened to him. He is a loving father who has dedicated his whole life to his daughter. I can relate to that because I am a father too. And I can bring the Jon Jon intensity to the role.
What was the reaction of your family when they saw you in costume and wig?
I haven't shown anything to my parents in the Philippines because I was not allowed to. But my wife, Megan, and kids were excited. We tweaked it a little bit so it stays true to animation, but I didn't look like that – I wanted to look like a Filipino. Joshua Henry who played Gaston and Gabby who played Belle looked like themselves. So, I also wanted to look like me to represent Filipinos.
You didn't sing in this musical but what was your favorite song in "Beauty And The Beast?"
When I first saw this beautiful story, the music was wonderful. It was so sweeping, and the melody was so beautiful. "Be My Guest" - that song itself is a big production number. All of them were beautiful.
How was it to be directed by Hamish Hamilton?
Hamish is so much fun. He is so collaborative, and he also accepts suggestions. He says, "Sure, I love that." It makes the set lively, fun, and inclusive.
Did executive producer Jon M. Chu ever drop by and make some comments?
I was hoping for that, but he is in London filming that big movie ("Wicked: Part One"). He had his people there all the time and they are constantly sending the dailies and he is happy about it.
What are the challenges of doing a live special like this?
The problems have always been the things you cannot control like the sound, someone falling down, the choreography, people getting hurt. So many things because there are so many moving parts especially the idea for this show. We taped it before a live audience so they can edit it as much as they can and present it the best way that they have envisioned it.
I will mention some cast members. Can you please share some tidbits about your experience working with them?
Rita Moreno – Pure beauty and class. We only had the finale together but every time we finish a take, I would try and chat with her and she's just a beautiful human being. I told her how much I love her and that the first musical I have seen was "West Side Story", a rerun late at night. I fell in love with it and with her and I thanked her for representing the underrepresented for a long time. She was just class. Beautiful.
Josh Groban – What a voice! What a talent! But the thing I most love about Josh is his warmth and how humble he is. He is also very funny. He is so down-to-earth. He means what he says. I met him a long time ago during my stint in Broadway and I saw "The Great Comet of 1812" show and we got in touch. We are both excited that we are working together.
Martin Short – He has a big and fun personality and always lights up any room. People you have watched onscreen for the longest time you have a favorite character and my favorite Martin Short character is Franck Eggelhoffer in "Father of the Bride" (1991). That was genius. His energy is endless. He comes into the room, and everything lights up. He is amazing.
Shania Twain – Beautiful and fun! At the after party, the DJ played her song, "Man, I Feel Like a Woman" and without skipping a beat she sang along with it, and everyone gathered around her to sing along with Shania.
What is it that you hope audiences will get after watching the special?
I hope that everyone appreciates what goes in an endeavor like this and how fortunate we all are to be watching something like this. I hope they appreciate the different ways to tell a story, a classic story, with different people of color and appreciate the fact that kids of all colors, shapes and sizes can appreciate this and go, "Oh yeah, that can happen anywhere."
I'm looking forward to everyone seeing how special this thing we did is. There was a lot of things involved in making this and the team that Disney put together accomplished an amazing thing. I believe people will enjoy this. I'm very proud to be part of "Beauty And The Beast."
"Beauty and the Beast: A 30th Celebration" will premiere on December 15 at 8 p.m. ET on ABC and will be streaming the next day on Disney+.
—MGP, GMA Integrated News