Filtered By: Showbiz
Showbiz
Q&A
Dolly de Leon on her string of good news from Hollywood, missing theater and her next film projects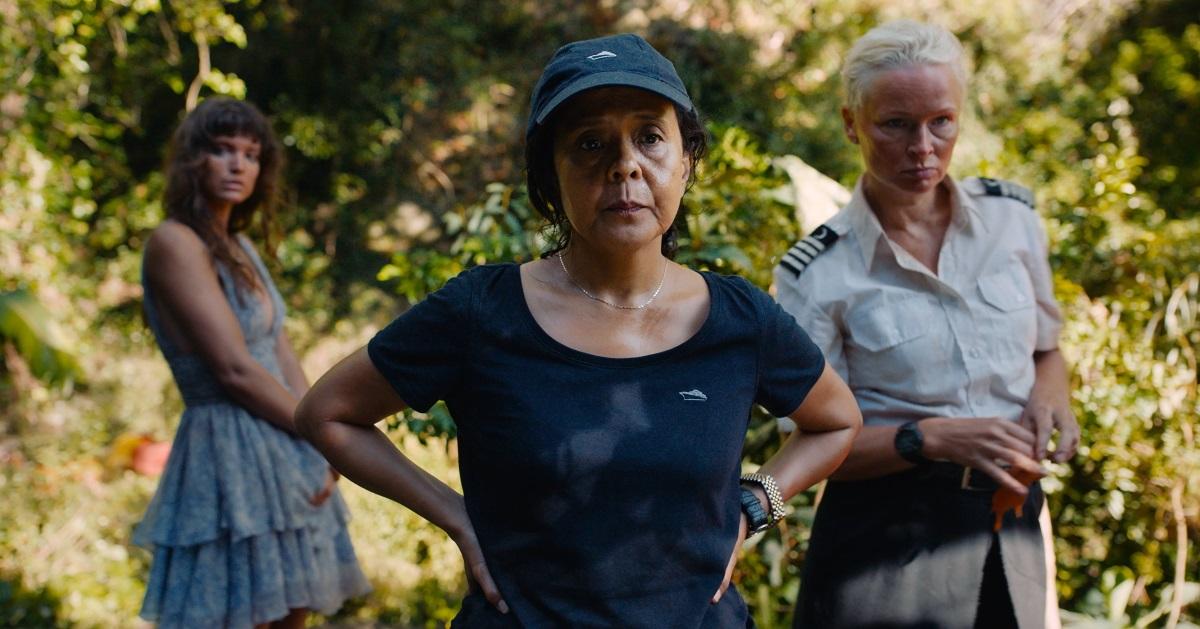 Dolly de Leon is riding the Hollywood wave high and she's taking us all along with her!
For her work in "Triangle of Sadness," de Leon was named best supporting actress of the Los Angeles Critics Award. As though that wasn't enough, she just made history as the first Filipino to get a Golden Globe nomination in the Best Supporting Actress category.
In her early 50s, de Leon is a shining example that life has more to offer no matter your age as long as you're doing your best.
Before landing the the role of a toilet manager in a cruise ship in "Triangle of Sadness," de Leon has been working hard as a multi-platform actress all her life.
Few know de Leon started in theater. She has a theater arts degree from UP Diliman and despite her busy schedules acting for TV and film, she still occasionally appears on the live stage.
We caught up with De Leon in a recent online conversation about the flood of blessings coming her way. We're glad she remains the humble, accessible thespian ready to answer questions. Here's the excerpt.
What were you doing when you learned that you won the L.A. Critics choice for Best Supporting Performance?
I was fast asleep when my daughter woke me up at 4 a.m. to tell me the news.
And then a few hours later, there was the Golden Globe Award nomination announcement. Did you expect it as well or basta kung ano na lang dumating?
Kung ano lang ang dumating. Natuto na ko na we just have to do the best we can do, let go and leave it to the powers that be. If not we would be setting ourselves up for disappointment.
Did you ever dream or wish that something big like what's happening now will take place?
Never in my wildest dreams did I ever think this would happen. The farthest I ever had in terms of dreaming was having a list of all the filmmakers and actors I'd like to work with - like a wish list. The list is still with me and the goal is still to work with these great artists.
I've read you are being managed by a professional firm here and a prestigious company in the US. Does the management firm also take care of contracts if you're invited to do theater in a local production?
No, my US manager and agent don't handle any of my activities in the Philippines. My Pinoy manager only handles film and television, not any of my theater commitments.
Yeah, many who've seen you on TV and films may not be aware that you started in theater. The last stage play you did ba was "River Lethe" (for Virgin Labfest 2017) or may mas bago pa?
I would count "Angels in America" by Tony Kushner, translated (into Filipino) by Guelan Luarca as the last play I did.
It was a staged reading (mid-2022 at Café Gener, Quezon City) but with full blocking, sound design and costumes. We didn't sell tickets and didn't make any money from it but it was very special because it was my very first prod after a very long time (since pandemia).
How much do you miss doing theater?
Like I'm missing my right arm. The theater is my lover so to speak and I miss the process, the thrill of discovery and working with a "family."
What dream roles on the theatrical stage would you still like to do and why?
I don't have a dream role. More of a dream team. I'd love to work with Guelan Luarca in a full production. I also have a long list of actors I'd like to work with and at the top of that is Mailes Kanapi.
What projects are on the line up next year? How busy is your 2023?
"Iti Mapukpukaw" written and directed by Carl Papa and "Duyan ng Magiting" written and directed by Dustin Celestino both for Cinemalaya and "Keys to the Heart" written by Pam Miras directed by Kerwin Go for Reality MM Studios.
I have work lined up in the US, two films in March. [One is a comedy, wherein she's playing step mother to Jason Schwartzman]
Any advice for aspiring actors? Your secret to success?
There is no secret to success. Your success is yours to make and no one can tell you how to achieve it.
But as you navigate this business, remember to always be kind to everyone around you — no matter who they are or what power they hold or don't hold.
And do everything with love. Especially to yourself -- be kind to yourself and remember to always love you.
How do you spend a regular day these days? If there's no shoot or taping.
I watch films and series, catch up with friends, spend time with my kids and read.
Do people now ask for selfies when you go out? How do you react?
No one recognizes me and I like it the way it is. Freedom is a value I cherish most.— LA, GMA Integrated News