Filtered By: Showbiz
Showbiz
'Glass Onion' director Rian Johnson on assembling an all-star cast: 'It's like throwing a dinner party'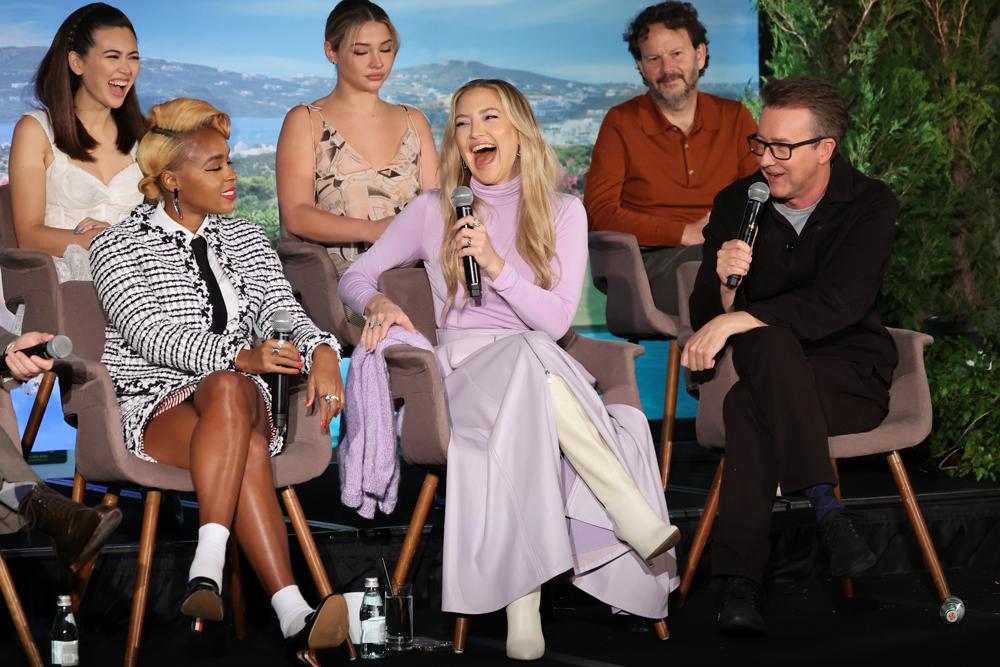 "Glass Onion: A Knives Out Mystery" drops on Netflix Friday. It's an all-star cast featuring no less than Daniel Craig, Kate Hudson, Jannelle Monae, Edward Norton — and that's all the names we can say in one breath.
There's also Dave Bautista, Leslie Odom Jr., Kathryn Hann, Jessica Henwick, and Madelyn Cline to name a few more.
In a virtual press conference last October, director Rian Johnson likened assembling his stellar cast to "throwing a dinner party."
"It's getting the best actors you can possibly get," he said. "Like throwing a dinner party. It's an ensemble, we knew we were going to be on location and be stuck together for awhile. You're also trying to cast cool people who will hopefully get along and have a good time together," he added.
According to Kathryn Hann, the assemblage "did have that 'grace.' [Rian] was able to find a group of humans that had [grace], and be there for the thing, starting with Daniel, who had been through it before and was there with such a welcoming generosity of spirit for every single person."
"Glass Onion" is a murder mystery shebang with Detective Benoit Blanc (Daniel Craig) once again at the center of it all. While it's not unlike the original "Knives Out," it might be wrong to say this new movie is a second part of a series.
According to Rian, "The mode in which we were thinking was not to continue the story of the first one, but to treat it the same way Agatha Christie wrote her books."
"Let's not just crank and do another. Let's do something different," he continued.
That he wrote the movie in the early days of the pandemic may have influential in the outcome: "Glass Onion" takes place in a Greek island, "in the rich vein of 'destination murders,' vacation mystery."
Story goes, mega tech billionaire Miles Bron (Edward Norton) invites his friends on his island for a quick getaway. Among the things he prepared for his crew was a mystery game that quickly turned, well, fatal. Everyone is now a suspect.
For Norton, the assemblage of characters in "Glass Onion" reminded him of his high school drama club. "It's a bunch of adults playing dress up and pretending to be other people. And when you liberate yourself from any pretension to be doing anything other than entertaining the audience, yourself, and each other, it's incredibly wonderful. And after a year in pajamas, it's especially great."
"Glass Onion: A Knives Out Mystery" is now streaming on Netflix. — GMA Integrated News