Filtered By: Sports
Sports
After tweeting game-fixing charges, PBA player slapped with record-setting fine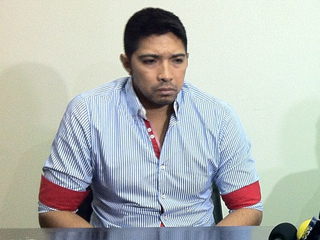 A despondent and apologetic Don Allado faced the media after meeting with PBA Commissioner Chito Salud on Thursday. Mark Zambrano
As one of his fellow players tweeted after the deed, Don Allado forgot to think before he clicked. Receiving one of the harshest penalties ever imposed by the PBA, the Barako Bull Energy big man
was fined P500,000 and banned for one conference from all PBA-related activities
, after he accused the league of game-fixing in a series of tweets.
Allado met with PBA Commissioner Chito Salud on Thursday to apologize. The sanctions are said to be final and unappealable.
The P500,000 fine was the largest ever imposed by the PBA on a player and his suspension was surpassed only by a season-long ban in 2009-2010 suffered by then-Burger King Whoppers guard Wynne Arboleda, who assaulted a courtside heckler in a game.
The harshness of the penalty reflects not only the league's sensitivity to any charges of corruption but the power of Twitter in the hands of popular personalities like professional athletes. Allado's tweets were treated by the league as if these were statements uttered to mass media.
After a season-ending loss to the Powerade Tigers last Tuesday, Allado
tweeted
that "#PBA games are fixed. They control who is in & who is out. It's a disgrace to be in this league. I am bitter about losing. Not to Powerade, but to #PBA. In my opinion, this league has little credibility left."
Allado later deleted the tweets and apologized for them
. Then upon meeting the commissioner, he apologized once more.
"Inulit [niya] sa akin ang paghingi ng paumanhin sa buong PBA, sa players, governors. Yun daw ay resulta lang ng pagkatalo ng team niya. Burst of emotion sa Powerade," said Salud in an interview on dzBB radio after the meeting.
Salud also reminded Allado of the power of Twitter and Facebook, chiding him, "Ang tweet, Facebook, maraming sumusunod diyan, delikado kung magsasalita ka ng kung anu-anong bagay."
Twitter is a social media platform that enables users to send short messages to thousands of followers instantly. Twitter is often now the first source of news for media around the world. Allado's tweets about alleged game-fixing were noticed almost immediately not only by fans but by mainstream media that monitor Twitter for such controversies.
Outburst of emotion
Salud said that when he asked Allado to substantiate his claims of game-fixing, Allado could not reply. The 13-year veteran said he had never gotten an offer to drop a game, nor did he know of other players who got such offers.
"I took the occasion na ipaalala sa kanya ang responsibilidad ng PBA player sa fans. Ang maturity, sportsmanship, kailangan at all times they observe that on and off the court," Salud added.
The commissioner admitted that a referee in the Powerade-Barako Bull game did indeed make an egregious non-call, failing to whistle a three-second violation on the Tigers' import Omar Sneed. But upon review, the league, and even Barako Bull head coach Junel Baculi and team management agreed they were "outplayed by Powerade even during that time that a non-call was made."
"Clearly it [Allado's tweets] was an outburst of emotion in the heat of competition," Salud concluded.
Despite his apology, Salud still felt that the 33-year-old still needed to be punished.
"I laud his apology, it takes a man to admit his fault. I laud his passion for the game but I cannot condone this kind of behavior. There will be punishment," he said.
Salud also added that Allado's team "made it clear they are not tolerating the accusations of Allado and there will be internal sanctions meted out also."
The former King Archer out of De La Salle University is a 13-year pro, and got his start with the Alaska Aces back in 1999. A three-time PBA All-Star and two-time PBA champion, the 6'6" center/power forward is with his fifth team, and has career averages of 7.89 points, 5.86 rebounds and 1.29 assists.
- AMD/HS, GMA News