Filtered By: Sports
Sports
Dwight Ramos shines anew as Gilas repeats over South Korea to go undefeated in FIBA Asia Cup Qualifiers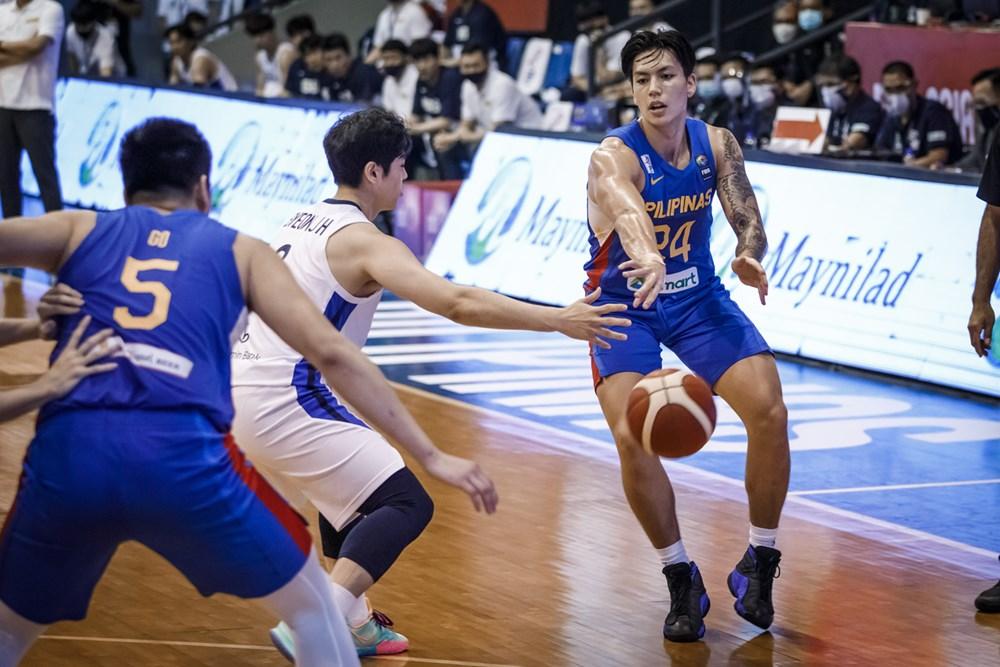 Gilas Pilipinas is heading to the 2021 FIBA Asia Cup in August with an unblemished record after dispatching South Korea anew, 82-77, to sweep the third and final window of the qualifiers on Sunday at the Angeles University Foundation.
The statement win will hand the host nation the No. 1 spot in Group A with a clean 6-0 win-loss record followed by the Koreans at 4-2 then Indonesia (2-4) and Thailand (0-6).
Dwight Ramos led the nationals again with his 19 points to go along with three rebounds, five assists, and two steals.
Guards RJ Abarrientos and Jordan Heading chipped in 10 markers apiece while 7-foot-3 prodigy Kai Sotto also impressed with 10 points and seven rebounds.
The game was close until the end, but Gilas got some huge possessions at the end.
William Navarro saved the ball on a broken play that led to a huge dunk from Justine Baltazar that made it 79-75 with 30 seconds left to play.
Korea's naturalized player Ra Guna, known to Filipinos as former PBA import Ricardo Ratliffe, quickly responded with a bucket on the other end. But SJ Belangel drew an unsportsmanlike foul on his Korean defender during the ensuing play and hit one of his two free throws to make it 80-77 while the Philippines retained the ball.
Ramos drew another foul and split his free throws, but recovered his own miss to regain possession and earn another trip to the line to seal the win.
Ra led South Korea with 20 points on 8-for-10 shooting, along with 13 rebounds, three assists and two blocks.
They also had good showings from Lee Hyunjung, who scored 13 points and grabbed eight rebounds, and Yang Hongseuk, who chipped in with 12.
Lee Daesung also showed up in the fourth quarter, where he scored seven of his nine points and dished out several of his game-high 10 assists.
South Korea actually started the game with a 9-0 run although the FIlipinos quickly closed that gap and closed the opening period down by just two, 20-18.
The Philippines had a strong second period to take a 38-34 lead at the break.
Gilas, though, had to contend with several Korean challenges in the fourth period.
Triples from Heading, Ramos and Isaac Go kept the Philippines in front of their opponents. Belangel also made a stelar move where he blew past his defender with a crossover, faked a pass to lose the help, and knocked down a short jumper for a 77-71 Gilas lead.
But Yang responded with a three-pointer for Korea and Ra got into transition, leaving Ramos with no choice but to foul him. Fortunately for Gilas, Ra only hit one of his two free throws as the visiting team only got to within two points, 77-75.
But that was when Baltazar got free for a dunk and Belangel and Ramos sealed the game from the stripe to win against Korea for the second time this window.
Gilas won the first contest, 81-78, on a buzzer-beater from Belangel. They also beat Indonesa, 76-51, before sweeping the third window with this win today.
Navarro also finished with eight points while naturalized player Ange Kouame posted seven points and a team-high eight rebounds.
The scores:
Gilas Pilipinas (82) - Ramos 19, Abarrientos 10, Heading 10, Sotto 10, Navarro 8, Kouame 7, Baltazar 6, Belangel 6, Go 3, Nieto 3, Chiu 0.
South Korea (77) - Ra 20, Lee HJ 13, Yang 12, Lee DS 9, Kim 8, Lee SH 8, Jeon 3, Byeon 2, Yeo 2, Ha 0.
Quarterscores: 18-20, 38-34, 56-54, 82-77.
—Bea Micaller/JMB, GMA News