Filtered By: Sports
Sports
Pacquiao's lawsuit vs Mayweathers still stands
Only Golden Boy Promotions executives Oscar De La Hoya and Richard Schaefer are off the hook in the defamation suit Manny Pacquiao filed two years ago. The case against the
Mayweathers
– Floyd Jr., his father Floyd Sr., and uncle-trainer Roger – still stand. "This is just a dismissal against the Golden Boy parties," said Pacquiao's lawyer Daniel Petrocelli. "We may be adding to (the lawsuit) because of additional defamatory statements that the Mayweather folks have put out." On Tuesday, De La Hoya and Schaefer issued an apology to the Filipino boxing superstar for
accusing him in the past
– together with the Mayweathers – that he uses performance-enhancing drugs (PEDs).

Oscar De La Hoya
The allegations came in the light of the
disagreement
between the camps of both Pacquiao and Floyd Jr. arising from the drug testing procedure to be administered in the supposed mega-fight between the two boxing greats that has been stalled by two failed negotiations. Both
De La Hoya
and Schaefer then joined the fray when they expressed suspicions that Pacquiao was using PEDs on the night the world's top pound-for-pound fighter drubbed the "Golden Boy" for eight full rounds in their celebrated non-title welterweight match on December 6, 2008. A few months after that disappointing loss, De La Hoya retired from boxing at the age of 36.
Apology accepted, terms and lips sealed
De La Hoya and Schaefer's apology paved the way for Pacquiao, to settle the defamation suit he filed against them in a U.S. District Court in Nevada in 2009. "Richard Schaefer and Oscar De La Hoya, on behalf of themselves and Golden Boy Promotions, wish to make it clear that they never intended to claim that Manny Pacquiao has used or is using any performance-enhancing drugs, and further state that we do not have any evidence whatsoever of such use," said De La Hoya and Schafer in a statement. "Manny Pacquiao is one of the greatest fighters of all time, and we apologize if anyone construed our prior remarks as in any way claiming or even suggesting that Manny uses or has used PEDs."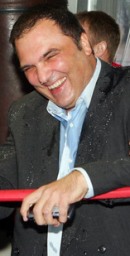 Richard Schaefer
Terms of the settlement were not disclosed. "It's all by agreement of the parties that the terms remain confidential," Daniel said in an ESPN interview. "Manny is satisfied with the terms of the settlement and the statement Golden Boy issued, and he agreed to the settlement."
Settlement breaks ice, clears way for Pacquiao-Marquez III
De La Hoya's apology came at a time when the former Olympic gold medalist is undergoing treatment for substance abuse in a Los Angeles rehabilitation center. But Schaefer, in a statement, welcomed the latest development as very beneficial for the business of prizefighting in general. "I hope we can work together again and put great fights together." "The goal of any promoter is to put together the biggest and best fights. Let's see what the future brings. ... We've broken the ice." De La Hoya's counterpart at Top Rank Promotions, Bob Arum, is just as optimistic. "I think this clears the way for future fights with one of their fighters with Manny, all other things being equal," Arum told ESPN. "Prior to the apology we would have not considered it. This (PED accusation) was something directed at Manny. He's accepted this apology and indicated that he has accepted it by settling the lawsuit, so we move on.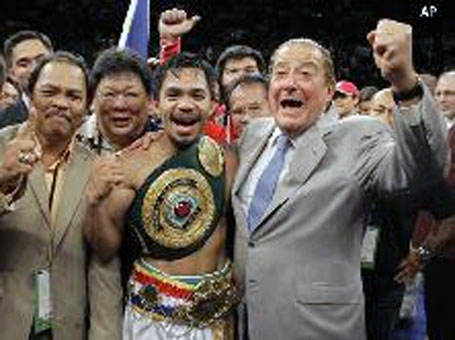 Manny Pacquiao (center) and Bob Arum (right). GMA News
"This clears the way for any Golden Boy-Top Rank fight in the future if the fight makes sense for both sides. We shook hands on that after the mediation (two weeks ago)." Just last month, mediation was reached between Golden Boy and Top Rank after
Arum signed Mexican Juan Manuel Marquez
to a third meeting with Pacquiao on November 12.
Marquez
is a longtime fighter under Golden Boy, but has not signed a new contract offered by the outfit when he's previous deal expired last February. Although the 37-year-old Mexican was no longer under contract with them, Golden Boy still retained the right to match any offer
Marquez
will receive until February of 2012. De La Hoya
never matched Arum's offer
and allowed Marquez to fight Pacquiao for a third time.
– Joseph Lariosa, JVP, GMA News
(lariosa_jos@sbcglobal.net)