Filtered By: Sports
Sports
The bald and beautiful UP Pep and the rest of the UAAP cheerdance nation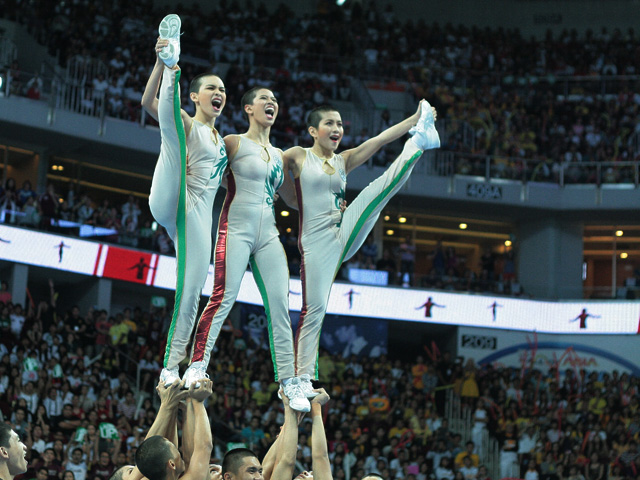 It wasn't about starting or ending strong for UP. A high degree of difficulty was sustained throughout the whole performance. Photo by Roehl Nino Bautista
Last year, they went blonde. This year, even the pretty ladies on the University of the Philippines Pep Squad sported crew cuts, hair cut close to being bald, a testament to the commitment and esprit de corps of these lithe athletes who can also dance up a storm. The uniform androgynous look enhanced the impression of a single organism with many parts jumping and jittering, as UP took home to Diliman Saturday its third straight UAAP cheerdance title. The rounded heads eerily resembled UP's well-known oblation statue, especially when the squad raised their arms to mimic its pose.
Reinventing themselves
The decision to go bald was that of the squad's head coach, Lalaine Pereña. According to team co-captain Kiko Cortez, it was all a part of the team's commitment to giving the best performance for the UP community. "It's all part of the sacrifice. [We shaved our heads] days before the competition," said Cortez. As with the squad's reputation, the decision to reinvent themselves in form came with the drive to outdo themselves in competition. So much so that Cortez admits that the drive for three straight was not the team's primary motivation. "Actually, hindi po namin inisip yung three-peat. Mas nag-focus kami sa pag-execute ng perfect run para sa UP community. Mas tinaas namin yung level of difficulty ng mga stunts. Nagdagdag kami ng mga stunts at pyramids para tumaas yung level ng competition," added Cortez, as UP did go on to nail lift after lift, toss after toss, and pyramid after pyramid to the delight of the cheerdance fans in attendance. But every year, teams need to keep a balance between raising the level of difficulty with making sure that the stunts are executed flawlessly. This year, choreography had to be crisp, floor routines had to be in sync, and lifts and tosses need to be perfect. Clean routines were so much of the game that it led to NU landing the third spot. UST and La Salle, who nabbed the fourth and fifth places respectively, also had difficult stunts in their routines to stay in the hunt for third place, but what propelled NU to their first podium finish in the history of the cheerdance competition was the fact that theirs was the cleanest of the three.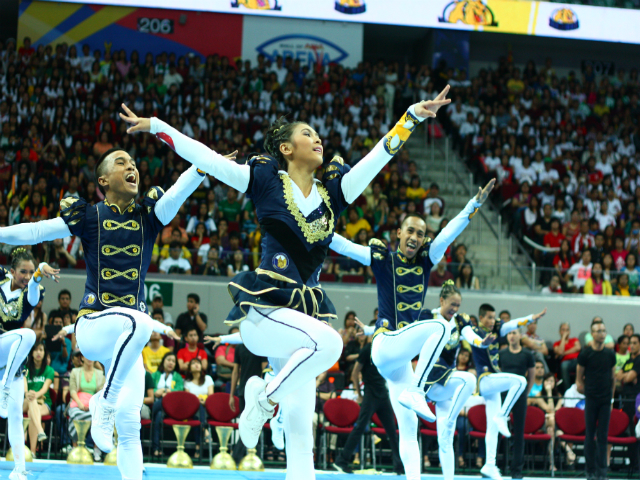 The National University Pep Squad kept it clean with a Disney-inspired theme. Photo by Roehl Nino Bautista
"Sobrang masaya yung feeling. First time kasi namin makapasok sa history ng UAAP. Eto lang yung first time, number three kami. Ginawa talaga namin ang best namin. Pinaghirapan namin to," said one of NU's coaches, Karl Pabillona. "Asahan nila na sa susunod na competition, bibigyan namin sila ng matinding laban. Kase ngayon, mas skillful na yung mga bata, mas united yung mga bata, and we're aiming for the highest rank," added another NU coach, Gherika Bernabe. NU athletic director Junel Baculi went as far as saying that the performance of their pep squad is something that their basketball team can draw from: "We're very happy but it doesn't end here. Next year, hopefully, we can go over third place, maybe second place. Who knows? This group has been together for two years now. They have a good coach, a good team manager. Magandang inspiration para sa men's team to." But of all teams, it was clear that FEU gave UP the biggest scare. The FEU Pep Squad went with a jungle theme, with animal prints all over their costumes. They snared, they growled, crawled, and lunged with so much ferocity. They nailed lifts with ease while keeping their tosses graceful, with the male members of the squad showing the UAAP community that their floor work was arguably among the best in the competition.
FEU put it all on the floor, mixing crisp floorwork with clean tosses and pyramids. Photo by Roehl Nino Bautista
Flawless as it was, the Maroons were still the team to beat. Like the last two years, UP's performance was so polished, that the last two lifts that yielded two hiccups stuck out like a sore thumb. It was so unusual for UP to fall. It was so out of the ordinary that the crowd thought it was enough for FEU to snag the crown away. "Honestly, I know it's ours. But we are satisfied with our performance. It was excellent and perfect. It's an achievement for us. Last year, we placed third. But of course, I know it's ours," said FEU Pep Squad team captain Erica De Roxas, adamant that they deserved the win, as they executed a spectacle with 14 rookies on the floor. The judges, however, disagreed. The crown stayed with UP for one more year.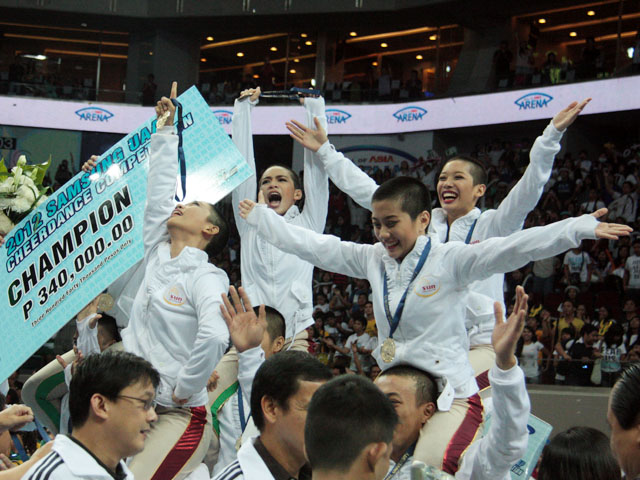 Hard habit to break: UP landed the toughest stunts with ease to win for the third straight year. Photo by Roehl Nino Bautista
Minutes before the announcement of the winners, the UP crowd sat with much anxiety, knowing that the last two lifts could have cost them the crown. When FEU was declared first runner-up, the UP hopeful exploded in pandemonium. The last two years didn't matter anymore. Neither did another 1-13 performance by the basketball team. They remained as the kings and queens of cheerdance. Six minutes. Each team trained for hours everyday for months for six minutes on the floor. There were bruises, sprains, hyper-extended limbs. There were also a lot of heated exchanges between these athletes and their parents, if not their significant others, as they opted to spend a few more hours in school just so they could work on their balance to keep their lifts stable and steady. Beyond the physical, it is the emotional strain that is placed on these athletes as they give the world a show for six minutes. In that moment, all eyes are on them as they represent their school. Every messy landing and every fallen lift may make the schoolmates wince in embarrassment, but the same failed attempts hurt these athletes to the core even more. Cheerdance used to be a UAAP sideshow to the basketball. For at least that one day, it was the only game in town.
- AMD/HS, GMA News