Filtered By: Sports
Sports
Numerophilia: Talk 'N Text and Ginebra clash in Comm. Cup semis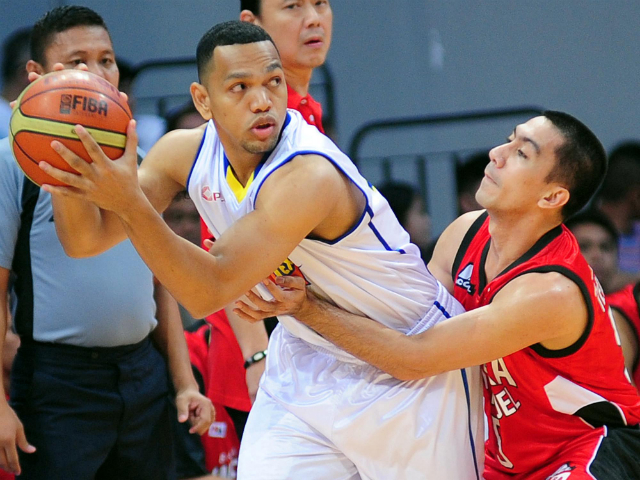 Speedy guards will do battle in this match-up as Jayson Castro and LA Tenorio clash. KC Cruz
It's the PBA semifinals. Four teams are left standing, with one more round before the big dance. With a full conference behind us, we'll have enough data to tinker with, and try to look at trends, developing stories and factors that could sway the series.
First up, it's the mighty Talk 'n Text Tropang Texters and the wounded Barangay Ginebra San Miguel
Low signal
TNT started the conference on a championship high, having swept the Rain or Shine Elasto Painters for the All-Filipino Conference. It wasn't a Cinderella run though, as TNT finished last with the best record in the league at 10 wins and 4 losses. As such, everybody expected them to again be among the best in the league for the Commissioner's Cup.
Instead, the Texters floundered out of the gate, winning just two of their first five games with import Keith Benson. By the numbers, Keith Benson did his part: he scored almost 114 points per 100 possessions and registered a PER that ranked among the league's elite at 30.51. It was the other players, the locals, who weren't able to hit open shots or find a rhythm in the offense.
Surprisingly, TNT would replace Benson and welcome a former (and older) import of theirs, Donnell Harvey. And even though they improved dramatically on offense, their defense fell among the leagues' worst. With Benson, TNT would score just 92 points per 100 possessions while allowing 95.4 points per 100 possessions. With Harvey, those offensive numbers skyrocketed all the way to 101 points per 100 possessions, but their defense similarly plummeted, allowing 102 points per 100 possessions. Harvey matched almost everything Benson did too, scoring 111.7 points per 100 possessions, with a 22.1 PER.
Was the situation Benson's fault? Or were they too impatient with him?
Unluckily for TNT, they had to make another switch when Donnell Harvey had to leave for personal reasons. In came Jerome Jordan, a former NBA draftee and D-Leaguer.
With all the import changes, it's hard to assess what TNT really is, especially with another key cog, Ali Peek, returning in mid-conference. But there are a couple of things that stand out even through all the import changes.
One thing we are certain about is the fact that TNT relies heavily on running and spacing the floor. For the conference, TNT ranks as the best three-point shooting team in the league (eFG from 3 of 49.7%), which is just percentage points better than Barako Bull Energy Cola. That's the only thing that's true for all three imports.
| | |
| --- | --- |
| | 3pt eFG |
| With Benson (5 games) | 43% |
| With Harvey (7 games) | 50% |
| With Jordan (2 games) | 65% |


Most of the three-pointers they took came by the same way, in transition or from drive-and-kicks from Jimmy Alapag and Jayson Castro. The shots that were missing with Benson were suddenly falling with Harvey.

That's the only thing good you could say about TNT, because they have a lot of problems.
For starters, TNT got worse at rebounding as the season progressed (and as they changed imports). Not only are they allowing more offensive rebounds but they are also getting fewer and fewer offensive rebounds themselves. Their advantage from the free throw line also follows a similar trend. The Texters have allowed higher free throw rate, while making fewer free throws, as the conference went on.


| | | | | | |
| --- | --- | --- | --- | --- | --- |
| | Team ORB% | Opp ORB% | Team FT% | Opp FTR | FTR Diff |
| With Benson (5 games) | 27.90% | 28.20% | 72.50% | 17.80% | 6.90% |
| With Harvey (7 games) | 23.30% | 29.80% | 71.80% | 18.00% | 2.90% |
| With Jordan (2 games) | 19.80% | 33.50% | 64.80% | 20.30% | 2.70% |


Those are alarming trends that cannot be disregarded. Their inconsistent offense cannot carry such a horrible showing at two important factors.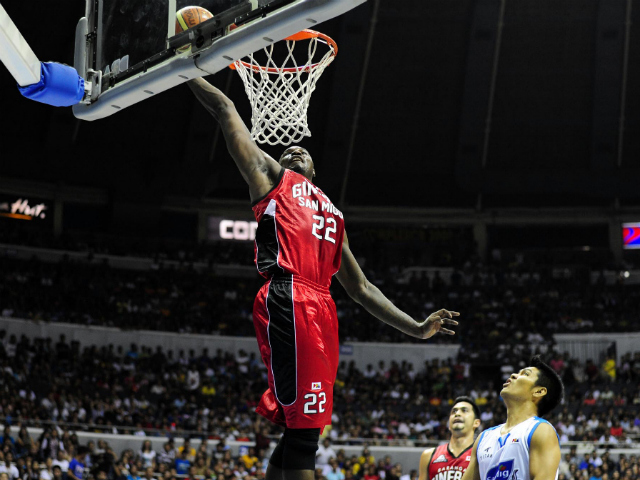 Adding Vernon Macklin to the Ginebra line-up has jump-started the Barangay's campaign. KC Cruz


Punch-drunk pace

Meanwhile, Ginebra started the season on such a low note. They lost their first three games, all with import Herbert Hill, by an average margin of 10.3 points per 100-possessions. When Vernon Macklin came on board, it looked like that wouldn't change, as they lost to a streaking Alaska team by almost 17.5 points per 100-possessions. However, Ginebra would go on to win seven of their last 10, including a six-game winning streak that set them up for a quarterfinals series with Rain or Shine, which they unbelievably won, despite possessing a twice-to-beat disadvantage.

The most important thing, which I've alluded to on episode 48 of From the Stands, is that Ginebra has increased their pace, by a full three possessions intact (89 possessions/48 minutes with Herbert Hill vs 92.8 possession/48 minutes with Macklin). And the results have been dramatically different.

The faster pace has of course boosted their offense (from a league worse ORTG of 89.5 to an above average ORTG of 97.9). Ginebra is getting into their sets quicker and taking advantage of a far more athletic and energetic import in Vernon Macklin. With quicker sets, the entire Ginebra team (especially Macklin and LA Tenorio) have been able to get easier shots. They've improved their shooting efficiency from an awful eFG of 40.3% with Hill (a result of too many end-of-clock attempts) to an eFG% of 47.5%.

Mark Caguioa in particular, shined brighter than anybody. He was already having a great season before Macklin came (ORTG of 107.97 on USG% of 28.4 percent), but he became even better with Macklin (ORTG of 130.9 on USG% of 26.8 percent). Those are unbelievable numbers from the Spark (at the age of 33, mind you). Sadly, injuries took away what was shaping up to be one of his better conference showings in recent memory.

Between Macklin, Kerby Raymundo, Rudy Hatfield, and not to mention Billy Mamaril (who boxes out well), Ginebra also became one of the best rebounding teams in the league winning the rebounding margin by 4.30 percent.

What are the possible keys to the matchup?

Rebounding

While Ginebra was one of the best rebounding teams in the league, TNT bottomed out to become one of the worst. Talk 'N Text is going to be absolutely murdered in this match-up, with Macklin expected to eat the entire frontline of Talk 'n Text. This is going to be one factor that TNT must absolutely try to minimize. It is up to Jerome Jordan, Ranidel de Ocampo, Ali Peek, and company to minimize what is almost a sure disadvantage for their fast break attack (which can be fueled by defensive rebounding) and offensive put-backs that can get the crowd fired up.

Coach Norman Black's teams always run back on defense. They allow just 1.11 points per attempt on fastbreaks, second best in the league. It's also no surprise why they're one of the worst offensive rebounding teams in the league (to a fault), rebounding just 24.50 percent of their misses, worst in the league. So if you don't want to fight a 2 vs 1 battle (Ginebra and their faithful), then TNT should limit the number of put-backs that Macklin and company get.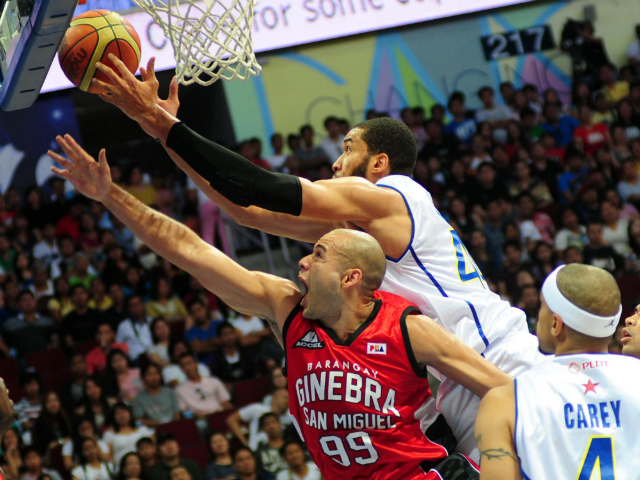 Jerome Jordan (R) leaps over Rudy Hatfield for the rebound. KC Cruz

Outside shooting

TNT was one of the best three-point shooting teams in the league, ranking first in three-point percentage and fourth in 3PT attempts. Meanwhile, Ginebra ranked fourth-worst in three-point percentage allowed. That's a recipe for disaster for Ginebra and the recipe for TNT to win. Between Ranidel de Ocampo, Jimmy Alapag, Ryan Reyes, Larry Fonacier and Jayson Castro, TNT has a cache of three-point shooters that can terrorize Ginebra's perimeter defense.

For Ginebra, it starts and ends with their perimeter guys. Tenorio, Ellis, Urbiztondo and Baracael must run back on defense and chase perimeter players beyond the 3PT line on half=court sets and be disciplined enough not to gamble for steals (compromising their entire defensive structure). The most important guy for both teams? Ranidel de Ocampo.
Ranidel has been having one great run since Benson left. In nine games in the elimination round and two games in the playoffs, Ranidel has made 20-of-48 from downtown. That's 41.7 percent on six attempts per game. Can Kerby Raymundo keep Ranidel in check? Can Vernon Macklin keep him in check?

Import match-up

You know why Ginebra went on an incredible run?

Macklin. Macklin. Macklin.

He scores at about 106.8 points per 100-possessions and has a 23.8 PER. But what makes this even better is the fact that Macklin leads the league in minutes played at 44 minutes per game and uses 25.80 percent of his team's possessions while he is on the court. If we convert that into a 48 minute game, Macklin uses 23.6 percent of his team's possessions. That's just under a quarter of his team's possessions operating at a rate that will lead the league (we're comparing 106.8 to the league-leading team ORTG of Rain or Shine of 101.1).

Macklin's rebounding numbers (minimum 10 games played and played at least 24 minutes):


| | | | |
| --- | --- | --- | --- |
| | ORB% | DRB% | TRB% |
| Numbers | 13.00% | 21.50% | 17.30% |
| Rank | 3rd | 8th | 7th |


Simply put, Macklin is among the best rebounding players in the league. He ranks third in offensive rebounding percentage, eighth in defensive rebounding percentage, and seventh in total rebounding percentage. Plus, he ranks fourth in terms of free throws attempted in the league, never mind the fact that he only shoots 46.9 percent from the line (which if taken into a point per possession basis, he scores at a rate of 0.938 points per possession from the FT line, which is below league average rating). He'll likely force TNT into a lot of uncomfortable line-ups just because of foul trouble.


Heart or skill?

Special props must go to TNT coach Norman Black, one of the best tacticians in the PBA, who will certainly look at these three keys and laser in on them. Alfrancis Chua, after resurrecting what had looked like a lost conference for Ginebra, will once again be asked to inspire his team to three more wins. It won't get easier, facing a more talented PBA squad without their best player, Mark Caguioa. But in the ultimate battle of heart, skill and strategy, Ginebra will not lack for heart. The question now is whether Ginebra can overcome their disadvantage in skill with heart and strategy.
- AMD, GMA News
Nico Baguio holds a Masters Degree in Mathematics from the Ateneo de Manila University.

He's currently a writer for SBNation's At The Hive

and

runs a website that focuses on using advanced statistics on the local hoops scene, Humble Bola. You can email him at contact@humblebola.com. You can also

follow him on Twitter.