Filtered By: Sports
Sports
UAAP considering revising formula for MVP, Mythical Five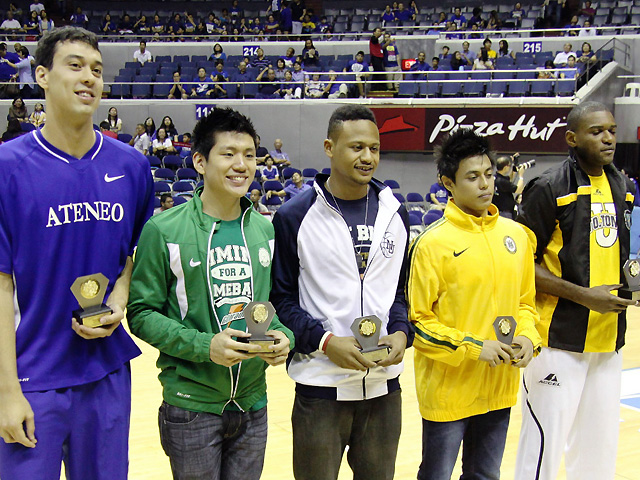 The UAAP Season 75 Mythical Five (from L-R, Greg Slaughter, Jeron Teng, Bobby Ray Parks, Terrence Romeo, and Karim Abdul). Jeff Venancio
The UAAP is reviewing a new statistical points formula for awarding its regular season MVP, Rookie of the Year and Mythical Five, revising a metric that's been in place since 2003.
The formula, proposed by chief statistician Pong Ducanes, was tackled by the league's technical committee on July 23 and will continue to be studied for the rest of the season.
The new proposal will also consider individual scoring efficiency, or the ability to score more on fewer attempts, versus the current formula, which is based on the raw sum of points, rebounds, and other statistics a player registers over a season.
Junel Baculi, the athletics director and board representative of National University, relayed that the technical committee would not implement revisions to the current statistical points formula this year.
"We want to refine it," he said in an interview with GMA News Online.
Ducanes wants to de-emphasize raw scoring totals with his proposal, and recognize other facets of a player's game.
"In the current formula, field goal and free throw shooting have no weight; they should be included in the statistical points formula," said Ducanes. "I think the current formula favors scoring too much, I just want to even the playing field."
Current UAAP formula:

The current formula also adds a uniform "Won Game Bonus" to each player's statistical points total for every winning game he played in, regardless of the margin of victory. Ducanes proposed that the bonus should be adjusted to reflect the gap.
"[The Won Game Bonus] should be variable so that all teams would give their all in all games," he said. "Walang bigayan sa dulo kasi importante yung dami ng lamang. Walang gustong magpatambak dapat."
Winning margins are also crucial in the UAAP because they're factored in when resolving team quotients in cases of ties in the standings, especially between second and third, and between fourth and fifth, when determining the UAAP final four.
Baculi generally agreed with the proposal, saying that in principle, a player's shooting percentages and a gradience of won game bonuses were "salient points" in the issue.
From 2003 to 2007, statistical points made up 50 percent of the awards criteria; the players and coaches combined for 25 percent, while the remaining 25 percent was determined by the media. But since 2008, the awards have been based purely on statistical points.
- AMD, GMA NewsHere's how the proposed formula would work: