Filtered By: Sports
Sports
UAAP: DLSU Green Archers win in OT, shoot down UST Growling Tigers for S76 title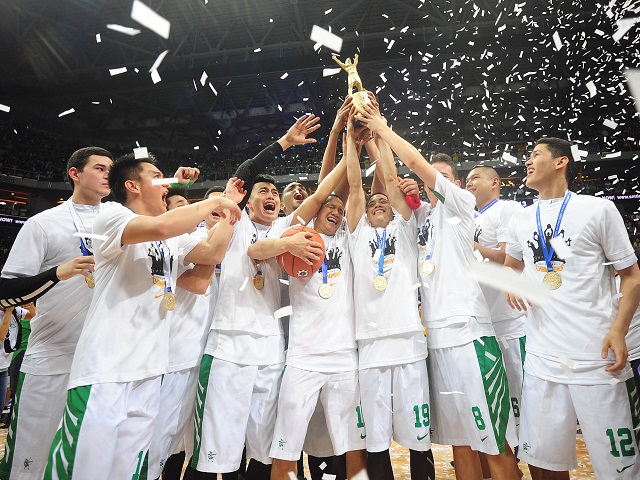 DLSU celebrates after defeating UST 71-69, in game three of the UAAP men's basketball finals series. KC Cruz
The De La Salle University Green Archers brought home the UAAP Season 76 men's basketball championship, defeating the University of Santo Tomas Growling Tigers in a nail-biting game three that went to overtime, 71-69, Saturday, at the Mall of Asia Arena.
[Review the play-by-play of this game here]
DLSU officially put an end to their arch-rivals Ateneo Blue Eagles' five-year reign from 2008 to 2012, by winning their first crown since 2007, when they were under Franz Pumaren. Juno Sauler also became the first rookie coach to win a UAAP championship since UST's own Pido Jarencio accomplished the feat in 2006.
Jeron Teng was named Finals MVP, but said the win was bittersweet. "When the buzzer sounded I really didn't know what to feel. On one side we're champions, but on the other side, I feel my brother's pain. He played his heart out, he deserves to be MVP," said Teng of his older brother, Jeric, UST's go-to man who scored 24 points in his final UAAP game. Jeric led UST to back-to-back Finals appearances but fell short of winning a title.
"UST had a good game. We just didn't give up, we won for the La Salle community," Jeron said.
Collected as ever, Sauler reiterated that his team did nothing special, despite winning 10 of their last 11 games en route to the championship. "It's not about winning the ball game, more important is how we win on a daily basis. Where that takes us it's something we'll have to accept," he said.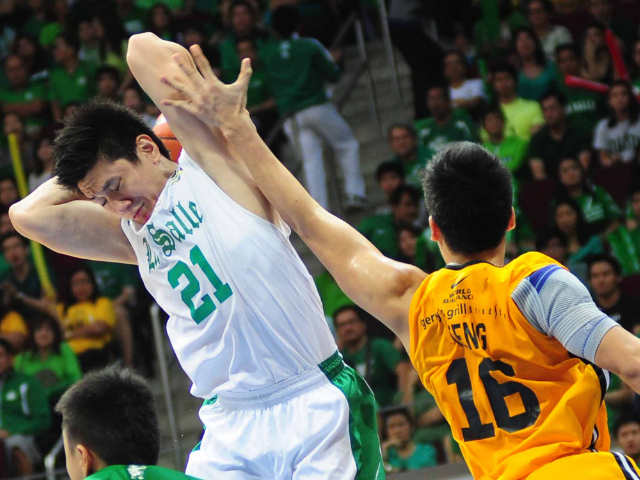 Jeron Teng (L) rips away a rebound from older brother Jeric. KC Cruz
"One of our strengths I think was running, and we started to push the ball. We saw some players of UST that I thought were tired," said Sauler about their 22-6 third quarter rally that put the Tigers up against the wall.
Despite a 3-4 card after the first round, Sauler credited their practice routine as being key to their season. "We just did the same things, the things that we knew would bring us to where we are right now," he said. He added however that his work was not yet done, already looking forward to working hard for the following season. "We'd rather be the best at what we do, than be the champions and not be the best."
Jeron Teng finished with a team-high 25 points, eight rebounds and six assists, including 12 points in the crucial fourth quarter. Almond Vosotros tallied 16 points, while Jason Perkins added 13 points and 18 rebounds, including eight offensive. Arnold Van Opstal contributed 11 points and eight rebounds.
The Archers were stymied by UST's stout defense for the entire first half and trailed by as many as 15 points. DLSU mounted a 22-6 run though to take their first lead towards the end of the third quarter, 47-46. Against Karim Abdul's controlled playmaking in the payoff period, Jeron Teng rose to the occasion for the Archers to force an extra five minutes.
In extra time, the Archers forced the ball out of Abdul's hands and baited the Tigers into throwing up bricks from beyond the three-point line. DLSU however kept coughing up the ball, but got lucky in transition, as an Almond Vosotros layup gave them a 67-65 edge.
With about a minute to play, Aljon Mariano delivered the ball to Kevin Ferrer and Jeric Teng, who both posted up the smaller Vosotros to hand UST a 69-67 lead. The Archers were forced to regroup with 34 seconds left. Jeron Teng drew a foul off Mariano, but made only the first. The ball went out of bounds, touched last by UST. Vosotros then drilled a right baseline jumper, to swing the lead to La Salle, 70-69.
After an Abdul drive came up empty, UST sent LA Revilla to the charity stripe with nine seconds left. Revilla split, leaving the door open for the Tigers. Abdul tried to drive inside to equalize, but was stripped, though UST kept possession. Again the Tigers took a timeout with 2.3 ticks on the clock. Jeric Teng was chosen to throw the in-bounds pass instead of shooting, and UST had to settle for a low-percentage jumper by Abdul that fell off the mark.
Both Tengs were involved in their teams' offenses early, though UST took a 8-7 edge on split free throws by Paolo Pe. However, big man Arnold Van Opstal turned the tide with five points in a 7-2 swing, including a free throw off an unsportsmanlike foul by Kevin Ferrer, 14-10.
The Archers faded, and went without a field goal in the last four minutes, wasting good looks beneath the basket. Meanwhile, UST scored off repeated offensive rebounding opportunities in an 8-2 run, capped by a wide-open Kevin Ferrer trey with four seconds left, to lead, 18-16, after the first period.
In the second quarter, DLSU power forward Jason Perkins almost singlehandedly pushed UST into the penalty, then made two free throws to trim his team's deficit to one, 22-21, just three minutes into the game. The Archers couldn't capitalize against UST, who effectively disrupted their passing lanes. The Tigers, after unsuccessful attempts to push the ball, notched consecutive triples by Jeric Teng to lead after eight unanswered points, 30-21.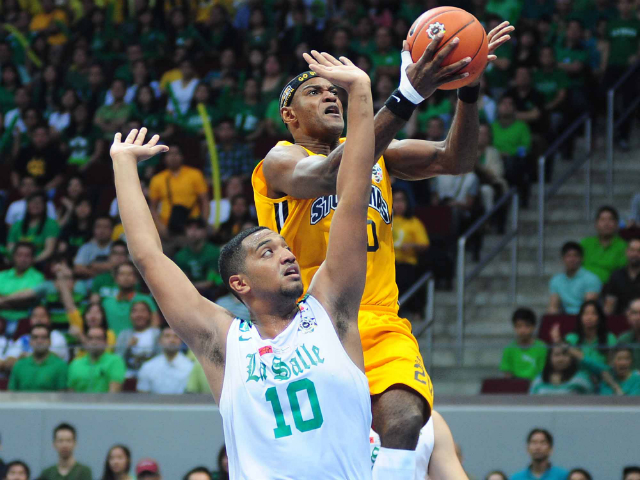 Karim Abdul (rear) had a game-high 26 points in the loss. KC Cruz
The Archers notched their second basket of the period with under two minutes left, a layup by Almond Vosotros off a UST turnover. DLSU also managed to peg Paolo Pe with four fouls before the half ended, thinning the Tigers' frontline and trailing 32-24 at the halftime break.
DLSU had just two field goals in the second quarter, bringing them to 7-of-28 (25 percent) shooting through the first half. The Tigers fared slightly better, making 11-of-40 (27.5 percent), and led 8-2 in turnover points.
Clark Bautista and Teng blindsided the Archers at the start of the second half, combining from inside and outside for an 8-1 run, 40-25. Similar to the previous quarter though, DLSU managed to get the Tigers in early foul trouble, and shackled them on the defensive end.
Stops translated into Van Opstal, Perkins, Teng and Vosotros taking turns torching the Tigers during a 22-6 swing, punctuated by Thomas Torres' corner trey with 35 seconds left to give them their first lead of the game. However, Jon Sheriff's last-second put-back returned the lead to UST at the end of the third period, 48-47.
In the fourth quarter, DLSU's offensive rebounding netted them a 52-50 lead, courtesy of a Jeron Teng drive. But soon the Tigers settled down, and with Abdul dictating the offense from the left elbow, proved difficult to contain. Abdul himself scored six points in the following 11-4 run, 61-56.
The momentum dissipated though when Jeron Teng cut to the hoop for an and-one at 3:35. The younger Teng cramped up and had Thomas Torres complete the bonus, but he returned to terrorize the lane for six points in the following 11-2 run, returning the lead to the Archers after a quick spin move in the lane, 65-63.
Trailing by two, UST called a timeout, and set up Aljon Mariano for a drive. Mariano was fouled and converted both, tying the game with 53 ticks left. The Tigers forced the Archers into successive turnovers but failed to convert, ending up with possession with 6.1 seconds remaining.
After UST's final timeout, the ball went to Mariano, who was a having a terrible shooting day. Despite open teammates, he took the last shot in regulation for UST, a long two that failed to secure UST's first title in seven years.
In overtime, UST had the last possession again, marred anew by questionable play-calling. Instead of taking the last shot, Jeric Teng – one of the UAAP's deadliest marksmen – was assigned to make the in-bounds pass, which went to center Abdul. The 6'6" Cameroonian, who plays best inside, took an awkward outside shot to end UST's hopes.
The game was marked by tough defense but also sloppy finishing, with numerous misses by both teams from point-blank range, resulting in woeful shooting percentages. The Archers finished the game making 25-of-67 (37.3 percent) from the floor against UST's 26-of-80 (32.5 percent) clip.
DLSU also converted 17-of-26 (65.4 percent) from the charity stripe, while the Tigers went 12-of-16 (75 percent).
Karim Abdul had a game-high 26 points, eight rebounds and three steals to lead UST. Jeric Teng notched 24 points and six rebounds.
– RAF/HS, GMA NewsThe scores:DLSU 71:
Teng 25, Vosotros 16, Perkins 13, Van Opstal 11, T Torres 4, N Torres 1, Revilla 1, Tampus 0, Salem 0
UST 69:
Abdul 26, Teng 24, Ferrer 7, Bautista 4, Mariano 3, Sheriff 2, Lao 2, Pe 1
Quarter scoring:
16-18, 24-32, 47-48, 65-65, 71-69