Filtered By: Sports
Sports
A league of their own: Discovery-Perlas and women's basketball in the Philippines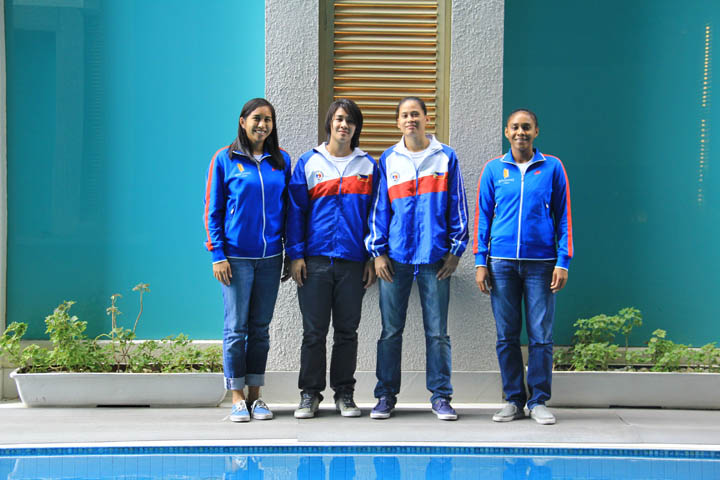 Women's basketball is in a weird limbo in the public consciousness. Being basketball, it offers a bit of familiarity to anyone mildly interested in the sport. At the same time, there's not enough interest to push it anywhere near the popularity of the men's games. The followings of other sports like men's football, women's volleyball, and ultimate frisbee (largely because of its mixed divisions) have overtaken them in the size, or are primed to do so in a few years. People don't discriminate against women's basketball as much as it is merely tolerated and allowed to exist in the shadow of the men's leagues, if barely at all.
None of these circumstances have deterred the women who proudly represent our flag, the Discovery-Perlas Philippine women's national basketball team. Since the involvement of hotel brand Discovery Suites as a major team sponsor in 2007, the team has won a bronze and two silvers in the Southeast Asian (SEA) Games. Historically, that's a bump in improvement: the team's last silver medal came in 1995 and in 1983, with bronze finishes peppered in between. In the first of a two-part series, we take a look at the team's successes, their shortcomings, and where women's basketball goes from here.
Part two can be read here
The rebuild
Hundreds of basketball games take place in the Philippines on any given day. This particular game, nested in the middle of Manila, was as intense and as thrilling as any other. One player backed a defender down, faked a spin to the left, before pivoting right to launch a shot. Another player darted between a hard pick and roll trap, then plunged through the lane for two points. A third player drove hard, stopped on a dime, and launched a step-back jumper that would've made Allen Iverson proud, the shot swishing through the net. It's not a raucous barangay game, nor is it a televised league match under bright lights. In the dimly lit Rizal Memorial Coliseum this January afternoon, national team head coach Haydee Ong was holding tryouts for future Perlas cadets.
"I called for open tryouts in 2007 and around 200 to 300 girls showed up," Ong said. This afternoon, the girls were as young as 15 years old, preselected by coaches in her network. Clearly the interest in joining her squad is still there. But this time, they're virtually starting from scratch for the first time in seven years. With all except three of her core players leaving, Ong has her work cut out for her.
Ong, 43, has spent roughly half of her life on the national team. First she played from 1986 to 1993, then joined the coaching staff in 1996, before assuming the head coaching job in 2008. Ong is also a legend in the college circuit, having coached the Ateneo Lady Eagles for seven years and helped the University of Santo Tomas produce a haul of four straight UAAP championships as a player from 1987 to 1990.
Today she's paying it forward in women's basketball, a movement she's fought for from the beginning and nurtured through the years. "Sa family ko, you don't play basketball. Na-aano ka, tomboy ka kaagad," she said. "Ngayon I'm so happy when I see teams sa grade school sa WBL (Women's Basketball League). So at least parents are very supportive na kahit basketball ang nilalaro ng daughters nila."
Ong spearheaded the initial partnership project with Discovery and showed enough to get them to extend their initial three-year arrangement. In contrast, government support comes mainly in the form of allowing them to practice at the Rizal Memorial facilities. Discovery made it possible to have twice-daily practices for the team for five days a week, in between tournaments. In addition, the players receive allowances, which are "more than enough" says Ong. By her estimate, they receive "twice or more" than the government's prize money for SEA Games gold medalists.
Roughing it out
Perlas milks the best talents from the collegiate ranks like FEU's Camile Sambile and Adamson's Analyn Almazan, and dominates pocket tournaments, unsurprisingly, despite training on time borrowed from their UAAP and NCAA schools. Melissa Jacob, 30, said that the team mostly trains against the top boys juniors teams.
"It's a little bit different playing guys versus girls but it does the job," she said. "We beat a few, but we try to hang in close with them. When they come in with players that are around 6'5", it's a little bit tougher for us."
Jacob retired from the national team after representing the country since 2007. She is also a former Lady Eagle, after playing briefly at the University of California Irvine. Jacob was a versatile 5'7" combo guard during her most recent Perlas stint, and saw time at both forward positions too in the past years.
"Some guys really play hard and really try to prove [themselves]. Then there's the other type that they understand the process. They understand that we're trying to get ready for various tournaments, so they play kinda the right way: not naman magulang and not too much shoving, and they really help us out. They're quicker, they jump higher. We'll never really go against a team that's that fast so that's good for us," said Jacob.
For the most part in these games, Perlas competes well. Their style of play is as Filipino as you can get. As an undersized team, they rely on the full-court press to avoid the half-court grind, while getting transition baskets as often as they can. Otherwise, quick defensive rotations have to compensate for the necessary double teams against taller foes.
Considering that this is all done in addition to their responsibilities with their school squads, they're an impressive bunch. When Perlas wins, the boys jokingly ask for a rematch or a best-of-three series. Infrequent scrimmages are good for morale, but it won't cut it against the competition they've had to face.
Standing up to the Thais
The Thai national team, the perennial favorite in the region, has been Perlas' main yardstick and obstacle to success. Thailand has a commercial league for women, which Jacob and Ong acknowledge to be a huge factor in developing talent year in and year out. Perlas once contemplated joining before as a guest team, but even the generous support of Discovery wasn't enough to foot the bill.
In the 2011 SEA Games, Perlas was up by three with the game winding down. One last stop, or at least denying the Thais a three-pointer, would assure them of a gold medal. The Thais attempted a three-pointer that clanked out, and Perlas rebounded the ball. However, Merenciana Arayi couldn't find her balance and was whistled for a traveling violation. No matter, thought the Philippines. Pause, reset, get one stop. They were less than 10 seconds away from the prize.
This time, the Thais made good on their threat. Juthamas Jantakan flared around a screen to receive a pass at the top of the circle, and promptly drew a double team. She faked off the first defender, dribbled once to the left to get beyond the reach of a second, and swished a long two.
The sideline referee kept his arms raised, indicating that the shot counted for three points despite the protests of the stunned Filipinas. Without the benefit of instant replay, the call stayed and the teams were ordered to play into overtime. Perlas couldn't quite recover from the turn of events, and a missed free throw led to a piercing 73-72 loss.
The team attended the awarding rites and received silver medals laid over their heavy hearts. Perlas improved on their bronze finish in 2007, which was commendable, but went unnoticed. Public interest seemed to fade as fast as the ink on the newspapers that brought them the news.
Thailand was Perlas' stumbling block once more in the 2013 SEA Games last December. Despite thumping Malaysia, Indonesia and Myanmar, a 75-36 humiliation at the hands of the Thais denied them the gold. That defeat might have stung them even more, since during the 2013 FIBA Asia Championship for Women in October, Perlas handily beat them, 103-69.
"In the SEA Games, we were like, we want the gold, we want the gold. I think that was our main focus and once they started getting their run we were frazzled a little bit. I felt like we were in zombie mode or something," said Jacob. "All their shots were hitting, they were getting all the lucky bounces… it was a tough game to go through. It was weird, since most games only one or two players have an off-game but it was like, all across the board we had a bad game.
"I guess the best way you can explain it is like, when you're preparing for finals and when you finally show up for the test, you go blank," she said.
- AMD, GMA News


In part two: 'Are you a volleyball player?', wooing the market, and gaining traction