Filtered By: Sports
Sports
UAAP: Beyond just winning, Fighting Maroons' victory unites UP community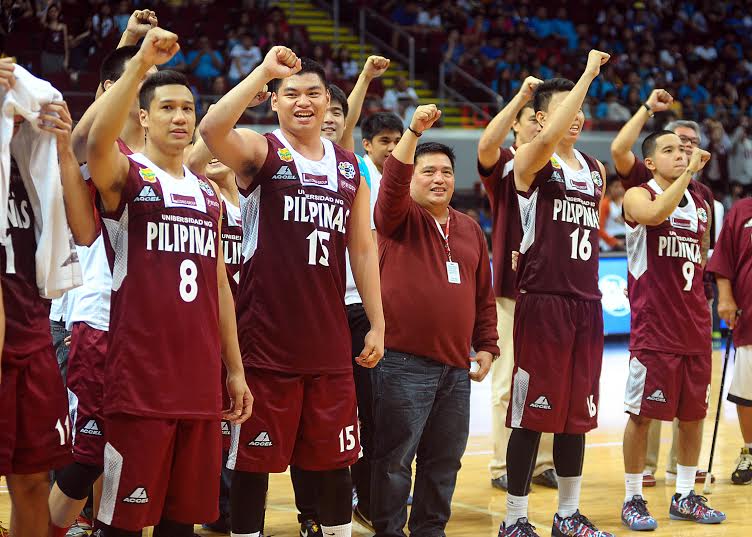 Beyond just breaking a 27-game spell, the Fighting Maroons' win is a catalyst to bring together the UP community. KC Cruz
The University of the Philippines finally ended almost two years of victory drought in the UAAP, but for team manager Dan Palami, the bigger win was being able to unite the UP community in supporting the team.
UP students and alumni alike trooped to the Mall of Asia Arena to watch the game against winless Adamson, in the hopes of witnessing the Maroons bag a long-awaited victory after a 27-game losing streak.
"It has been a long time since nagkakaisa ang UP community," Palami said. "I'm happy na nagawa natin ito ngayon."
The celebration continued on Saturday night at the Diliman campus, with alumni and students trooping to the Sunken Garden to join bonfire party.
"I know it means a lot to the UP community," Gallarza said. "They've been struggling trying to support us even through the big blows we put them through."
The 22-year-old forward, however, admitted feeling a bit "disrespected" because of the hype placed on the game, which some ironically called a "championship" for the winless teams.
"It took that to bring out all the UP crowd. I just wish the environment would be like that. It would feel like at least an even matchup in terms of fan support in the gym," he said.
"It definitely gave us such a big boost."
Reyes, who exploded for career-high 28 points, said they were ready for the overwhelming hype on the game.
"We knew everyone's going to be there. Our friends, our supporters - even the doubters were here actually," said Reyes.
UP alumnus Senator Sonny Angara, who donated a flat-screen television for the team, watched the game in support.
Former Maroons Martin Reyes, Alvin Padilla, and Jett Manuel also came to cheer for their former teammates.
Thomas Dooley, Azkals head coach and Palami's colleague, attended the game as well.
At the end of the day, Gallarza said were grateful for the support of the UP crowd.
"Big thank you for coming out to the game," he said.
- RAF, GMA News