Filtered By: Sports
Sports
Azkals yield Peace Cup to Myanmar in extra-time heartbreaker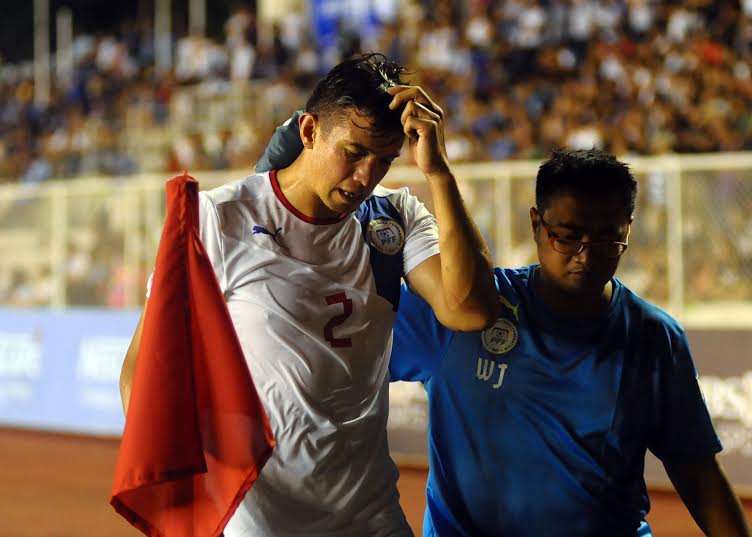 The Philippines lost the Philippines Football Peace Cup after a 3-2 loss to Myanmar in the finals on Saturday night at Rizal Memorial Football Stadium.
Soe Min Oo took advantage of an unguarded goal with Azkals keeper Roland Mueller out of the box to score at the 100th minute to give the Burmese the marginal score.
The Azkals were gunning for a three-peat after taking the championship in the first two editions of the Peace Cup.
Myanmar took an early lead at the eighth minute after Kyaw Ko Ko shot a long ball that hit the pole and ricocheted into the goal, 1-0.
Chris Greatwich saw a chance to equalize immediately after, but his shot was saved by the keeper. The Azkals attacked aggressively with attempts from Phil Younghusband, Misagh Bahadoran, and James Younghusband, but all were thwarted by the Myanmar squad.
Mark Hartmann entered the game in the second half and attacked from the get-go off a cross from Phil, but his shot was blocked at the goal.
Shortly after, defender Daisuke Sato scored his first international goal at the 49th minute as he sent a long ball straight into the net to tie the game, 1-1.
The Azkals had the chance to take the lead at the 59th minute with a header from Phil off a cross from Patrick Reichelt, but the attempt was blocked by the goalkeeper.
Phil finally pushed the Azkals ahead in the 70th minute after converting a penalty kick. A header from Simone Rota in the 85th minute could have stretched the lead for the Philippines, but the goal was not counted due to an offside call.
The Azkals managed to protect the lead down the wire and came close to getting their third championship, but Min Min Thu scored the equalizer in injury time.
Disaster struck then for the Philippines as Myanmar took the upper hand in extra time.
The Azkals turned up the heat in the dying minutes to try to stay in the game, including a header from Amani Aguinaldo that went over the goal. Sato went for another long shot for the Philippines' last offense, but the ball was deflected by the keeper.
In the third place match, Palestine trounced Chinese Taipei, 7-3. Regulation ended with a 3-3 deadlock, before Palestine hauled goals in extra time.
— JST, GMA News/Photo by KC Cruz