Filtered By: Sports
Sports
Alex Eala gears up for Wimbledon debut after QF finish in J1 tiff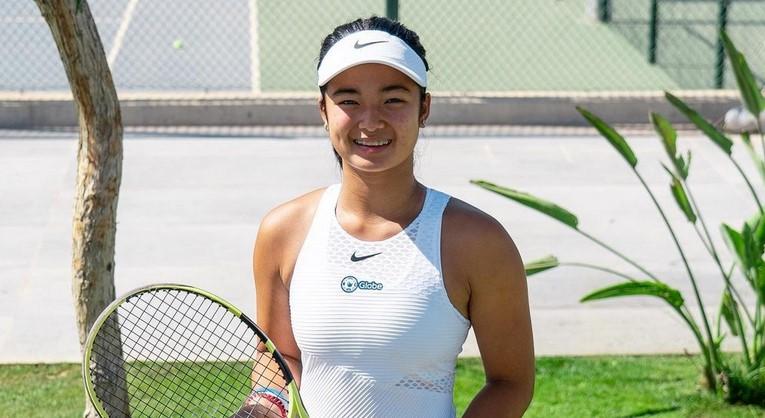 After finishing up her campaign in the Junior International Roehampton in London, Alex Eala is now ready to set her sights on the next big thing: Wimbledon.
The 16-year-old Filipina tennis sensation will mark her much-awaited debut on the grass courts of tennis' oldest Grand Slam event at 6 p.m. on Monday, July 5 (Manila time).
First on her assignment is Solana Sierra of Argentina in the Round of 64 of Wimbledon Juniors Championship slated in London, United Kingdom.
Eala, the world no. 3 in junior rankings, will bring with her lessons she learned from her recent showing in the J1 tournament, which was also staged in London and served as her pre-Wimbledon buildup.
She reached the quarterfinals round of the J1's juniors singles tournament but fell short against Czech Republic's Linda Fruhvirtova, 4-6, 1-6, kissing her shot at a semifinal berth goodbye.
She also joined the juniors doubles tournament where she formed a duo with Indonesia's Priska Nugroho, whom she partnered with to win the 2020 Australian Open Juniors doubles title.
However, they failed to advance to the quarterfinals after falling to the tandem of Czech Republic' Barbora Palicova and Radka Zelnickova of Slovakia, 4-6, 4-6.
Come Wimbledon, Eala hopes to surpass her semifinals finish during the 2020 French Open, which stands as her best Grand Slam juniors singles output despite absorbing a defeat from Elsa Jacquemont of France.
She is also eyeing to build on her recent success in the 2021 French Open, where she copped her second Grand Slam title with partner Oksana Selekhmeteva.
In previous interviews, Eala said she's upbeat about her grass debut and stressed she's ready to show her A-game.
"I'm super excited to go to London. It's going to be my first time there and also my first time I'm competing on grass so that's definitely going to be a new experience, like how to adjust to it," Eala said in a press conference with Globe on June 20.
"I have been working hard and my team has been working on my areas of improvement, I would say."
—Bea Micaller/JMB, GMA News