Filtered By: Topstories
News
Almost 4,000 LSIs expected to go home to their provinces this weekend
More than 3,000 locally stranded individuals (LSIs) in Metro Manila are expected to be brought home to their provinces this weekend, according to a report on GMA News' 24 Oras News Alert on Saturday.
This is under the National Government's Hatid Tulong Program.
At past 6 a.m. on Saturday, LSIs fell in line at the Quirino Grandstand in Rizal Park in Manila so they can be registered for the program.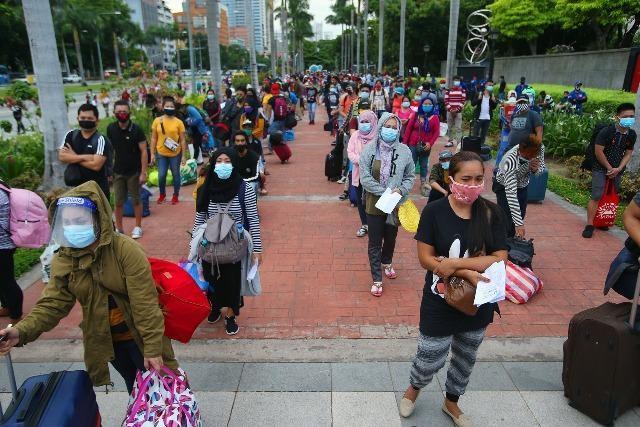 More than 3,000 locally stranded individuals (LSIs) wait to be screened before being allowed to board buses parked near Quirino Grandstand in Rizal Park, Manila on Saturday, July 4, 2020. The buses bound for Mindanao will bring the LSIs home under the 'Hatid Tulong Program' of the National Government. Danny Pata
Registered LSIs will then have to undergo rapid test for COVID-19 to be conducted by Department of Health personnel assisted by police doctors and nurses from the Philippine National Police (PNP) Health Service.
Once the test result is negative, the LSI will be given a travel authority by the PNP at the venue.
PNP chief Police General Archie Francisco Gamboa said the police force are "prepared to give security to the returning LSIs with proper coordination with their receiving local government units."
The Department of Social Welfare and Development will also give assistance to the LSIs cleared to board the buses.
Some 300 buses will ferry the LSIs to their provinces this weekend.
For Saturday, though, the buses will bring the LSIs to Mindanao. LSIs going to Luzon will be ferried on buses on Sunday.
Meanwhile, trips to Visayas, especially the eastern and western regions as well as Cebu Province, were temporarily put on hold after the number of COVID-19 cases increased in these areas.
Many individuals were stranded in Metro Manila when quarantine restrictions were put in place starting mid-March.
Gamboa said security measures have been stepped up in seaports, airports and bus stops for the passage of vehicles ferrying LSIs. —KG, GMA News