Filtered By: Topstories
News
PORK BARREL SCAM
SC grants Enrile's petition to post bail
(Updated 4 p.m.)
The Supreme Court on Tuesday granted the bail petition of Sen. Juan Ponce Enrile, one of the three senators facing graft and plunder charges in connection with the alleged pork barrel scam.
The decision was announced by SC spokesman Ted Te at a press briefing Tuesday afternoon. He did not provide any details.
"The court granted the petition for bail of petitioner Juan Ponce Enrile, subject to the terms and conditions to be specified by the Court in its Order which will be forthcoming," he said.
A News TV Live report said the high court set Enrile's bail at P1 million.
In his report on "Balitanghali," GMA News' Joseph Morong said the court voted 8-4 to grant Enrile's petition. He said those who dissented were Chief Justice Maria Lourdes Sereno, Senior Associate Justice Antonio Carpio, and Associate Justices Estela Perlas Bernabe and Marvic Leonen.
Te, at the briefing, said Associate Francis Jardeleza inhibited from the case because he used to serve as the Solicitor General, while Associate Justice Bienvenido Reyes was on leave.
Enrile, 91, filed his petition on September 4, 2014, citing his advanced age and voluntary surrender to the Sandiganbayan anti-graft court.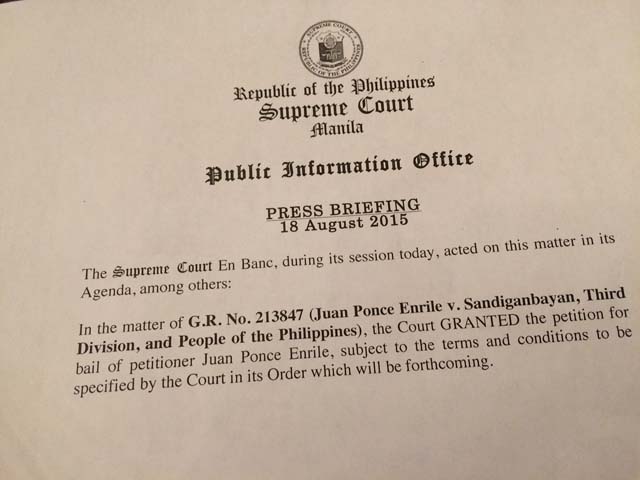 JPE will be "overjoyed"
Lawyer Estelito Mendoza, Enrile's counsel, believed the veteran senator "will be overjoyed to regain his freedom and grateful to the Supreme Court."
"Most of those now detained, about 90 percent are like him, in preventive detention, meaning only undergoing trial, and not serving sentence," he said.
Lawyer Joseph Sagandoy, another counsel of Enrile's, said they will "immediately post the required bail so the senator can again actively perform his duties and responsibilities as a senator."

In a statement, Sagandoy said the plunder case against Enrile "will practically go back to square one since the Supreme Court also granted his motion for bill of particulars last week."

"The prosecution will have to amend the information against him or provide the required details and particulars of the charges against him. Otherwise, the case may be dismissed," he said.

In Malacañang, Communications Secretary Herminio Coloma Jr. said it is up to the Office of the Ombudsman to undertake the necessary action in relation to the SC's decision.

Coloma nevertheless maintained that the Aquino administration "is determined to pursue its anti-corruption campaign in a sustained manner."

"This steadfast commitment is not dependent on the outcome of any particular case," the Palace official said.

Pork barrel scam
Enrile's trial for his alleged involvement in the scam is still pending before the Sandiganbayan. He allegedly pocketed P172 million in kickbacks from the pork barrel scam.
Under Section of Republic Act 7080, a public official can be charged with the non-bailable offense of plunder if he "amasses, accumulates or acquires ill-gotten wealth through a combination or series of overt criminal acts" an aggregate amount or total value of at least P50 million.
The 90-day suspension order meted out by the anti-graft court's Third Division on July 25, 2014, has already lapsed.
Aside from Enrile, the two other senators facing graft and plunder for allegedly misusing their pork barrel, or Priority Development Assistance Fund (PDAF), are Ramon Bong Revilla Jr. and Jinggoy Estrada.
Enrile is currently on hospital arrest at the PNP General Hospital while Estrada and Revilla are detained at the PNP Custodial Center, both in Camp Crame in Quezon City.
Several former and current members of the House of Representatives and private individuals, as well as alleged scam mastermind Janet Lim-Napoles, are also facing charges in connection with the alleged anomaly.
Legal victory
Enrile's colleagues in the Senate, meanwhile, welcomed the high court's decision.
Senator Francis Escudero on Tuesday welcomed the decision of the SC on Enrile's petition saying it will be beneficial to many other accused.
"This is a seminal and precedent setting decision on the right to bail given the unique theory used by Senator Enrile," said Sen. Francis "Chiz" Escudero in a text message to GMA News Online. "Many other accused can benefit from this decision."
"I congratulate him on his legal victory and look forward to working with him again in the Senate," Escudero added.
Senator Aquilino Pimentel III said he already expected a favorable decision for Enrile. "I expected that. Good for Sen JPE," he said in a separate text message.
Senate President Franklin Drilon said the Senate will respect the SC decision granting bail to Enrile.
"The Senate will always respect, follow and implement every decision of the courts. We will abide by the legal processes as we have always done in the past," he said in a press statement.
Senator Ralph Recto, in jest, said he is "looking forward to working with the youngest member of the Senate."
He said with the full agenda of Senate, hard labor awaits Enrile.
"With his experience, he can certainly enrich the discussions on the budget and the BBL (Bangsamoro Basic Law). It is also worth noting that his liberty came on the 70th anniversary of the end of the war with Japan, which he fought in, and serves as a testament to the man's resilience and staying power," he said in a press statement.
Enrile's critic and fellow senator, Antonio Trillanes IV, said he respects the high court's ruling.
"I respect the decision of the Supreme Court," Trillanes said in a message to GMA News Online.
In the House of Representatives, Speaker Feliciano Belmonte Jr. welcomed the SC's decision as a "good development."
"I myself am glad he's given the opportunity to [post bail]," he said.
Belmonte, a vice chair of the Liberal Party, admitted that he had visited Enrile three times at the PNP General Hospital for a friendly chat.
"I spent a couple of hours each time [I visited] chatting with him and discussing issues]," he said.
For his part, Bayan Muna party-list Rep. Neri Colmenares said he will study the SC's decision first.
"Pag-aaralan [ko] muna ang reasong ng SC kung bakit na-grant ang bail petition ni JPE (Enrile's initials) pero malaki ang implication nito sa pork barrel cases," he said.
—with Trisha Macas, Amita Legaspi,
and Andreo Calonzo/KBK/JST/ALG/NB, GMA News