Filtered By: Topstories
News
Duterte to skip EDSA People Power anniversary celebration
President Duterte will skip once again the celebration of EDSA People Power Revolution on Sunday.
The National Historical Commission of the Philippines (NHCP) made the confirmation after the rehearsal for the 32nd anniversary of the historic event that led to the ouster of former President Ferdinand Marcos.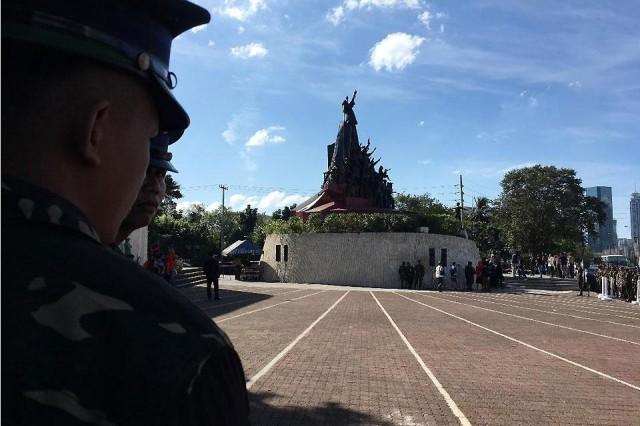 A soldier waits in the shade at an almost empty People Power monument along EDSA in Quezon City on Friday, February 23, 2018. President Rodrigo Duterte will skip once again the People Power celebration on Sunday. Jun Veneracion
"Naimbita po natin ang Pangulo at sumulat siya sa akin. May importanteng lakad daw siya sa Mindanao kaya hindi po siya makakadalo," said NHCP chairman Dr. Rene Escalante.
Last year, Duterte, who openly admits having close ties with the Marcos family, also did not attend the commemoration of the bloodless revolt.
EDSA People Power Commission (EPPC) vice chairperson Joey Concepcion said then that Duterte's absence should not mean that the event was not important to him.
"I don't think so. I mean, if his schedule is busy, he has a reason that he can't attend. Many people will be attending, the Executive Secretary will be there," Concepcion said in February 2017.
"So next year, I'm sure we will have the President there 'no. So let's be patient 'no," he added.
Senior Deputy Executive Secretary Menardo Guevarra said then Duterte's close ties with the Marcos family was not the reason why Malacañang chose to have a simpler EDSA People Power Revolution commemoration.
"I don't think so. It's really more of a time to reflect that's why we're doing this as simple as possible," he said in a press briefing.
Duterte's father used to be a member of Marcos' Cabinet, while his mother, Soledad, led the Yellow Friday movement against the regime in Davao.
It was Corazon Aquino who appointed Duterte vice mayor officer-in-charge when she stripped local officials of their posts shortly after the EDSA Revolution installed her president in 1986.
Konsensya Dabaw on Thursday honored Davao's contributions to the protection of the Filipino's rights and freedom in line with the upcoming commemoration of the 32nd anniversary of the historic EDSA People Power Revolution.
Soledad was among those honored.
"President Rodrigo Duterte himself acknowledged that his mother, Nanay Soling Duterte, was among the leaders of the 'Yellow Friday Movement' in the city," Konsensya Dabaw said in a statement.
'Everybody welcome'
According to People Power Commission member Pastor "Boy" Saycon, Duterte wants everybody including his critics to join this year's commemorative activities for the EDSA People Power uprising.
"Let everybody participate," Saycon said.
"I'm telling everyone as commissioner. Everyone is welcome to go to EDSA, hindi po katulad no'ng mga nakalipas na EDSA," he added.
Saycon said all "known 'yellows'" have been invited to join the commemorative activities, which are slated to begin on February 22.
These include former president Benigno Aquino III, Vice President Leni Robredo, and former House speaker Feliciano Belmonte, Jr., he said.
Former president Fidel V. Ramos, he said, is set to join the February 22 event at the Libingan ng mga Bayani.
Cause-oriented group Tindig Pilipinas, which started as an anti-extrajudicial killings coalition and now advocates against the administration's bid towards Charter change, will hold a protest action on February 25.
Yellow is a color representative of the opposition Liberal Party. Duterte has previously said that the "yellows" are working with the "red" communists to oust him. —KG/NB, GMA News