Filtered By: Topstories
News
Catholics celebrate Palm Sunday at home as churches hold Mass online, priests go around
Filipino Catholics stayed home on Palm Sunday, attending Mass online and waiting for the parish priest to bless their palm fronds.
The Quiapo Church in Manila live-streamed on Facebook its hourly Masses beginning 5 a.m.
The Manila Cathedral, meanwhile, began its live stream of Palm Sunday Mass at 8 a.m.
Only a few faithful devotees ventured out as the enhanced community quarantine remains in effect in Luzon due to the COVID-19 threat.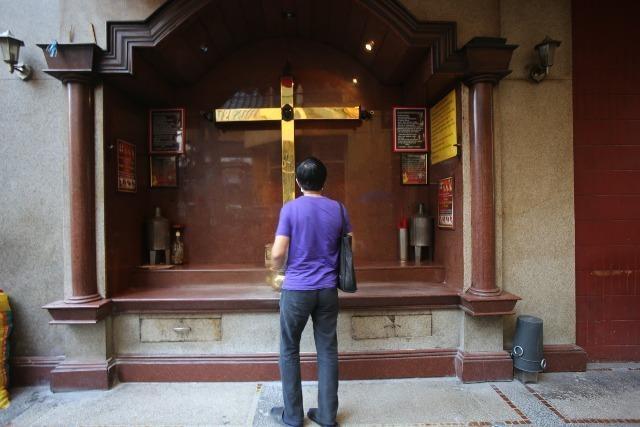 A Filipino-Chinese Catholic devotee says a prayer before the Sto. Cristo de Longos cross on Tomas Pinpin Street in Binondo, Manila on Palm Sunday, April 5, 2020. Danny Pata
Meanwhile, in Tayabas, Quezon, residents stood outside their homes and waved their palm fronds (palaspas) as the local priest passed by on board a pick-up truck.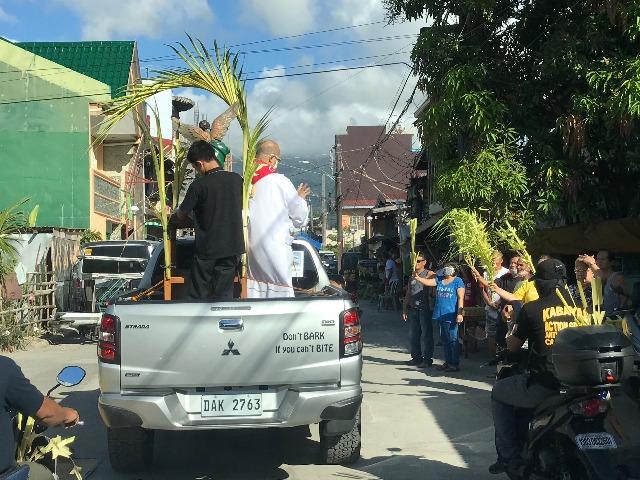 A priest blesses palm fronds (palaspas) waved by Catholic devotees as he goes around the streets of Tayabas City, Quezon on Palm Sunday, April 5, 2020, aboard a pick-up truck. Peewee Bacuno
The Catholic Bishops' Conference of the Philippines urged the public to stay home during Palm Sunday and just follow church activities online or on television due to the threat from the COVID-19.
Priests will go around the streets of their parishes during Palm Sunday to bless palm fronds of the faithful in front of their homes, the CBCP said.
CBCP spokesperson Fr. Jerome Secillano said Filipinos may hold their palm branches while the priest passes by and recites the prayer of blessing of palms.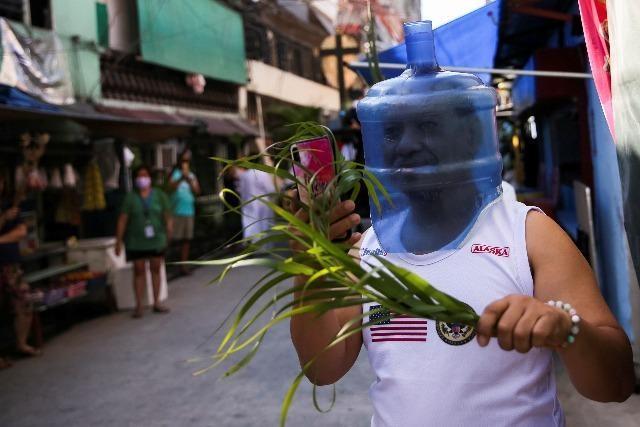 A man wearing a makeshift protective head gear holds palm fronds (palaspas) outside his home in Manila on Sunday, April 5, 2020, as he waits for the blessing of a priest roaming around neighborhoods to celebrate Palm Sunday amid the lockdown to contain the coronavirus disease (COVID-19). Reuters/Eloisa Lopez
Sunday, April 5, 2020, is the first time since World War II that there would be no public celebration of Palm Sunday, the day commemorating the triumphant arrival of Jesus in Jerusalem before His crucifixion.
"Kakaiba talaga ang Semana Santa para sa atin. At ngayong taon ay lalong kakaiba ito," said Bishop Broderick Pabillo, administrator of the Manila Archdiocese, during his homily during a Palm Sunday Mass held at the Manila Cathedral.
"We will not be able to do the usual Holy Week activities that we are so familiar with," he said.
Pabillo enumerated the traditional activities expected this Holy Week: the blessing of palm fronds on Palm Sunday, the Senakulo, the Pabasa ng Pasyon, the Visita Iglesia, the Way of the Cross in our streets, the flagellations in some areas, the procession of the Santo Entierro, the solemn Celebration of the Light on Easter Vigil, the beautiful Easter celebrations, and the Salubong.
"And daming mami-miss natin. This does not mean though that there is no Holy Week. Patuloy pa rin and Semana Santa," the bishop underscored. —With reports from Peewee Bacuño and Bernadette Parco/KG, GMA News