Filtered By: Topstories
News
ABS-CBN paid taxes regularly, 'in a lawful manner' - BIR exec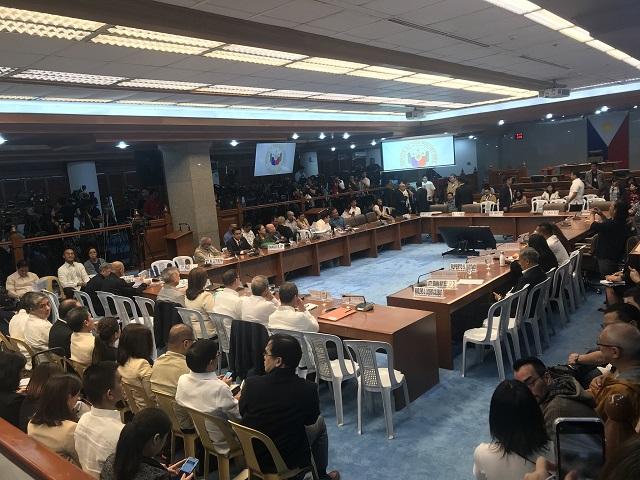 Embattled media giant ABS-CBN paid its taxes regularly and in a lawful manner, an official at the Bureau of Internal Revenue (BIR) affirmed on Wednesday.
During the continuation of the House joint panel hearing on the ABS-CBN franchise issue, Ako Bicol party-list Representative Alfredo Garbin Jr. delved on the allegation that the network committed violations in relation to tax laws.
BIR OIC Assistant Commissioner Manuel Mapoy said that from the period of 2016 to 2019, ABS-CBN paid more than P15 billion in taxes.
He confirmed the statement made by BIR official Simplicio Cabantac during a Senate hearing back in February that ABS-CBN is "regularly paying [its] taxes for the past years."
"During the course of our investigation, several violations or wrong interpretation of laws were committed by ABS-CBN Corp. But those violations were all settled and paid by ABS-CBN Corp.," Mapoy said.
"For the past years, meron kaming nakokolekta na deficiency taxes sa ABS-CBN Corp. We issued of letters of authority for 2016 and we were able to collect deficiency taxes. We issued letter of authority for 2017 and we were able to collect deficiency taxes, in the same manner that we are able to collect deficiency taxes for 2018," he added.
Asked by Garbin if this meant that ABS-CBN was paying its taxes regularly and in a lawful manner, Mapoy said: "You are correct."
The allegation that ABS-CBN committed violations on tax laws was among the issues that the House joint panel deliberated during its lengthy hearings on the network's franchise issue.
Ricardo Tan, ABS-CBN Group chief financial officer, maintained that the network paid all its taxes annually and complied with all the rules and regulations with regards to payment of its taxes.
He also refuted allegations that ABS-CBN violated the terms and conditions of its franchise when it engaged in tax avoidance schemes and used its wholly-owned subsidiary, Big Dipper Digital Content and Design Inc., as a tax shield.
BIR Region No. 7A Quezon City Director Albino Galanza confirmed that Big Dipper has made its voluntary tax payments from 2016 to 2019, amounting to P1.15 billion.
He added that Big Dipper is "paying, more or less, correctly their taxes."
The Philippine Economic Zone Authority (PEZA), to which Big Dipper is registered as an "IT-enabled creative content, digital archiving" entity, also confirmed that it is compliant with all its requirements when it comes to payment of taxes.
"In fact, we require our export enterprises or the locator companies to submit their financial statement yearly. So we are able to monitor their compliance," said PEZA Director General Charito Plaza.
During the hearing, Tan also said that ABS-CBN as a group paid around P71.5 billion in taxes over the course of 17 years.
With this, Bayan Muna party-list Representative Carlos Zarate pointed out that there would be a significant impact to the country if ABS-CBN would entirely shut down.
"Sa panahon ngayon na grabe po ang krisis na dinadaanan natin, na pinalala pa ng pandemya ng COVID, ito yung bilyon na pwede mawala rin in the next 10 or 25 years, na supposedly na papasok sa ating pambansang ekonomya," he said.
The House Committee on Legislative Franchises and on Good Government and Public Accountability began hearing the bills for another 25-year franchise to ABS-CBN after the House leadership decided to drop the measure that would supposedly give the network a provisional franchise until October 31, 2020.
Speaker Alan Peter Cayetano, himself an author of the provisional franchise bill, has said the issue on the ABS-CBN franchise has already become "so divisive" and is taking up time even as there are more pressing matters to discuss such as that of COVID-19 response measures.
He, however, vowed to have a fair and comprehensive hearings on the issue at the committee level.
The House joint panel will resume its hearing on Thursday to discuss the alleged political biases of ABS-CBN. -- BAP, GMA News