Filtered By: Topstories
News
3 PhilHealth officials resign over alleged widespread corruption in agency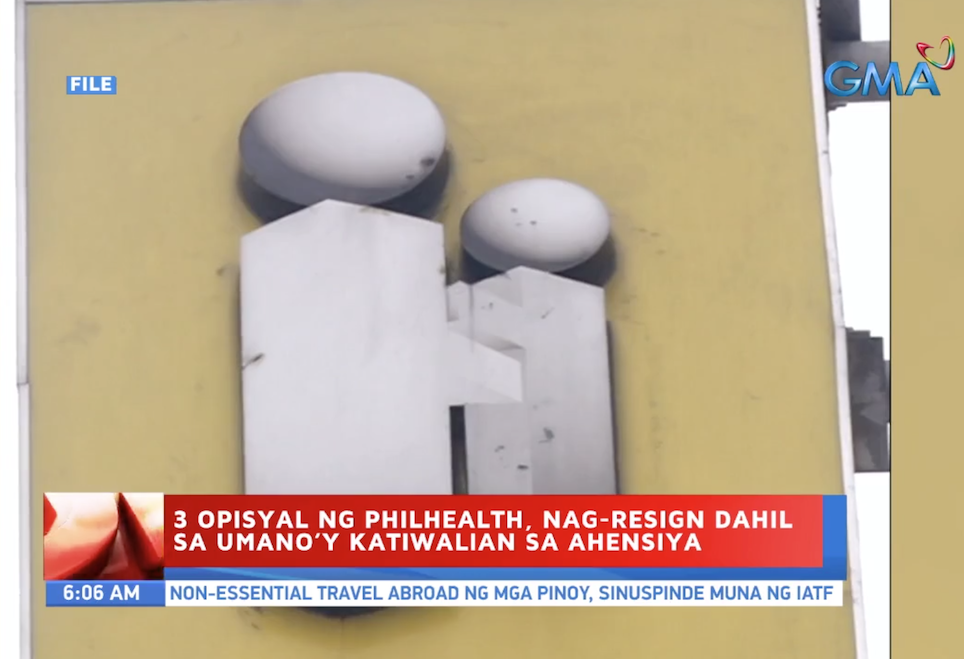 Three officials of the Philippine Health Insurance Corporation (PhilHealth) have resigned over alleged corrupt practices in the agency, according to a report on Unang Balita on Friday.
One of the officials is Philhealth anti-fraud legal officer Thorrsson Montes Keith, who mentioned four main reasons for his resignation.
The first is that he is against the mandatory PhilHealth contribution of overseas Filipino workers (OFWs) because this, he said, is unconstitutional and not part of the Universal Healthcare Law.
The second reason Keith cited is the alleged rampant and unfair promotion process, which he said has to be investigated.
The third, meanwhile, is the delay in the release of his salary and hazard pay when he started an investigation of some PhilHealth officials, while the fourth is the alleged widespread corruption in the agency.
The names of the other PhilHealth officials who resigned were not named in the report.
A source told GMA News that the alleged corrupt practices were revealed during a heated argument during a Zoom meeting among PhilHealth officials on Thursday evening.
GMA News is in the process of getting a statement from PhilHealth President and CEO Ricardo Morales on the issue as of posting time.
In May, when the country was already in the grip of the COVID-19 pandemic, Senate Minority Leader Franklin Drilon called for a reorganization of PhilHealth after he flagged the agency over its supposedly overpriced COVID-19 testing packages.
Drilon said there may have been groups within PhilHealth that bloated the prices of test kits.
The senator had earlier pointed out that PhilHealth will shoulder the cost for P8,150 per test, but this is double the price in comparison with the ones acquired by the private sector, including the Philippine Red Cross, which can do the same test for only P3,500. -- BAP/KBK, GMA News