Filtered By: Topstories
News
PNP has no power to demand DNA test before releasing body to family — Echanis family lawyer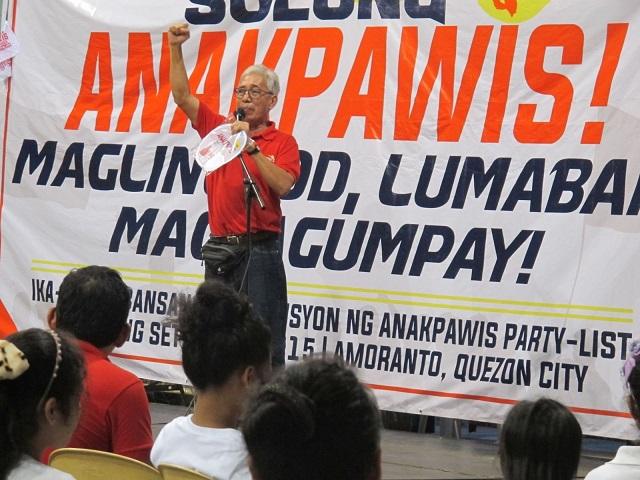 The Philippine National Police (PNP) has no authority to demand a DNA test before releasing the remains of peasant leader Randall Echanis to his relatives, the family's lawyer said Wednesday.
The police said it is waiting for identification issues to be settled before releasing the body of a man killed in Novaliches, Quezon City — despite Echanis' family, friends and lawyers' confirmation that it was his.
"The police has no power nor authority to require that DNA process because the wife, the children, the friends, and lawyers of Ka Randy positively identified that it is Ka Randy!" Jobert Pahilga, the family's lawyer, said in a statement.
"No other person came out to claim the body of Ka Randy! The pictures of Ka Randy when he was still alive and the picture after he was brutally murdered shows it is Ka Randy!" he said.
He cited the Civil Code of the Philippines, which gives the duty and right to make arrangements for a person's funeral primarily to the spouse.
Pahilga said the police's demand for a DNA test to confirm the identity violates this law and is "absurd, preposterous, unnecessary, and an insult to the family of Ka Randy."
"And forcibly seizing the remains of Ka Randy from his wife and family and requiring that DNA process be undertaken before it is released to them, is tantamount to cruel and degrading treatment punishable under the Anti-Torture Law," the lawyer said.
Two men were killed in a rented house in Novaliches early August 10. Anakpawis party-list, which Echanis chaired, reported that he was among the victims. His wife, Erlinda, also positively identified the body.
However, the police claimed that ID cards found in the area showed that the victims were Manuel Santiago and Louie Tagapia.
Pahilga said in the statement that police officers of the La Loma Police Station seized the body of Echanis from his family while they were arranging his wake at St. Peter's Funeral Homes. The body was taken to Pink Petal Funeral Homes in La Loma.
"The order to seize the cadaver of Ka Randy allegedly came from Maj. Gen. Debold "Mañanita" Sinas, the Chief of the NCRPO," he said.
The lawyer questioned why a DNA test is being required.
"Why not just release the body of Ka Randy to his family so that they and Ka Randy's friends can properly mourn his death and pay him their last respect? Are the police trying to cover up something?" he said.
"Their argument that an ID bearing a different name casts doubt on the identity of the cadaver is also a non-issue. Oh, how we wish that the one murdered is not Ka Randy as alleged by the police. But we should face the reality. It is Ka Randy," he added.
Echanis was a peace consultant of the National Democratic Front of the Philippines. — RSJ, GMA News