Filtered By: Topstories
News
NATIONAL HEROES' DAY
Medical frontliners are all heroes, says National Task Force Against COVID-19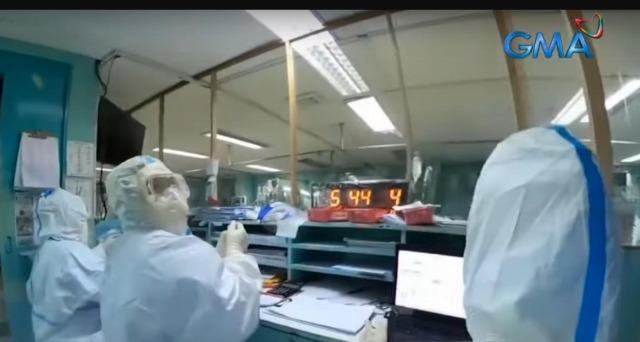 The National Task Force Against COVID-19 on National Heroes' Day honored medical frontliners for their sacrifice to ensure Filipinos' health and safety, calling them "modern-day heroes."
"As we commemorate National Heroes' Day, the National Task Force Against COVID-19 honors our modern-day heroes — our medical frontliners — who have made every conceivable sacrifice to ensure the health and safety of the Filipino people," the task force said in a statement issued on Sunday.
"For the past six months, our doctors, nurses, military and police personnel and civil servants have been at the forefront of our nation's battle against the deadly disease. We know how your jobs have taken a heavy toll on your physical and mental well-being," it added.
The NTF cited the frontliners' dedication to their duty, putting themselves at risk in the process.
"But despite the many challenges, you continue to put your lives on the line and carry out your critical tasks so that our countrymen can get the best medical care and other essential services they need to recover and return to their families," it said.
"The selflessness, dedication and bravery you have shown during this health crisis puts you in the same league as our national heroes who made the ultimate sacrifice in order to free our nation from foreign oppressors," the NTF said.
The task force encouraged the frontliners and thanked them for their service.
"Today, we are fighting a different kind of war that will determine the future of our nation. But we have no doubt that we can win this battle because you, our frontliners, stand ready to serve and protect our country," it said.
"We will forever be indebted to all of you. May this occasion be our way of showing our heartfelt gratitude, recognition and support for all the things you have done for our beloved nation and the Filipino people," the NTF said.
"You are all heroes in the truest sense of the word. We, your countrymen, will make sure that your contributions will be appreciated, remembered and honored," it added.
The NTF then called on Filipinos to unite and work together amid the pandemic.
"Finally, we would like to call on all Filipinos to unite and work shoulder to shoulder so that we can surmount this crisis, and move forward as one nation. Mabuhay po kayong lahat, mga magigiting na frontliners!" it said.
The message was signed by NTF chairperson Defense Secretary Delfin Lorenzana, NTF vice chairperson Interior and Local Government Secretary Eduardo Año, Presidential Peace Adviser Carlito G. Galvez Jr. who is also chief implementer of the Declared National Policy Against COVID-19, and Bases and Conversion Development Authority President and CEO Vince Dizon, deputy chief implementer of the Declared National Policy Against COVID-19.
The Department of Health on Sunday reported that 433 more health workers contracted COVID-19 over the past week, raising the total infected health care workers to 6,932 as of August 29. Of this number, 6,148 recovered while 40 died.
The other 744 medical workers are active cases undergoing treatment or quarantine.
The five medical professions with the highest number of COVID-19 cases are nurses with 2,401 infections, doctors with 1,433, nursing assistants with 484, medical technologists with 304, and radiologic technologists with 138 cases.
Over 500 other non-medical personnel such as utility workers, security guards, and administrative staff were also included in the tally.
The Philippines has logged 217,396 COVID-19 cases with 157,403 recoveries and 3,520 deaths as of Sunday afternoon. —KG, GMA News