Filtered By: Topstories
News
Human rights defenders ask SC for protection after Zara Alvarez killing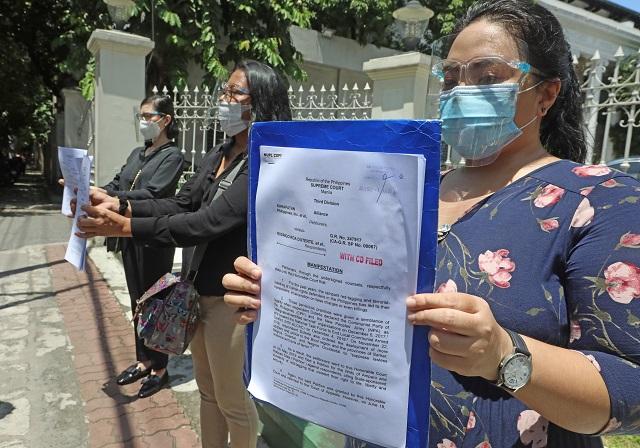 Human rights activists once again urged the Supreme Court (SC) to protect them from what they say are state-sponsored threats, this time after one more colleague was killed in a gun attack.
Rights watchdog Karapatan on Tuesday filed a manifestation before the high court recounting the threats and "fabricated" charges that their paralegal, Zara Alvarez, faced before she was killed in Bacolod City on August 17.
Alvarez was one of the human rights advocates who filed a petition for court protection last year, citing threats to their life allegedly made by state forces.
Though the SC issued a writ of amparo in their favor and referred the petition to the Court of Appeals (CA) for hearing, the CA dismissed it for lack of evidence. The petitioners are asking the SC to reverse the dismissal.
"Alvarez's untimely demise is precisely what petitioners sought to prevent by coming to court," Karapatan, Gabriela, and the Rural Missionaries of the Philippines said in the 12-page manifestation.
Alvarez, 39, was walking home when an unidentified assailant shot her thrice at the back and shot her more when she was already on the ground, her colleagues said.
She is the 13th Karapatan member killed during the Duterte administration. She is also the second witness of Karapatan in the amparo case who was gunned down; the first was 22-year-old Ryan Hubilla, who was killed days before he was supposed to testify in June 2019.
"It is too late now," the petitioners said.
They said Alvarez had received threats from unknown callers as early as 2012. She was arrested that year and spent nine months in detention for charges that would later be dismissed by a court "for lack of evidence."
She and other human rights defenders were also included in the Department of Justice's list of alleged communist rebels until it was drastically cut down to just two persons, but Karapatan said the threats to her life did not stop even after this.
In her court affidavit in the amparo case, Alvarez said: "I am scared and I fear for my life because they are not just red-tagging us but our organizations as well."
"I have also experienced being detained for crimes I did not commit and I fear that it may happen again or I might be killed like what happened to the many farmers of Negros as well as Tatay Toto (Bernardino Patigas, Sr.) and Atty. Ben Ramos," she said.
Her colleagues told the SC that her death proves that being subjected to red-tagging and terrorist-labeling is an "actual threat."
They said they "continue to hope that the protection she was never given be extended to them — especially at a time when the promotion and defense of human rights is susceptible to being wrongfully interpreted, suppressed and punished by the State as terrorism."
Another activist, National Democratic Front peace consultant Randall Echanis, was killed last August.
The DOJ is looking into the Alvarez and Echanis cases under its mechanism for investigating politically-motivated killings. —KBK, GMA News