Filtered By: Topstories
News
LEAVES PHILIPPINES
Pemberton 'successfully deported', says BI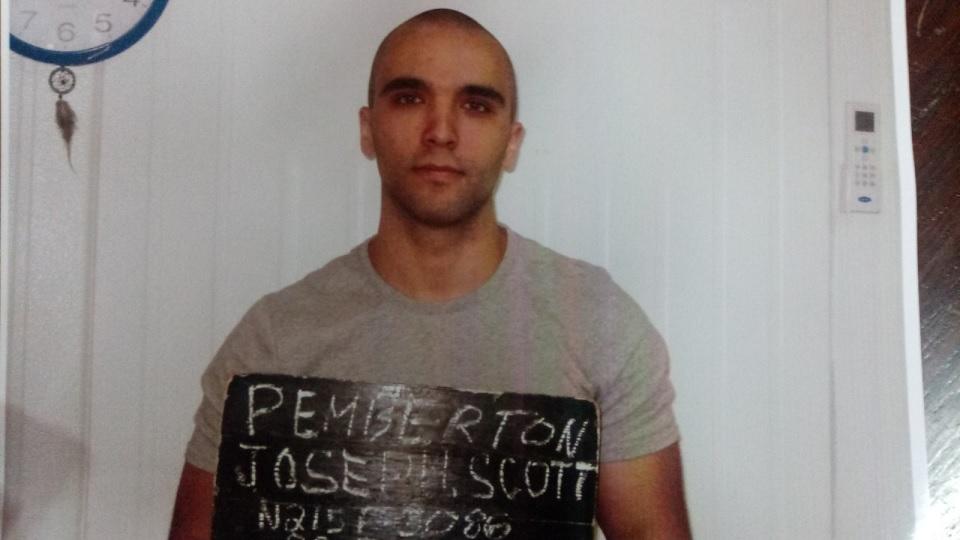 US Marine Lance Corporal Joseph Scott Pemberton, the soldier convicted of homicide for the killing of Filipino transgender Jennifer Laude, was successfully deported from the Philippines on Sunday morning, the Bureau of Immigration said.
"Pemberton has been successfully deported. Umalis na po ang military plane carrying him at exactly 9:14 a.m.," BI spokesperson Dana Sandoval told Dobol B sa News TV in an interview.
The military plane carrying Pemberton took off from the Ninoy Aquino International Airport (NAIA).
"Dito po sa side ng Terminal 3, umalis po 'yung aircraft kung saan po lulan si Mr. Pemberton," Sandoval said.
"Ang mga kasama niya po ay miyembro din po, kasamahan niya sa US military. Hinatid po siya ng personnel po ng US Embassy, at of course, escorted po siya ng mga ahente natin dito sa Immigration," she added.
LOOK: BI releases photos of Pemberton's deportation
Sandoval said Pemberton will return to the US, but she refused to divulge the specific state due to security reasons.
Meanwhile, BI Commissioner Jaime Morente said Pemberton underwent regular processing procedures and was required to secure clearances from the appropriate offices.
Pemberton was also asked to present a travel document and outbound travel arrangements before being deported, he added.
"Upon completion of the required documents, we immediately implemented the deportation. He was escorted by BI agents to ensure that he has boarded his aircraft," Morente said in a statement.
"Should he attempt to re-enter the country after being deported, he will be denied entry and will be excluded," he added.
Department of National Defense spokesperson Arsenio Andolong earlier confirmed to reporters Pemberton's departure from Camp Aguinaldo, where he was detained.
"Yes, Pemberton has left Camp Aguinaldo," Andolong said on Sunday.
A white van believed to be transporting Pemberton left Camp Aguinaldo at around 8 a.m. and headed for the NAIA.
Reporters then spotted a military plane taking off the runway past 9 a.m.
Pemberton was released by virtue of the absolute pardon given to him by President Rodrigo Duterte just over five years into his service of a six-to-10-year prison sentence.
The absolute pardon extinguished Pemberton's criminal liability and rendered moot the emerging legal debate on whether he was entitled to early release for "good conduct."
Days before the pardon, a court in Olongapo ordered his release, saying he was considered to have served one month over his maximum penalty of 10 years because of good conduct time allowances (GCTA) on top of his actual time served.
Laude's family and public prosecutors were contesting the court order when Duterte granted the pardon.
Duterte said Pemberton was not duly monitored for GCTAs. He claimed that authorities did not treat the American fairly.
Meanwhile, amid criticisms, the US Embassy on Sunday insisted that Pemberton fulfilled his jail sentence.
"All legal proceedings in the case took place under Philippine jurisdiction and law. Lance Cpl. Pemberton fulfilled his sentence as ordered by Philippine courts and he departed the Philippines on September 13," the embassy said in a statement.
Apology
Pemberton on Sunday apologized to the family of Laude and thanked Duterte for granting him absolute pardon.
In a message dated on the day of his release and deportation and shared by his lawyer to media, Pemberton acknowledged the pain that he has caused to the Laude family.
"To the family of Ms. Jennifer Laude, he extends his most sincere sympathy for the pain he caused," the message read.
Meanwhile, the lawyer of the Laude family wished Pemberton "peace of mind".
In a statement on Sunday, Atty. Virgie Suarez said she hoped that Pemberton learned the value of life and dignity.
"May he find peace of mind. Hoping he has learned from all these the value of life and dignity regardless of gender and nationality," Suarez said. —KG, GMA News